Introduction

unro, one of five sculptors whose work Benedict Read considers to represent possible Pre-Raphaelitism in sculpture, did not begin his association with Pre-Raphaelites all that well. According to W. Holman Hunt, Munro to whom Dante Gabriel Rossetti had confided the meaning of the then mysteriously secret initials "PRB," unwittingly had a role in periodical attacks on the young self-styled art revolutionaries that brought Hunt, Millais, and Rossetti financial hardship — at least, that is, until the poet Coventry Patmore persuaded John Ruskin to defend them in letters to The Times: "Gabriel avowed that little Munro had persisted for so long in beseeching him to tell the riddle, till, under pledge of secrecy, the mysterious monogram had been explained. By comparing the dates it became evident that the sculptor must have hurried away to Angus Reach, the writer, with intelligence of the dire meaning in the initials, so immediately after did the announcement appear" (II, 200). At any rate, Munro's inability to keep a secret does not seem to have affected his relations with Rossetti, who obtained commissions for him (as he did for J. L. Tupper) in Oxford.
Munro, Read points out, produced work in accord with the ideas of early Pre-Raphaelitism: Like Thomas Woolner, the one sculptor who was a member of the actual Brotherhood, he made "medallion portraits, of a formal purism that harks back to Italian Early Renaissance medals" (180). In addition, his Paolo and Francesca depicts "two intense-looking sharp-featured lovers from Dante" — lovers who had particular importance in Rossetti's imagination and whom he depicted in one of his most famous early works. Read concludes that Munro's later portrait busts have "a formal simplicity and purism that relates to the theory of Pre-Raphaelitism, taking as models works of art from periods before a more developed maturity has pushed out that breath of juvenile springtime" (180). Munro, we might say, follows the hard-edge realism of Hunt and early Millais, and in a few works employs Rossettian subjects. Like Hunt, he remained faithful to his early vision throughout his career. [GPL]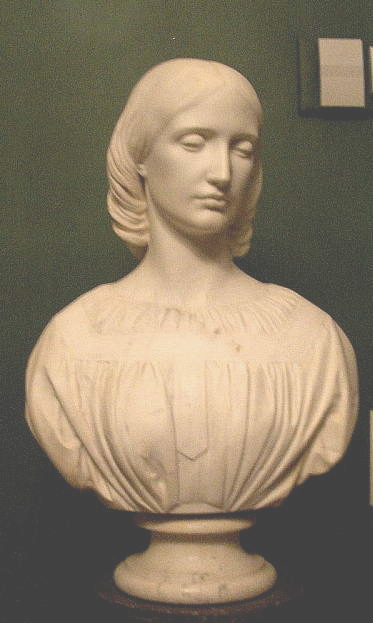 Works Illustrated in the Victorian Web
Other Works
Another Reading

Armstrong

, Newcastle-upon-Tyne

Arthur, King and the Knights of the Round Table

, Oxford

Child Asleep

Child's Play

Davy

, Oxford

Galileo

, Oxford

Hippocrates

, Oxford

Lover's Walk

Leibniz

, Oxford

Mary II

, London

Maternal Joy

Newton

, Oxford

Paolo and Francesca

, Birmingham

Sound of the Shell

Trevelyan

Violet and Henry

Watt

, Oxford
Related Material
References
Hunt, William Holman. Pre-Raphaelitism and the Pre-Raphaelite Brotherhood. 2 vols. London, Macmillan: 1905. 2nd ed. 1912.
Read, Benedict. Victorian Sculpture. New Haven: Yale University Press, 1982.
---
Last modified 28 November 2015