The Late Alexander Munro, Sculptor
1871
Engraving from a photograph by O. J. Reylander
[Click on this image to enlarge it.]
[You may use this image without prior permission for any scholarly or educational purpose as long as you (1) credit the Hathi Trust and The University of Chicago Library and (2) link your document to this URL in a web document or cite the Victorian Web in a print one. — George P. Landow]
His life has been cut short, unhappily, at the age of forty-five, by a fatal, though slow and deceptive, malady, which had gradually destroyed his constitution and deprived him of health during several years past. Still, he had been able, in the last summer, to leave his residence in the south of France, where he had built a house and studio, that he might take refuge from the British winters in a milder climate, and to revisit both London and his native town of Inverness, returning to Cannes early in the month of November. It was on Christmas Eve that he was seized with the attack of illness which finally carried him off at six o'clock in the morning of New-Year's Day.
He was born on Oct. 26, 1825, the eldest son of Mr. John Munro, of North Church-street, Inverness. An interesting biographical memoir in the Inverness Courier of the 12th inst. furnishes us with a few anecdotes of his early life. When a boy at school, he used to carve the ends of thick slate pencils — "a particular kind, whitish in colour, square-headed, and of soft, smooth grain" — into miniature heads of Minerva, with her classic helmet; of Napoleon, with his cocked hat; and oiher renowned figures of history or poetry. The Rector of the academy. Mr. Peter Scott, saw the boys admiring these little little works of sculpture, and found in them such promise of true genius that he wisely and justly resolved to encourage its special education. He introduced young Munro to several persons of taste and social position, amongst whom were Sheriff Fraser-Tytler, of Aldourie, and Mr. Hugh Innes Cameron, of Dingwall. They helped him by their advice and instructive conversation, by lending him books and examples of art, or by procuring for him a sort of clay suitable for modelling, with which he made some medallion portraits. His powers in this way were rapidly developed; and an opportunity was soon presented for his removal to London, in order that he might learn the art he had chosen — or, rather, the art which had chosen him for its own. But he was obliged to accompany these studies with the practical work of a carver in stone, employed under Sir Charles Barry, for thé building of the new Houses of Parliament. It was at the instance of the late Duchess of Sutherland that he obtained this engagement.
While thus employed with the chisel in adorning the Palace of Westminster, the young man attended the lectures and classes of the Royal Academy, and rented a coach-house near his lodgings, which was occupied by him as a studio, and in which he collected the casts and drawings needful to perfect his knowledge and skill in modelling. When he felt himself prepared for the exercise of his profession as a sculptor, he removed to Tachbrook-street, taking what had been a surgeon's consulting-room for his studio, and here began to work in good earnest, devoting many hours of day and night to his self-imposed tasks, with scarcely time allowed for proper refreshment. The first designs for some of his favourite subjects, Paolo and Francesca di Rimini, and the Water-Nymph Undine, were modelled at this period. Business came in, as his talents were known and appreciated, and he found it expedientto change his abode to a larger house in Pimlico. One of the private commissions that he received and executed in the early part of his professional career was given by the late Mr. Herbert Ingram, M.P., founder and proprietor of this Journal. The subject was a group of three of Mr. Ingram's young children; and in the treatment of this kind of subjects it is generally confessed Mr. Munro was unrivalled among contemporary sculptors.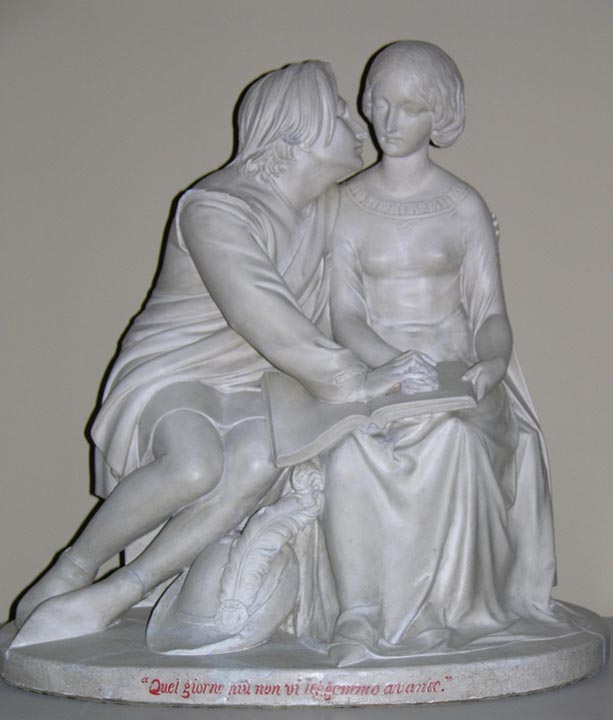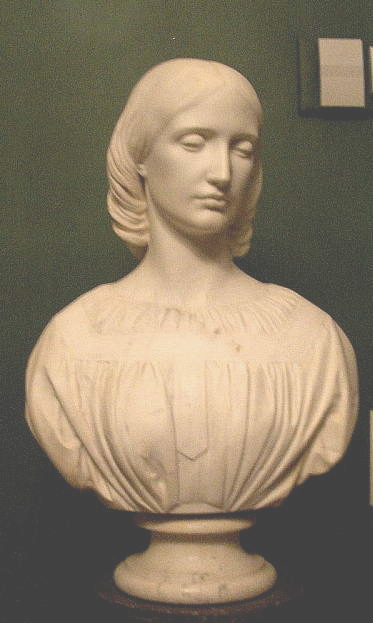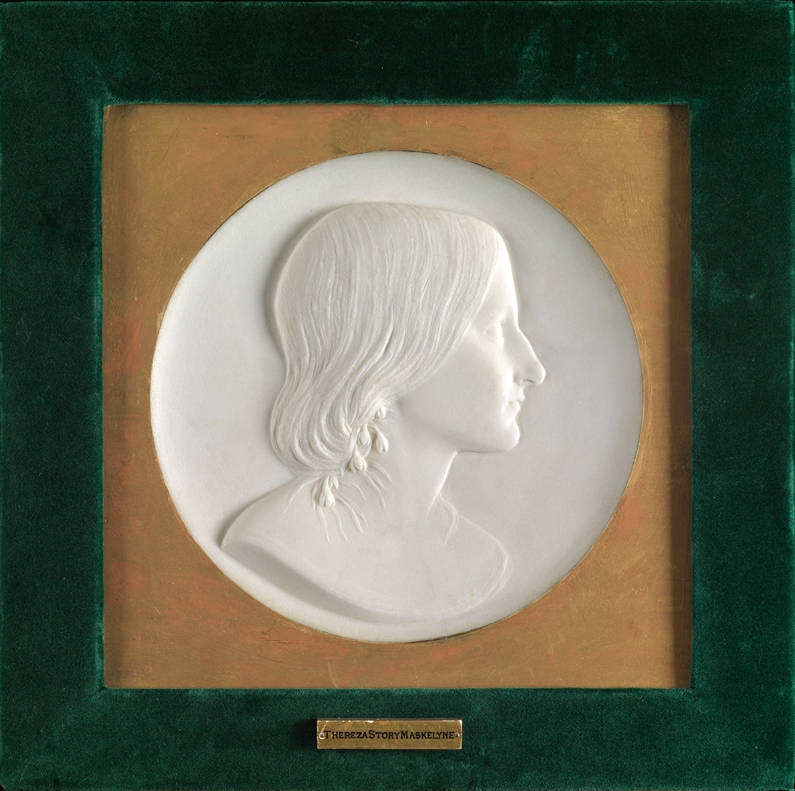 Left: Paolo and Francesca. Middle: Josephine Butler. Right: Thereza Story Maskelyne. [Click on images to enlarge them.]
The first important work of ideal sculpture, we believe, that he contributed to any public exhibition was a cast of his group representing the ill-fated lady of Rimini and her lover, in the celebrated episode of Dante's "Inferno." This was sent to the Great Exhibition of 1851, when his temporary sudio was in Red Lion-street, Golden-square. The group, in plaster, having been put in a good place, was deservedly praised by the art critics and connoisseurs. It attracted the notice of Mr. Gladstone, whose love-of genuine art, and not less of Italian poetry, caused him to feel a particular interest in the design. With no previous acquaintance or recommendation, Mr. Gladstone wrote to Mr. Munro, asking him the cost of executing this work in marble. The terms were easily settled, and this noble group, in fine Carrara marble, is now one of the chief ornaments of a gallery in the Prime Minister's house. It is pleasing to add that the sculptor from that time enjoyed the privilege of Mr. Gladstone's private friendship, and that he spent a day at Hawarden Castle before he left England last autumn. He made an admirable group of two of Mr. Gladstone's children.
Success in his profession had now arrived; he again moved his dwelling and his work to No. 6, Upper Belgrave-place, the premises formerly occupied by Mr. Calder Marshall; and in the studio here most of his best known productions were found. Here Mr. Munro married, his wife being a daughter of Mr. Carruthers, the well-known proprietor and editor of the Inverness Courier, whose literary and social reputation extends both south and north of the Tweed. We have mentioned the animated groups and single figures of children. by Mr. Munro, as held in peculiar estimation. As examples of these, a boy in Highland dress, holding a stag-hound, was shown in an Engraving we published on Aug. 19, 1865, having been placed in the Dublin Exhibition of that year; and "Young Romilly," a composition of similar character, was exhibited in 1863. Another class of works in which he particularly excelled was that of medallion portraits of ladies, and these not simply in profile, as is commonly done, but in the posture of showing three quarters of the face, which it is difficult to render in high or low relief. Among his medallions was one of Lady Constance Gower, the present Marchioness of Westminster, which was so much remarked that it brought this form of portraiture quite into fashion. Mr. Munro was accustomed, both in his medallions and in statues or groups, occasionally to introduce such accessories of natural beauty as flowers, ferns, birds, or shells; a practice which Mr. Ruskin and other critical authorities have approved. He produced also many busts of public men, amongst which were those of the late Duke of Newcastle, the Earl of Dalhousie; Sir William Armstrong, the engineer; Professor Quain, the eminent physician; and the late Victor Cousin, the French philosopher; several of which busts have appeared in the Illustrations of this Journal. Among his private commissions for busts were those of the Grand Duchess Constantine of Russia, the Countess of Dudley, and others, which were performed in the some refined and graceful style.
He proved, however, by his three or four statues erected in the University Museum at Oxford, representing Greek and English sages, that he could deal equally with the gravest and most energetic type of masculine character and with the most delicate feminine expression or feature. It was the late Prince Consort, a good judge of the capability of artists. who selected Mr. Munro for the Oxford statues, which are certainly not deficient in robust force of conception or in concentration of purpose. One of them — that of James Watt — induced the Birmingham committee of subscribers for the Watt monument in that town to intrust Mr. Munro with their commission; and the result was a colossal bronze statue, worthy of its great subject, unveiled with due ceremony in November, 1868. when we gave an Illustration of the figure. It is reckoned one of the finest works of its kind. We should not omit to mention here another public memorial statue, that of the late Mr. Ingram, which was designed by Mr. Munro, and erected in the market-place of Boston, for the citizens of that town desiring to provide such a monument of their representative. It is a faithful likeness, and a good work of art. It was unveiled to public view on Oct. 6, 1862. In the historical series of statues of the English Sovereigns, now ranged along one side of Westminster Hall, there is one, that of Queen Mary II., wife of King William III., which is by Mr. Munro ; and this, with the other examples noticed, shows his capacity of representing dignified and impressive subjects. It appeared among our Illustrations on Jan. 23, 1869. Yet his predilection was for the ideal of grace and beauty; in which direction it will perhaps be considered his marble figure of Undine, in the Royal Academy Exhibition of 1869, is one of his best works. There was an Illustration of it in our paper of May 9 in that year.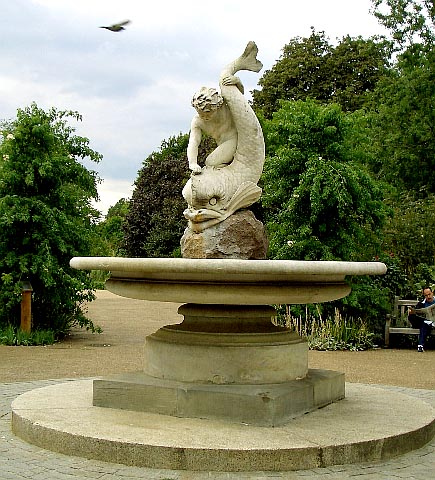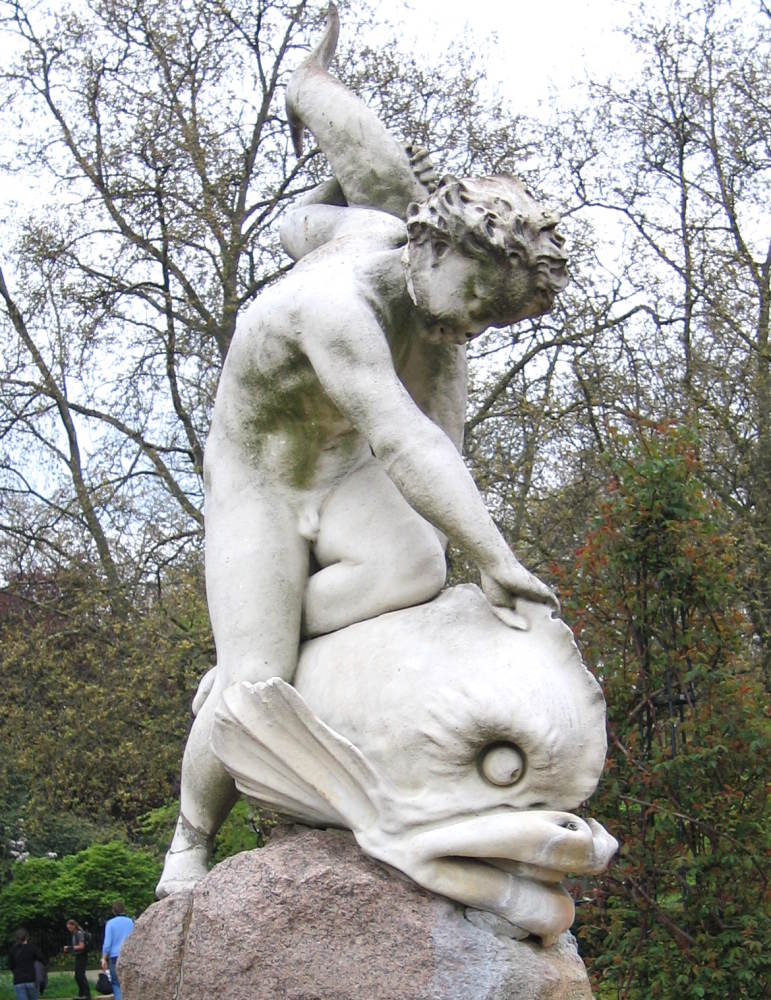 Left: Undine. Right two: Boy with Dolphin. [Click on images to enlarge them.]
Two of the public drinking-fountains in London — that in Berkeley-square, a gift of the late Marquis of Lansdowne, which rresents a charming figure of a Naiad; and the one in Hyde Park, with the group of a boy and dolphin — will long keep before the public eye good proof of the sculptor's elegant fancy, of his refined sentiment, and of his skill in design. The last work upon which he was engaged was a bust of Mr. Carruthers, his father-in-law, to be presented to him as a testimonial from his fellow-townsmen of Inverness. This work Mr. Munro had just time to finish before his departure. The following record of his private virtues is extracted from a notice of him in the Times, written by one who knew him well: — "In his personal relations Mr. Munro was one of the most gentle, affectionate, and unselfish beings that ever lived. Few artists ever numbered a larger, more various, or more deeply-attached circle of friends, by whom his memory will always be cherished as among the purest, sweetest, and most love-able of men."
The Portrait is engraved from a photograph by Mr. O. J. Reylander.
References
"The Late Alexander Munro." Illustrated London News. 50 (28 January 1871): 87, 96. Hathi Trust web version of a copy in The University of Chicago Library. Web. 14 December 2015.
---

Victorian
Web

Visual
Arts

Sculpture

Alexander
Munro
Last modified 3 January 2016