Mabel Lyndwood​ Interceding for Wyat with Henry, George Cruikshank's fifth steel-engraving for Windsor Castle. An Historical Romance for the seventh instalment in Ainsworth's Magazine. "Book the Second: Herne the Hunter," Chapter VIII. "How the King and the Duke of Suffolk were assailed by Herne's band; and what followed the attack," facing p. 119. 9.9 high by 14 cm, framed (originally published in the February 1843 number of Ainsworth's Magazine). Here the illustrator captures the aftermath of the dramatic scene in which Ainsworth describes how Sir Thomas Wyat came to the disguised Henry's rescue in the woods near Tristram Lyndwood's cottage. [Click on the image to enlarge it.]
Scanned image and text by Philip V. Allingham. [You may use this image without prior permission for any scholarly or educational purpose as long as you (1) credit the person who scanned the image and (2) link your document to this URL in a web document or cite the Victorian Web in a print one.]
Passage Illustrated
"What do you here? Ha!" demanded the king. "You should be in Paris."
"I have tarried for revenge," replied Wyat.
"Revenge! — ha!" cried Henry. "On whom?"
"On you," replied Wyat.
"What!" vociferated Henry, foaming with rage. "Is it you, traitor, who have devised this damnable plot? — is it you who would make your king a captive? — you who slay him? Have you leagued yourself with fiends?"
But Wyat made no answer; and though he lowered the point of his sword, he regarded the king sternly.
A female figure now rushed forward, and bending before the king, cried in an imploring voice — "Spare him, sire — spare him! He is 'no party to the attack. I was near him in yon wood, and he stirred not forth till he saw your life in danger. He then delivered you from the assassin."
"I did so because I reserved him for my own hand," said Wyat.
"You hear him confess his treason," cried Henry; "down on your knees, villain, or I will strike you to my feet."
"He has just saved your life, my liege," cried the supplicant. "Oh, spare him!"
"What make you here, Mabel?" cried Henry angrily. "I followed your majesty unseen," she replied, in some confusion, "and reached yon wood just as the attack commenced. I did not dare to advance farther."
"You should have gone home — gone home," rejoined the king. "Wyat," he continued, in a tone of stern reproach, "you were once a loyal subject. What means this change?"
"It means that you have robbed me of a mistress," replied Wyat; "and for this cause I have damned myself."
"Pardon him! — oh, pardon him, sire," cried Mabel. [Chapter VIII. "How the King and the Duke of Suffolk were assailed by Herne's band; and what followed the attack," p. 119-120]
Commentary
The scene follows immediately after "Henry Le Roy" and his hunting companion Braddon's (that is, the Duke of Suffolk disguised as a Guildford merchant) leaving the hut of the forester Tristram Lyndwood. There, unbeknownst to the nobles, Morgan Fenwolf and Herne the Hunter had overheard what transpired from their vantage point just outside the window of the hut. Herne's band, led by Morgan Fenwolf, then proceed to attack Henry and his companion; however, Sir Thomas Wyat arrives serendipitously, just as Henry has slipped and is at the mercy of his assailant. However, upon questioning, Wyat unwisely reveals that he has delayed going on Henry's diplomatic mission to Paris in order to be avenged upon the king for his having won Anne Boleyn away from him.
Although this is supposedly a night scene, Cruikshank does not bother to make it a dark plate or provide a suitable of illumination. Perhaps moonlight illuminates the centre of the composition, Mabel, Henry, and the trunk of the great oak behind them. At the centre of the composition, Henry, in his disguise as a Guildford merchant travelling to Windsor, is armed only with a quarter-staff, whereas his companion, the Duke of Suffolk (travelling under the name, "Charles Brandon," another travelling merchant) to the right, holding Morgan Fenwolf captive, is armed with a rapier. Two members of Herne's gang and Bawsey, the "fierce black hound," lie dead in the foreground. A cartoon-like Herne (readily identifiable by his antlers) peeps out from behind the oak, just over Sir Thomas Wyat's shoulder. Fenwolf's dagger and bearded mask are beside him, on the ground. Cruikshank seems to have muted the characters' emotions. Wyat looks rather tranquil, rather than emotionally overwrought, as in the text. Cruikshank's Henry, too, seems phlegmatic rather than furious that Wyat has not merely disobeyed him, but has plotted with Herne to waylay him (although how he has arrived at this conclusion is unclear). Suffolk should be holding the reprobate huntsman by the throat rather than his shoulder. Only later, when Fenwolf is about to confess, does Ainsworth note the presence of the dark figure of Herne, "stationed at the side of the oak, with its right arm raised menacingly" (121).
Delamotte's realisation of the backdrop for this scene in the Windsor Forest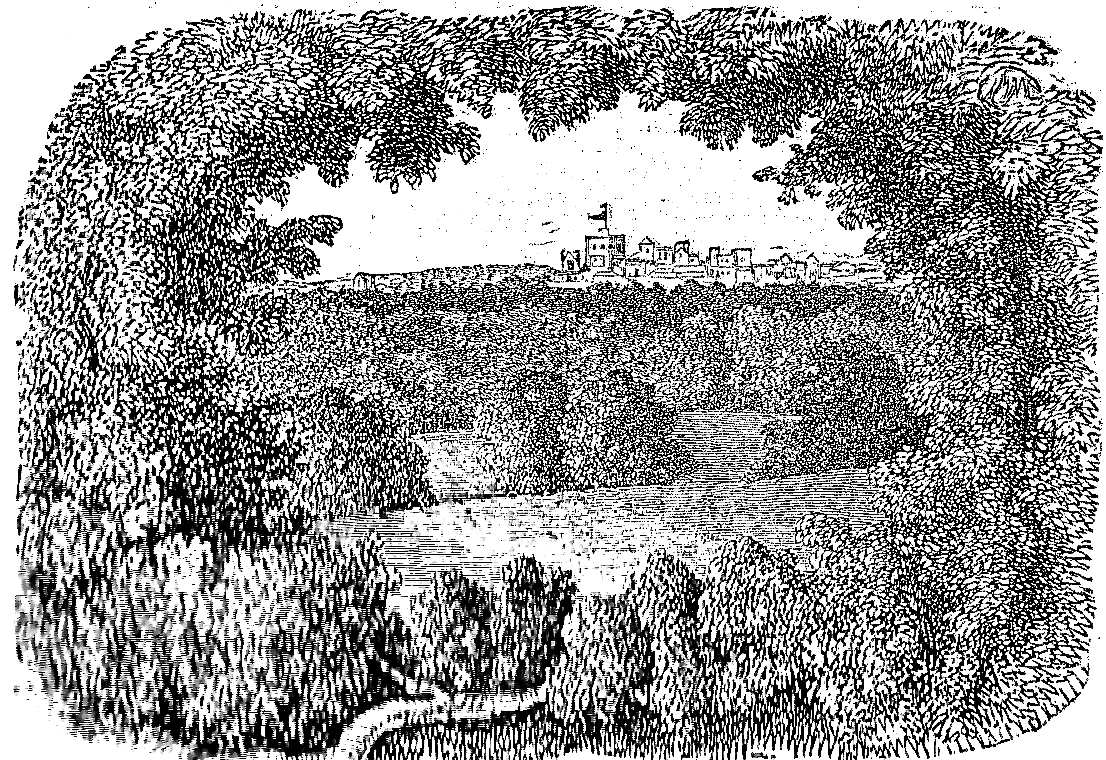 Left: W. Alfred Delamotte's atmospheric realisation of the countryside, which sets the scene for the action sequence, View of the Castle, from the "Adelaide Peep", as the headpiece for Chapter 8. [Click on the image to enlarge it.]
References
Ainsworth, William Harrison. "Preface" to Rookwood. A Romance. With 12 illustrations by George Cruikshank. London: George Routledge, 1882. Pp. xxxiii-xxxviii.
Ainsworth, William Harrison. Windsor Castle. An Historical Romance. Illustrated by George Cruikshank and Tony Johannot. With designs on wood by W. Alfred Delamotte. London: Routledge, 1880. Based on the Henry Colburn edition of 1844.
Chesson, Wilfred Hugh. George Cruikshank. The Popular Library of Art. London: Duckworth, 1908.
Jerrold, Blanchard. The Life of George Cruikshank. In Two Epochs. Illustrated by George Cruikshank. 2 vols. London: Chatto and Windus, 1882.
Johnson, E. D. H. "The George Cruikshank Collection at Princeton." George Cruikshank: A Revaluation. Ed. Robert L. Patten. Princeton, NJ: Princeton U. P., 1974, rpt. 1992. Pp. 1-34.
Patten, Robert L. Chapter 30, "The 'Hoc' Goes Down." George Cruikshank's Life, Times, and Art, vol. 2: 1835-1878. Rutgers, NJ: Rutgers U. P., 1991; London: The Lutterworth Press, 1996. Pp. 153-186.
Vann, J. Don. "Windsor Castle in Ainsworth's Magazine, June 1842-June 1843." Victorian Novels in Serial. New York: MLA, 1985. P. 23.
Worth, George J. William Harrison Ainsworth. New York: Twayne, 1972.
---
Last modified 16 December 2017