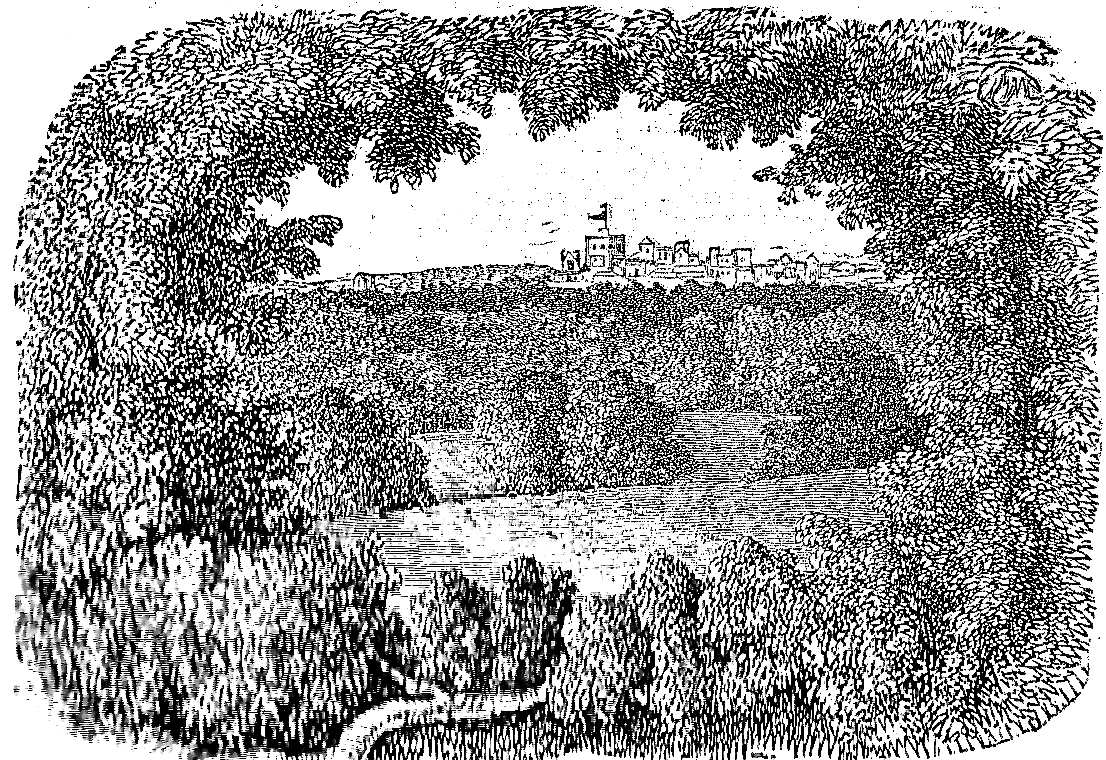 View of the Castle, from the "Adelaide Peep" in Windsor Castle, based on a sketch made by​ Sandhurst Military Academy drawing-master W. Alfred Delamotte​for the seventh instalment of W. Harrison Ainsworth's Windsor Castle. An Historical Romance for the February 1843 number in Ainsworth's Magazine. Book the Second: "Herne the Hunter," Chapter VIII. "How the King and the Duke of Suffolk were assailed by Herne's band; and what followed the attack," p. 115:​ 6.3 cm high by 9.1 cm wide, vignetted. [Click on the image to enlarge it.]
Scanned image and text by Philip V. Allingham. [You may use this image without prior permission for any scholarly or educational purpose as long as you (1) credit the person who scanned the image and (2) link your document to this URL in a web document or cite the Victorian Web in a print one.]
Passage Illustrated
Ere long they arrived at the open space described by Mabel, and immediately​ ​ perceived the large beech-tree, behind which they found the path. By​this time the moon had arisen, and as they emerged upon the marsh they easily discovered a track, though not broader than a sheep-walk, leading along its edge. As they hurried across it, Suffolk occasionally cast a furtive glance over his shoulder, but he saw nothing to alarm him. The whole tract of marshy land on the left was hidden from view by a silvery mist.
In a few minutes the king and his companion gained firmer ground, and​ ​ ascending the gentle elevation on the other side of the marsh, made​their way to a little knoll crowned by a huge oak, which commanded a fine view of the lake winding through the valley beyond. Henry, who was a few yards in advance of his companion, paused at a short distance from the free, and being somewhat over-heated, took off his cap to wipe his brow, laughingly observing,​— "In good truth, Suffolk, we must henceforth​be rated as miserable faineants, to be scared from our path by a silly​wench's tale of deer-stealers and wild huntsmen. I am sorry I yielded to​her entreaties. If Herne be still extant, he must be more than a century and a half old, for unless the legend is false, he flourished in the​time of my predecessor, Richard the Second. I would I could see him!"
"Behold him, then!" cried a harsh voice from behind.​ [Chapter VIII. "How the King and the Duke of Suffolk were assailed by Herne's band; and what followed the attack," p. 117-118]
Commentary
The scene follows immediately after "Henry Le Roy" and his hunting companion Braddon's (that is, the Duke of Suffolk disguised as a Guildford merchant) leaving the hut of the forester Tristram Lyndwood. There, unbeknownst to the nobles, Morgan Fenwolf and Herne the Hunter had overheard what transpired from their vantage point just outside the window of the hut. Herne's band, led by Morgan Fenwolf, then proceed to attack Henry and his companion, but Sir Thomas Wyat arrives serendipitously, just Henry has slipped and is at the mercy of his assailant.
Henry and Suffolk encounter Thomas Wyat in the Woods
Above: George Cruikshank's dramatics realisation of the scene involving Tristram Lyndwood's daughter pleading on behalf of Wyat (left) for Henry to show mercy, Mabel Lyndwood​Interceding for Wyat with Henry​ (facing p. 119). [Click on image to enlarge it.]
Other Views and Related Material on Windsor Castle
References
Ainsworth, William Harrison. Windsor Castle. An Historical Romance. Illustrated by George Cruikshank and Tony Johannot. With designs on wood by W. Alfred Delamotte. London: Routledge, 1880. Based on the Henry Colburn edition of 1844.
Patten, Robert L. Chapter 30, "The 'Hoc' Goes Down." George Cruikshank's Life, Times, and Art, vol. 2: 1835-1878. Rutgers, NJ: Rutgers U. P., 1991; London: The Lutterworth Press, 1996. Pp. 153-186.
Worth, George J. William Harrison Ainsworth. New York: Twayne, 1972.
---
Last modified 16 December 2017