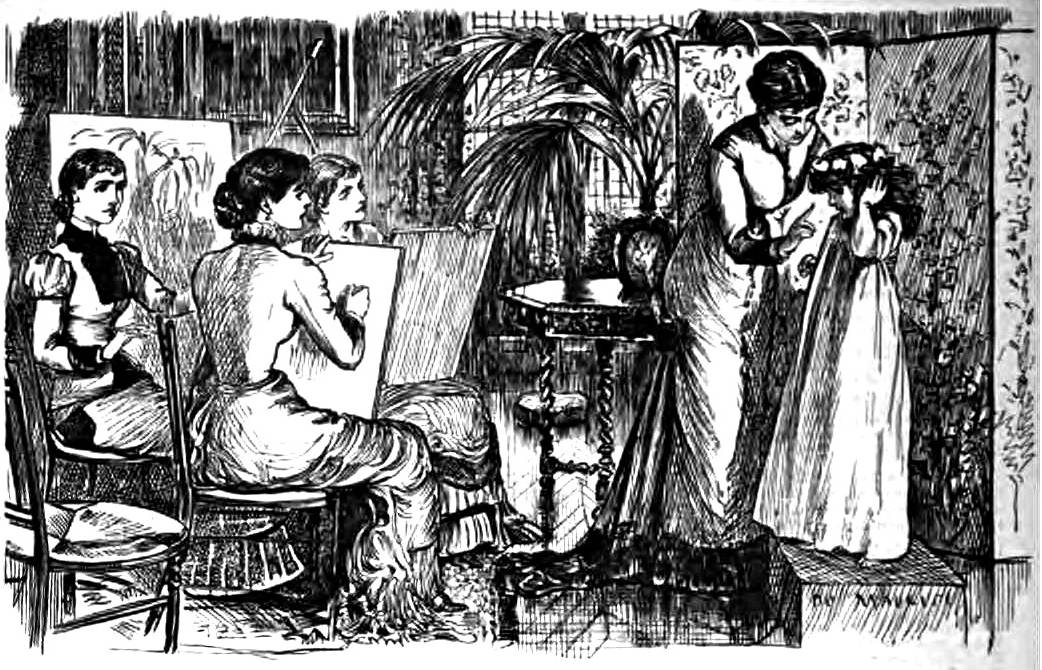 Aesthetic Disenchantments by George DuMaurier. Punch (19 March 1979): 138.
Lucy has posed the little Rustic Model, and Mary, Maud, and Madeleine sit, pencil in hand, ready to catch and transfer to Paper the Child's expression of Wonderment and Delight as it listens, for the First Time in its life, to the Murmur of the Shell.
Lucy "Now, Darling, put the Pretty Shell to your Ear, and Hark to what it says!
Rustic Model. "Lor!" Is that all! Why, a Beer Jug can do that!"
This Du Maurier cartoon has it all — classism, sexism, accurate depiction of an aesthete's Arts and Crafts home, beautiful women and everything depicted with the artist's gentle satire. The little girl, who's clearly established as a member of the lower classes by her manner of speaking, is in fact correct. One can hear the same sound from a beer mug! But does the cartoon mock her for that, or is she like the child who speaks out in "The Emperor's New Clothes"? Having mentioned clothing, I should point out that the young women artists wear form fitting clothing rather than loose-fitting clothing associated with the Pre-Raphaelites and Aesthetes. These, therefore, are women of Society.
Image from Internet Archive. [This image may be used without prior permission for any scholarly or educational purpose without prior permission as long as you credit this site and the Internet Archive.] George P. Landow
---
Last modified 1 February 2017