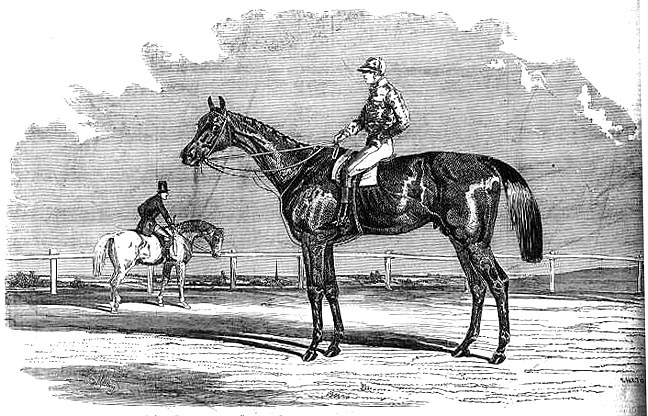 "Kingston," The Winner of the Goodwood Cup. 1842. Illustrated London News. Scanned image and text by Philip V. Allingham.
We engrave Mr. Morris's "Kingston," the winner of the Goodwood Cup on Thursday week. The great improvement displayed by Kingston since his Epsom form occasioned considerable surprise. The care taken in his preparation was unmistakably manifested. His coatshone like highly-polished mahagony, and his eye sparked with health . . . . As he galloped past the stand he indeed appeared iron-jointed and supple-sinewed. The winning is thus described: — Kingston [gained] upon Teddington and Little Harry until they were within strides of the chair, when, with admirable tact, his powers were [put] into full requisition, and he was very cleverly landed the winner by a length; Little Harry beating Teddington for the second [place by] three parts of a length. Kingston is a remarkably fine specimen of thorough-bred English race-horse.
The result was hailed by loyd and prolonged cheering, and the jockey (Flatman) returned to the stand these gratifying manifestations were again renewed. Mr. H. Stebbing the trainer, was warmly congratulated on his success, and the fine condition in which he had [brought] his horse to the post was generally and deservedly acknowledged. The owner of Kingston and his immediate "party" were the just winners.
References
"Kingston,' The Winner of the Goodwood Cup [30 July 1852." Illustrated London News. ( 7 August 1852): 104.
---
Last modified 9 October 2006