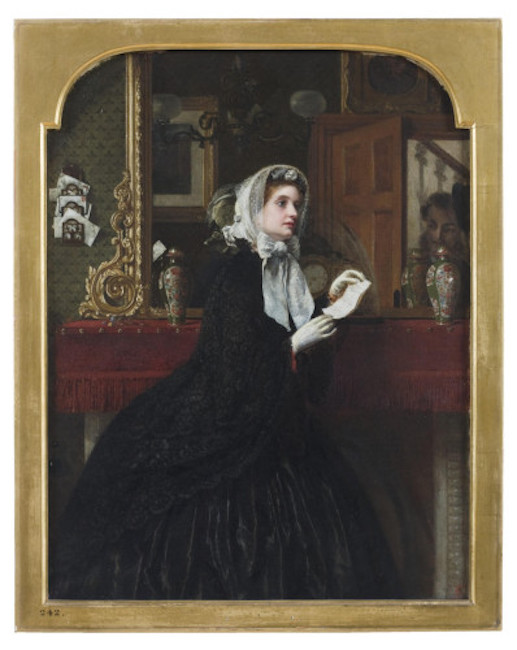 Rebecca Solomon was born in Bishopsgate Street, City [of London], of Jewish parentage. Her brothers Abraham and Simeon were artists of good reputation. Miss Solomon went to the Spitalfields School of Design, afterwards being the pupil of her brother Abraham. This brother died in December, 1862, at Biarritz, Pyrenees, of heart disease — a disorder to which artists seem peculiarly liable. The Royal Academy was the first place where Miss Solomon exhibited. She has painted and studied a good deal in Italy and France. Many of her original works have been engraved in the Illustrated London News. She has painted the portraits of several well-known persons, and made many copies from the old masters as commissions.
Her principal pictures have been:— "Behind the Curtain," in the possession of the Baroness Burdett Coutts; "Roman Wedding Party," painted in Rome, for the Baroness; "Peg Woffington," in the possession of Charles Prater, Esq.; "Fugitive Royalists" — "Arrest of a Deserter"; "The Princess Elizabeth in the Tower," companion pictures from the fable of "The Lion and the Mouse"; "The Duchess of Devonshire Canvassing for Votes," in the possession of Sir Francis Goldsmid. Also copies of pictures by John Phillip, Frith, Millais, Faed, and others. One copy, in the possession of the Queen, is "The Marriage of the Princess Royal," from the picture by John Phillip. — Ellen C. Clayton, pp. 129-30
Works
Discussions
Other painters in the Solomon family
Bibliography
Clayton, Ellen C. English Female Artists. 2 vols. Vol. 2. London: Tinsley Bros., 1876. (Google Books, Free Ebook.)
The Emergence of Jewish Artists in Nineteenth-Century Europe. Exhibition Catalogue. Ed. Susan Tumarkin Goodman. London: Merrell; New York: Jewish Museum, 2001.
Gossman, Lionel. From Expulsion to Emancipation: Jews in England 1290-1858. A Victorian Web Foundation book. 2020. (complete text).
Graves, Algernon. The Royal Academy of Arts: A Complete Dictionary of Contributors and their work from its Foundation in 1769-1904. 8 vols. London: Henry Graves and Co. and George Bell, 1906.
---
Last modified 5 October 2021