[RA = Exhibited at the Royal Academy annual exhibition; BI = exhibited at the British Institution]
Works illustrated on this site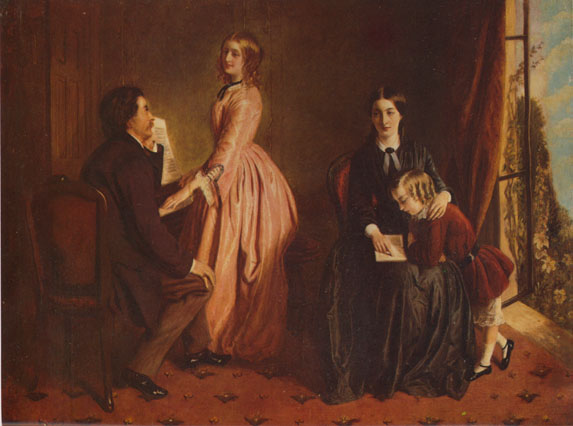 Works without illustration on this site
A. Solomon

, RA 1852 (1055)

The Morning Call

, BI 1852 (370)

Evangeline

, BI 1853 (383)

A Curious Page on St. Valentine's Day

, BI 1854 (205)

The Story of Balaclava

, RA 1855 (1360)

Tis better to be lowly born

, RA 1857 (27)

Behind the Curtain

, RA 1858 (1094)

Love's Labour Lost

. RA 1859 (548)<

The Arrest of a Deserter

, RA 1861 (581)

The Love Letter

, 1861

Good Night

, RA 1863 (668)

Harry Esmonde's Welcome at Walcote

, RA 1864 (502)

Heloise

, RA 1867 (150)

Giovannina — Rome

, RA 1864 (484)

Helena and Hermia

, RA 1867 (150)

A Bit of Old London

, RA 1903 (827)
Bibliography
The Blessed Damozel: Women and Children in Victorian Art. London: Christopher Wood Gallery, 1980. No. 5.
"From the Picture in the possession of the Publishers: The Claim for Shelter." Art Journal (1859): 184-85. Hathi Trust Digital Library version of a copy in the University of Michigan Library. Web. 6 April 2014.
The Emergence of Jewish Artists in Nineteenth-Century Europe. Exhibition Catalogue. Ed. Susan Tumarkin Goodman. London: Merrell; New York: Jewish Museum, 2001.
---
Created 5 March 2016

Last modified 19 October 2021