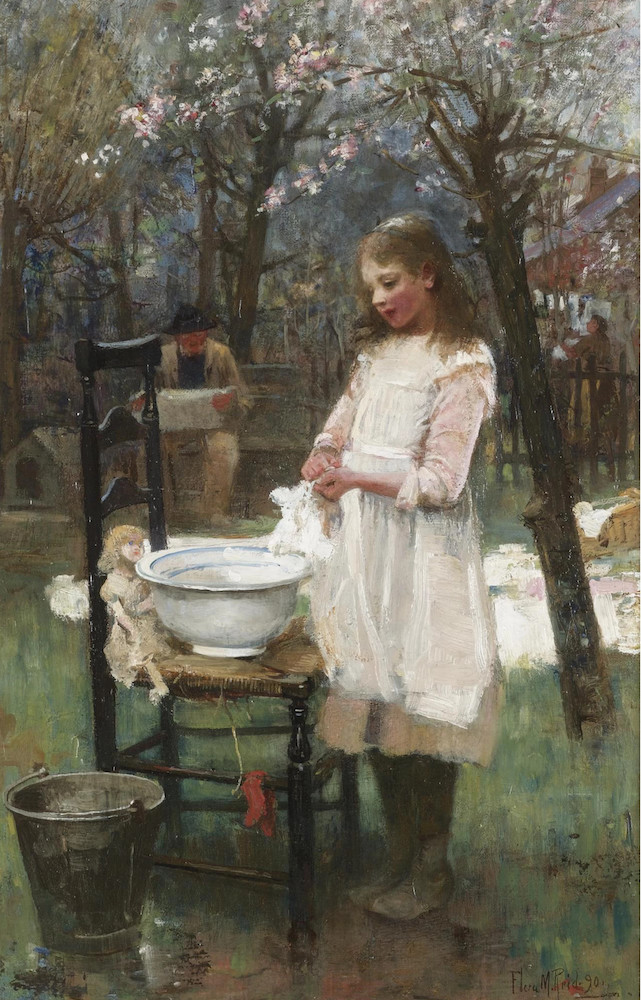 Dolly's Spring-cleaning / Washing Day by Flora Macdonald Reid (1861–1938). Oil on canvas. 1890. H 54 x W 36 cm (21.25 x 14.25 in. Private Collection, reproduced by courtesy of Sotheby's [JB]. [Click on the image to enlarge it.]
As often happens with the works of relatively obscure artists, this painting has been given an invented title for sale at auction: Washing Day, however felicitous a label, is not, in fact, its true title. It was originally exhibited in 1890 at the annual spring exhibition of the Society of British Artists as Dolly's Spring Cleaning.
Like many another woman artist of the time, Reid has here adopted subject-matter seen by conventional viewers as proper to the female painter: children and especially girls in stereotypical play or domestic tasks. In this, she may have been influenced by the great success that Elizabeth Armstrong Forbes (Mrs Stanhope Forbes) had achieved, contributing a distinct vein to the Newlyn school of painting that marked her out from her husband and made her the most popular modern female artist of the 1880s and 1890s. The slabs of green paint representing the grass of the orchard with their deliberately visible brushwork, as well as the local peasants in the background adding to the vision of everyday life amongst cottagers, connects this unpretending work not only with Elizabeth Forbes but with Bastien-Lepage-ists James Guthrie and George Clausen and that other stalwart Newlyner, Walter Langley. The blossom signalling an early spring day and the cool light that prevails make a change, however, from those artists' tendency to favour sunny days and buttery golds, browns and blues.
---
Created 17 July 2022

Commentary added 25 July 2022