Introduction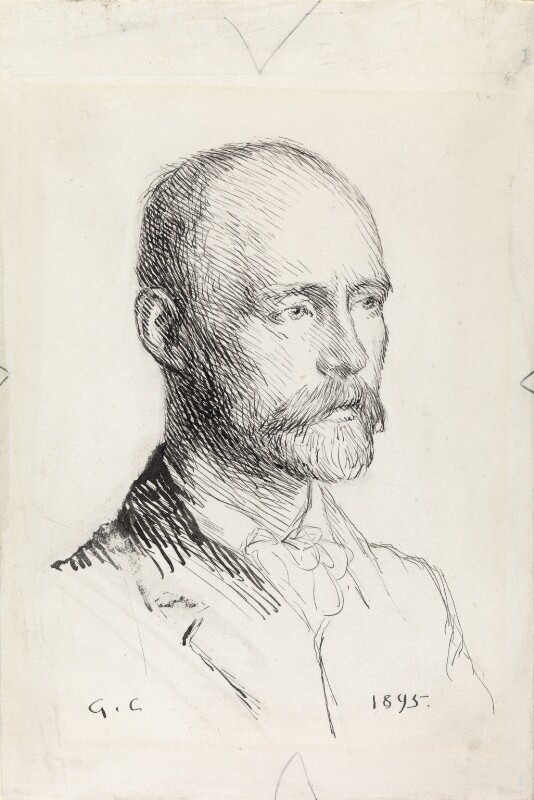 Self-portrait in pen and ink, by Sir George Clausen, 1895. © National Portrait Gallery, London (NPG 3041).
George Clausen was born in London on 18 April 1852, the son of Jurgen Johnsen Clausen, a "decorative painter" of Danish origins, and his Scottish wife, Elizabeth. Following in his father's footsteps, he first trained as a draughtsman in the office of the important London builder's and decorator's, George Trollope & Sons. He would regret, later on, that any distinction should be drawn "between painting which is decorative and painting which is pictorial ... for all pictures should decorate the walls or places on which they are placed" (19). Be that as it may, the young Clausen had a drawing tutor as well, and won a scholarship to the National Art Training School, setting out in a rather different direction from his father.
Other early influences were a period in the studio of the classical painter, Edwin Long (1829–1891); the time he spent copying works by the great painters in the National Gallery; and a brief spell at the Antwerp Academy. His obituarist finds it curious that he should have assisted Edwin Long, an artist so different in inclination from himself, but none of this early experience was wasted. Clausen would remind his students at the Royal Academy about the wonderful resources at their disposal in the Old Masters Exhibitions held there, and encourage them to train their eyes, hands and judgement by studying their work, "depending on nature" for their inspiration, but "referring to them for guidance" (134). There was also a phase in his life, in the period before World War I, when a certain "classical severity" entered his work (McConkey, "George Clausen: The Rustic Image," 38).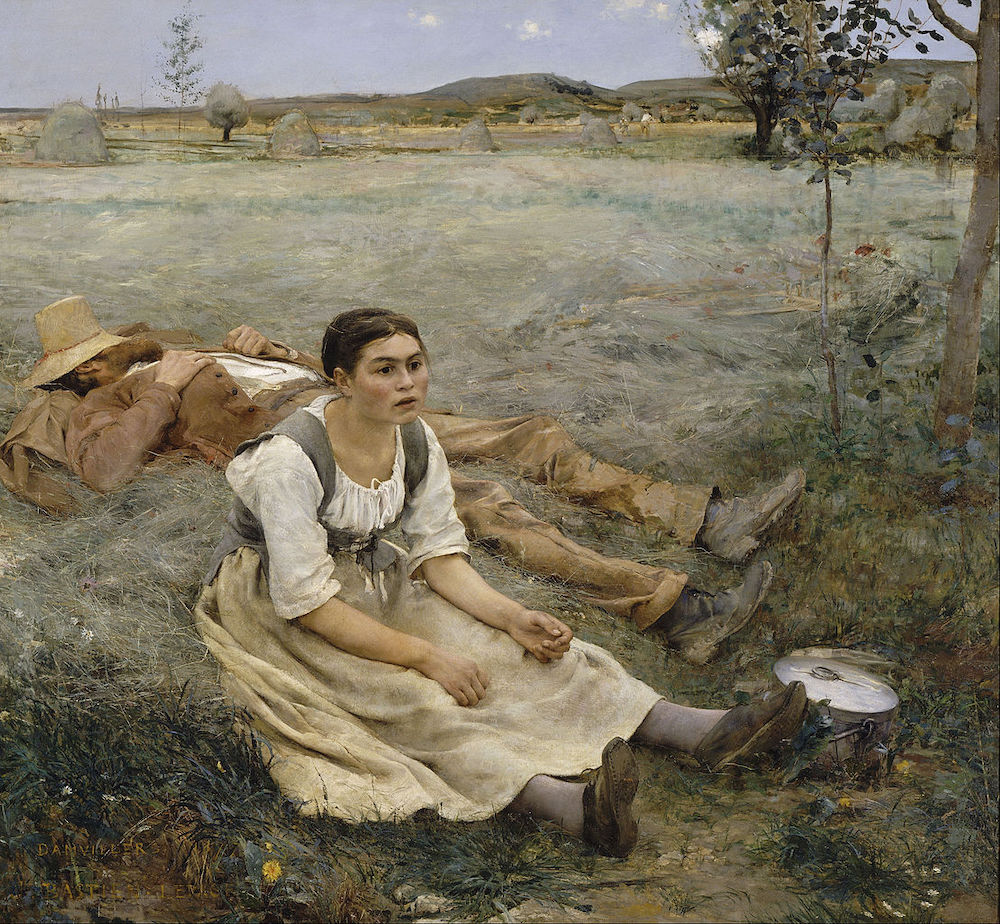 "Les Foins" ("Haymaking") by Jules Bastien-Lepage (1848-1884), whom Clausen praised for "painting for the sake of giving the true effect of people in the open air, with the light and actual colour of nature" (107). Clausen uses this particular painting as an illustration in his lecture on "Landscape and Open-air Painting," but in black-and-white: this image comes from the Google Art Project, and is in the public domain.
Clausen's early promise was soon noticed. According to the Times obituary, "the pictures which he began to exhibit at Burlington House in the late seventies" were "pictures of country life and landscape which impressed not only the public but the senior artists with their sincerity, their keeness of observation, and their grasp of life and movement." A later stay in Paris, at the Académie Julian in 1883, confirmed his interest in this choice of subject, and his handling of it. He was particularly influenced by such French artists as Jean-François Millet (1814-1875) and Jules Bastien-Lepage (1848-1884) — indeed, he later contributed a lengthy essay on the latter to André Theuriet's memoir of him. Here, he praises but sees the limitations of Lepage's "literal representation" of nature (126), but is convinced that the artist would have moved on from there, had his life not been cut cruelly short. Clausen himself did move on: he was drawn towards Impressionism, although, as his Times obituary noted approvingly, he "differed from the French Impressionists by retaining integrity of form."
From the later 1880s, Clausen emerged as an important figure in the art world: he was a founder member of the New English Art Club in 1886, and from 1904-6 was Professor of Painting at the Royal Academy. In 1909 he was elected master of the Art Workers' Guild. An official war artist in World War I, and one of those selected to paint a mural for St Stephen's Hall at Westminster, he was knighted for his services to art in 1927. Only a matter of months after his wife Agnes, he died at their son-in-law's home in Berkshire on 22 November 1944. They were survived by one of their two daughters, and all three of their sons. — Jacqueline Banerjee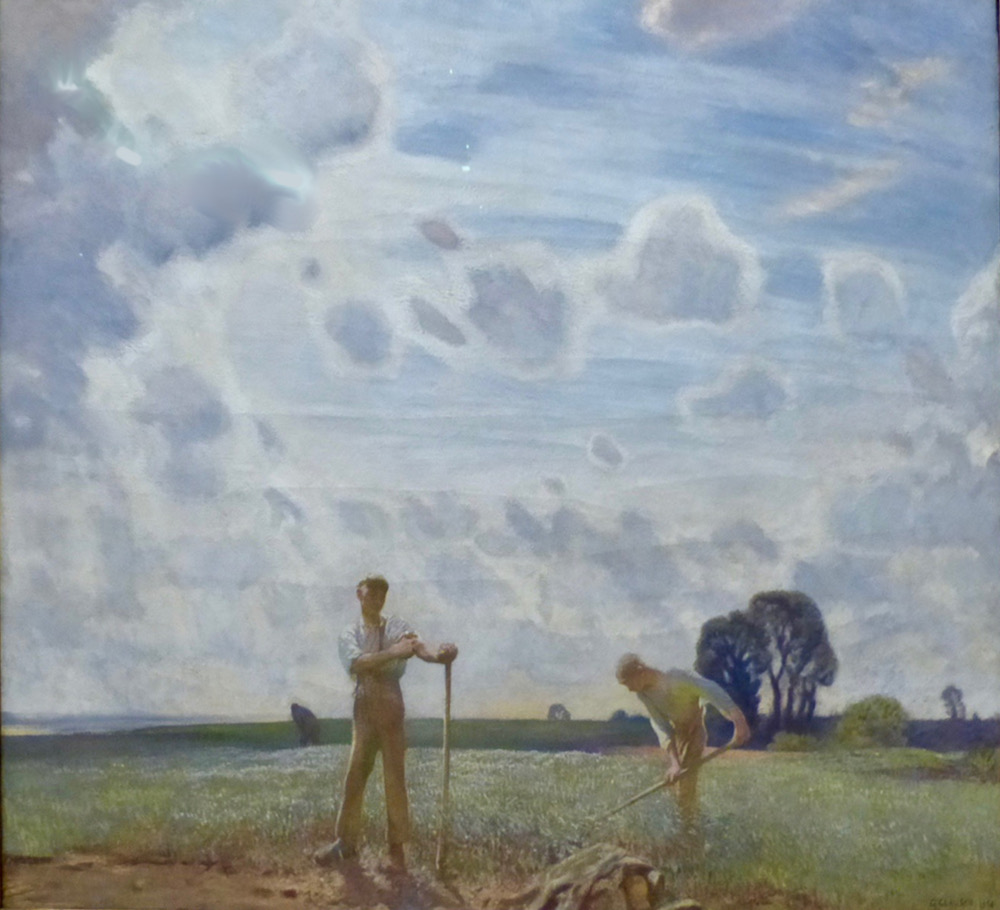 In the Fields in June (1914).
Works
Bibliography
Clausen, George. Aims and Ideals in Art. London: Methuen, 1906. Internet Archive. Contributed by the Getty Research Institute. Web. 1 September 2019.
_____. "Jules Bastien Lepage as Artist." Jules Bastien Lepage and His Art, a Memoir. By André Theuriet, with other essays by Walter Sickert and Mathilde Blind. London: Fisher Unwin, 1892. 111-27. Internet Archive. Contributed by the University of Michigan. Web. 1 September 2019.
_____. Six Lectures on Painting Delivered to the Students of the Royal Academy of Arts in London, January, 1904. 3rd ed. London: Methuen, 1904. Internet Archive. Contributed by Reese Library, University of California. Web. 1 September 2019.
Lambourne, Lionel. Victorian Painting. London and New York: Phaidon, 1999.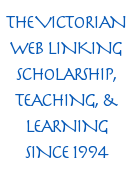 McConkey, K. "Clausen, Sir George (1852–1944), painter." Oxford Dictionary of National Biography. Online ed. Web. 1 September 2019.
_____. "George Clausen: The Rustic Image" (online exhibition catalogue). The Fine Art Society. Web. 1 September2019.
"Sir George Clausen, RA, RWS, Landscape and Portrait Painter." The Times. Friday 24 November 1944, Issue 49999: 7. Web. 1 September 2019.
"Trollope and Colls Ltd. (builders)." National Archives"> Web. 1 September 2019.
---
Last modified 26 June 2020