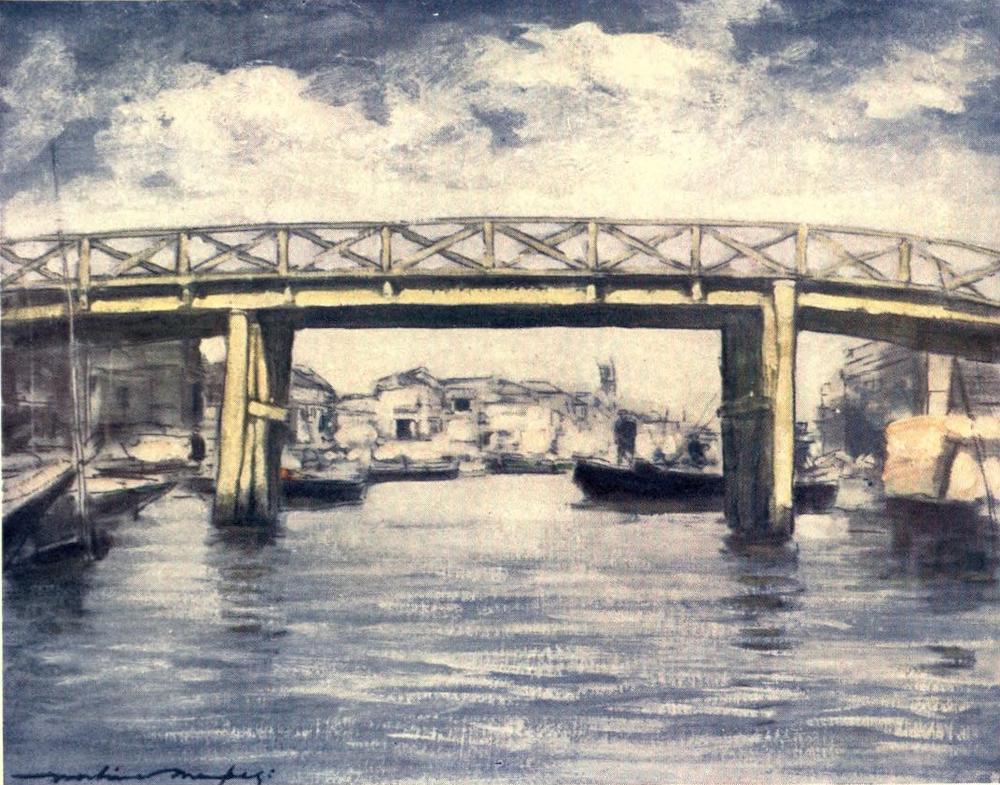 The Lemon Bridge by Mortimer Menpes. 1901. Watercolor. Source: Japan: A Record in Colour, facing p. 54. This was another of the sights that attracted Menpes (like so many others) in Japan, and seemed to lend itself to art. But what kind of approach should be adopted? Here again, Menpes favoured the Japanese artist's approach rather than the Western, and goes to some pains to contrast the two and justify his choice:
Then, again, let us say a Japanese artist is painting a typical Japanese river-scene, such a one as inspired many of Mr Whistler's graceful Thames etchings — a quaintly formed bridge under whose dim archway a glimpse of shipping and masses of detail can be seen in the distance. To a Japanese artist the chief charm and interest of such a scene would lie in that little view beneath the bridge, and he would begin by drawing in, line for line, every little mast and funnel just as he sees it, or rather as he remembers it. The picture slowly expands as it reaches the margin, ending in the bridge, which forms, as it were, a frame through which to view the dainty richness of detail of the busy scene beyond. If you were to arrest this picture at any moment during its career you would find that it formed a perfect whole, every line balancing the other; whereas, according to our methods, if we were to draw the bridge first, timidly suggesting the distance and leaving the detail and all the fine lines to be put in afterwards, as so many artists do, the picture until it was completed would appear spotty and uneven. And even when finished there would be no balance, for we neither understand nor realise the importance of that quality without which no work of art can be perfect. [54-55]
Menpes is very hard on British art, which boasts some wonderful paintings of bridges; but his argument has much truth in it, too, and helps to account for the popularity in the West of Utagawa Hiroshige's famous river series, among others. — Jacqueline Banerjee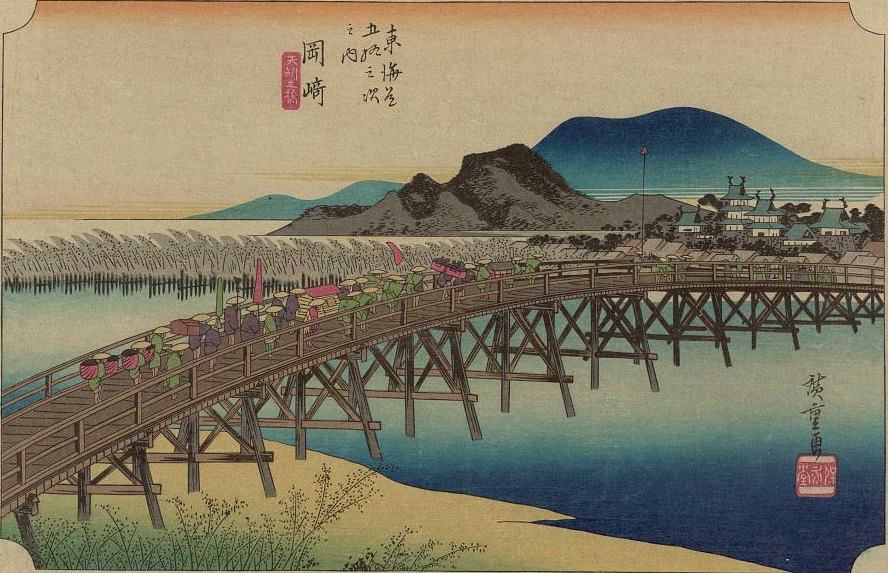 Okazaki, by Hiroshige. Library of Congress (digital ID from original print) jpd 02006; reproduction no. LC-DIG-jpd-02006).
You may use these images without prior permission for any scholarly or educational purpose as long as you (1) credit the University of California and the Internet Archive, or the Library of Congress, and (2) link your document to this URL in a web document or cite it in a print one. [Click on the images to enlarge them.]
Bibliography
Menpes, Dorothy. Japan: A Record in Colour. London: Adam & Charles Black, 1901. Internet Archive version of a copy in the University of California Libraries. Web. 24 June 2019.
---
Created 22 June 2019