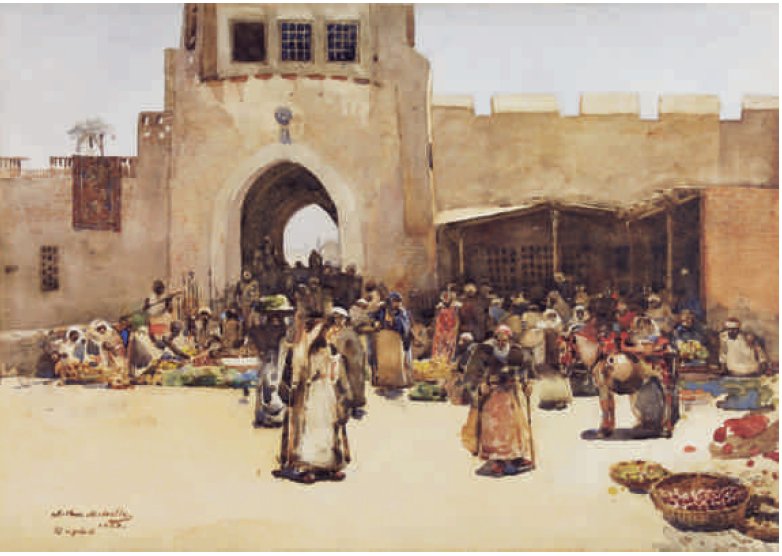 The North Gate, Baghdad. Arthur Melville ARSA RSW (1855–1904). Watercolour on paper, 14½ x 20 in · 36 x 51 cm Signed and dated 1882, and inscribed 'Baghdad'
Commentary by Kenneth McConkey
For the young Arthur Melville, pictures derived from French rural life were not enough. Visiting the Paris Salon of 1880 he must have been impressed by the work of Orientalists such as Benjamin-Constant and Alberto Pasini, painters who had explored North Africa and the Middle East, depicting exotic Arab and Persian subjects. In the early autumn of 1880, having returned to Scotland for the few months of the exhibition season, Melville set sail for Egypt with the idea that he would send his drawings back for reproduction in illustrated periodicals like The Graphic. Detained in Cairo by illness and a hopeless romantic affair, Melville did not leave the city until February 1882 when he travelled by train to Suez and took a naval vessel down the Red Sea to Aden. From there he went on to Karachi, up the Persian Gulf and overland, eventually arriving in Baghdad, 'city of the Arabian Nights', at the end of April. There he remained for a fortnight before setting off on an epic journey across the desert, through the Balkans and back to Britain by August (MacKay, 26-59; Gale, 21-30).
Melville's principal work in Baghdad was The Call to Prayer, Midan Mosque, (unlocated), a picture that was held back for the forthcoming Dudley Gallery Watercolour Society in 1883, where it was praised for the 'dexterity and truth' of its colour effects, but considered wanting in its rendering of the eastern light ("Current Art") The reviewer conceded that the young painter was learning his craft and as is clear from the present work, had developed an extraordinary ability to mass the composition by observing the sharp contrasts between sunlit slab-like architecture and the deep velvet shadows under archways and awnings. Unlike other artists who essentially used the medium to colour a pale pencil sketch, Melville was preoccupied with spatial structure. The preliminary order of his mind, when faced with a complex street scene, as in the present case, enabled him to achieve effects that betray surprising maturity.
Related material
The Fine Art Society, London, has most generously given its permission to use information, images, and text from its catalogues in the Victorian Web, and this generosity has led to the creation of hundreds and hundreds of the site's most valuable documents on painting, drawing, sculpture, furniture, textiles, ceramics, glass, metalwork, and the people who created them. The copyright on text and images from their catalogues remains, of course, with the Fine Art Society. [GPL]
References
MacKay, Agnes Ethel. Arthur Melville, Scottish Impressionist, 1855–1904. London: F. Lewis Publishers, 1951.
Gale, Iain. Arthur Melville. London: Atelier Books, 1996.
Anon, 'Current Art', The Magazine of Art 1883. pp.346–47
McConkey, Kenneth. Lavery and the Glasgow Boys. Exhibition Catalogue. Clandeboye, County Down: The Ava Gallery; Edinburgh: Bourne Fine Art; London: The Fine Art Society, 2013. No. 2.
---
Last modified 4 October 2011