[The Fine Art Society has its own website, and devotees of Victorian and early-modern sculpture, painting, furniture, ceramics, and all aspects of design might wish to consult some of their currently available catalogues, which are always important sources of information.GPL]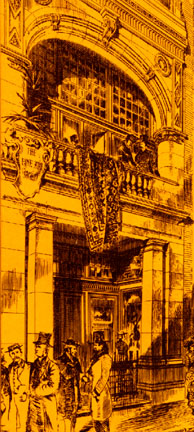 THE FINE ART SOCIETY was founded in 1876 and quickly established itself as one of London's leading art dealers. The front of its New Bond Street building was remodelled in 1881 by E. W. Godwin, and the interior by Faulkner Armitage. The great watercolourists and draughtsmen of the 19th Century — Turner, Bewick and Palmer — featured in early exhibitions, as did Hokusai and Hiroshige. The publishing of engravings after works by the leading artists of the day —Leighton, Millais, Herkomer, Holman Hunt and Elizabeth Thompson (Lady Butler) — was an important early activity.
The Society pioneered the idea of the one-man exhibition. The most sensational of these was the 1883 exhibition of Whistler's Venetian etchings entitled An Arrangement in White and Yellow. This imaginative commission given to Whistler in the wake of the notorious Ruskin-Whistler trial was neatly balanced by financial support for Ruskin through an exhibition of the latter's collection of J.M.W. Turner watercolours.
John Singer Sargent, Frank Brangwyn, Walter Sickert, and the sculptors Alfred Gilbert, Hamo Thornycroft and George Frampton all exhibited at the gallery. The Fine Art Society also mounted all the London exhibitions of Leon Bakst, major shows of Mestrovic and Gluck and more recently represented James Mclntosh Patrick, Richard Eurich, Edward Bawden and other distinguished artists of the last sixty years.
The Fine Art Society has played a pioneering role in the revival of interest in the early years of the New English Art Club, the Glasgow Boys, the Birmingham Group, the Aesthetic Movement, the Arts and Crafts Movement, the designs of Christopher Dresser and Charles Rennie Mackintosh, the Scottish Colourists, the sculpture of the inter-war years, and post-war design.
The Fine Art Society now sells secondhand the art that it originally sold "new" at the same time investigating new fields and continuing to represent an illustrious group of painters including Leonard Rosoman, Norman Blamey, lan McKenzie Smith, Emma Sergeant and others.
Directors
Pippa Stockdale, Sara Terzi, Emily Walsh
Opening Hours
Monday - Friday 9.30-5.30
Saturday not open
Communications
Address: Michelin House, 81 Fulham Road, London, SW3 6RD

Open Mon to Fri 9 - 5pm Strictly by Appointment Only
Telephone: +44(0)20 7629 5116
E-mail: art@thefineartsociety.com
Website: www.thefineartsociety.com
---
Last modified 11 September 2018