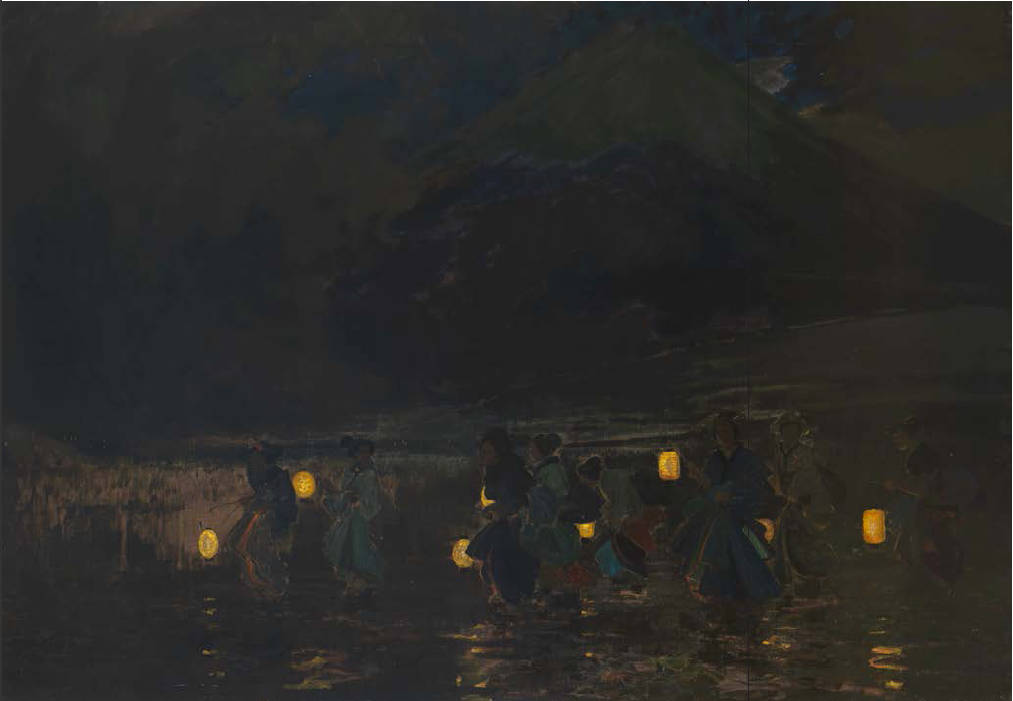 Sayanara – dans le Japon. Sir Alfred East, 1844–1913. 1889. Oil on canvas, 51 x 71 inches (129.5 x 180.5 cm.) Provenance : Barry Humphries). [Click on image to enlarge it.]
East's Sayanara (usually, 'sayonara', meaning 'goodbye') is the first of a small group of canvases in which the painter revisited his experiences of Japan. Known previously from a small watercolour, Etude d'apres 'Sayanara' (sold Bonhams 12 June 2003, lot 849A), its rediscovery here is an important event.
In 1889, the forty-five year old painter had sailed to the Far East for The Fine Art Society in the company of Arthur Lazenby Liberty, owner of the famous department store in Regent Street, and Charles Holme, later editor of The Studio (see Johnson and McConkey 2009, pp.15–18, 44–48). Unlike many other artist-travellers East was determined to visit rural Japan and paint the Japanese landscape, particularly around Lake Biwa and Mount Fuji. On his return, his small oil sketches, watercolours and cabinet pictures were shown to great acclaim at The Fine Art Society in March 1890.
Although he was keen to re-establish his reputation as a painter of the English landscape, East brought back a substantial horde of over 400 Japanese prints and artefacts, including a complete set of Hokusai's Thirty Six Views of Mount Fuji (1823–1830). He was, with Liberty, to become a founding member of the Japan Society in 1891 and on several occasions addressed its members on the comparison between Oriental landscape traditions and those of the west. After a lapse of six years, contemplating his print collection and ruminating on his experiences, he painted Sayanara, the first of three exhibition-scale 'Japanese' canvases. This evocation of a procession of geishas recalls not only the lantern festival prints of the Ukiyo-e school, but their equivalents in western art in the nocturnes of Whistler and his followers. Spielmann, sensing the charm of a scene of lighted lanterns 'held by characteristic little Japanese girls', described it as a 'striking study' in one of a group of British works that showed an affinity with the French school in the Champ de Mars Salon, but avoided its excesses. 'GM' in The Studio, comparing this with East's work at the Royal Academy and the New Gallery concluded that it was 'a feast for the eye'. For the painter of still ponds, noble trees and English countryside calm, this reverie of animated figures under the majestic contour of Mount Fuji was a significant departure. East was never to return to the land of the rising sun.
The Fine Art Society, London, has most generously given its permission to use information, images, and text from its catalogues in the Victorian Web, and this generosity has led to the creation of hundreds and hundreds of the site's most valuable documents on painting, drawing, sculpture, furniture, textiles, ceramics, glass, metalwork, and the people who created them. The copyright on text and images from their catalogues remains, of course, with the Fine Art Society. [GPL]
Bibliography
"Art at the Salon, Champ de Mars, Paris 1897," The Studio (1897): 31 (Special Number).
The Fine Art Society 2014. Exhibition Catalogue. Edinburgh: Bourne Fine Art; London: The Fine Art Society, 2014. No. 13.
GM. "Studio-Talk, Paris." The Studio 9 (1897): 63
Johnson, Paul, and Kenneth McConkey, Alfred East, Lyrical Landscape Painter. Sansom and Co., 2009, pp.47–48 (illus.) 2009.
Spielmann, M.H. "The Paris Salons." The Magazine of Art, (1897): 237.
---
Last modified 22 November 2020