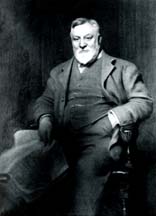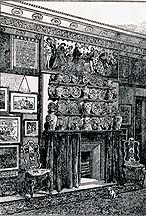 Right: Arthur Lasenby Liberty by Arthtur Hacker, R.A.. Left : An example of an Aesthetic house with display of probably Japanese ceramics. From Robert W. Edis, Decoration and Furnishing of Town Houses. London: Kegan Paul, 1881. Plate 11. Gloag, p. 108.
Arthur Lasenby Liberty, the founder of Liberty & Co., began by catering to an eclectic mixture of styles popular with late-Victorian leaders of taste but then went on to develop his own fundamentally different style that retained their allegiance. He began by contributing to what Mervyn Levy terms "the turmoil" of the 1890s "when there coexisted the irreconcilable polarities of English aestheticism and French decadence, the philistinism of the merchant barons of industry who bought Tadema, Leighton and Poynter, and the purist searchings of designers Christopher Dresser, Charles Rennie Mackintosh and Archibald Knox. . . .A typical aesthetic interior of the period was awash with disparate styles, each tugging at its own very different source of inspiration."
"Many of the attitudes against which the Liberty Style reacted," Levy explains, "were embodied in the Aesthetic Movement, which was itself firmly rooted in . . . Japonisme, which invaded Europe in the wake of the International Exhibition of I862, at which the arts and crafts of Japan were the main attraction."
Levy argues that Liberty was also opposed to both Art Nouveau's often soppy sensuousness based on the human form and also on that "cult of personality which linked the passion for all things oriental and Japanese with the avant-garde" whose leaders were James McNeill Whistler and Oscar Wilde . . . [who] was the very quintessence of leisurely, foppish aestheticism" (20). This cult of personality, particularly when it involved creators of art, fundamentally conflicted with Ruskin's and Morris's emphasis upon the importance of traditional craftsman and artisans. Liberty & Co., which aimed at creating great design in manufactured, even mass-produced artifacts moved even farther from the late-Romantic emphases of the aesthetes and decadents and closer to the modern movement, which it helped engender.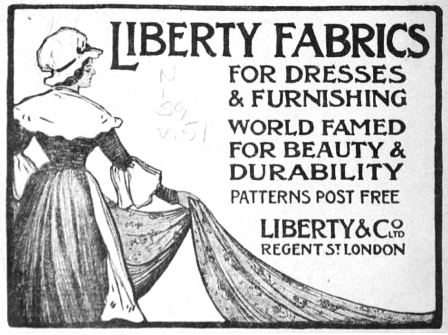 Related Materials
Works
References
Gloag, John. Victorian Comfort: A Social History of Design, 1830-1900. A. C. Black, 1961. (Reprinted 1973 by David and Charles, Newton Abbot.)
Levy, Mervyn. Liberty Style, The Classic Years, 1798-1910. New York: Abrams, 1986.
---
Last modified 9 January 2018