Biography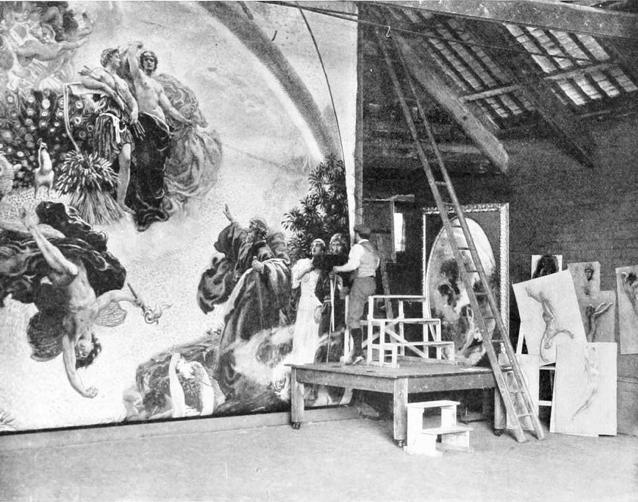 Draper at work in his studio paijting Prospero Summoning Nymphs and Deities
Draper was a painter of powerful and sensuous imaginative works who enjoyed considerable success around 1900. However, his work has been little studied, because his fluent academic draftsmanship, the result of a training received in Paris, rapidly became unfashionable in the 20th century. His merits are only now being reassessed.
Draper was born in London and educated at the St. John's Wood Art School and, from 1884, at the Royal Academy Schools. He won the Royal Academy Travelling Scholarship in 1889 and studied at the Academie Julian in Paris and in Rome. He had already begun to exhibit at the Royal Academy, and showed there regularly between 1887 and his death. A number of his works were bought for the recently founded British provincial art galleries and may be found in Liverpool, Manchester, Bradford, Preston, Truro and Hull. In 1898, his 'Lament for Icarus' (Tate Gallery, London) was bought from the Royal Academy exhibition by the Chantrey Bequest, the most important public fund for purchasing modern art and in 1900 this work gained a gold medal at the Paris Exposition Universelle. At about the same time, the artist received an important mural commission for the ceiling of the Draper's Hall, headquarters of one of the old London livery companies. His work combined academic figure drawing with an almost Post-Impressionist colour range and pointillist technique, designed to retain the works brilliancy when seen from a distance and under the artificial lighting of the company's dinners. Despite these successes, Draper was never elected Royal Academician, or even Associate. By the time of his death, his work had fallen out of favour and he did not even receive an obituary in the Times. There is no modern study of his art, but two of his paintings were included in the Last Romantics exhibition at the Barbican Art Gallery, London, in 1989. — Hilary Morgan
Draper has returned from the shadows since Hilary Morgan wrote the paragaph above, most notably in Simon Toll's 2003 monograph and
catalogue raisonnée
, which closes with the following summary of the painter's rediscovery and importance to the art of the period:
In 2001, the centenary of the death of Queen Victoria, the Tate Gallery included Ulysses and the Sirens, The Gates of Dawn, and The Lament for Icarus in its exhibition devoted to the Victorian nude. The Julian Hartnoll Gallery hosted the second exhibition of draweings by Draper in 2001.
Herbert Draper was one of the finest painters of nudes in the last years of Victoria's reign. As we begin a new century, we are more able to reassess the prejudices and snobbery of some of the last generation of art historians and see the qualities of the work of the last stance of Classicism in British art.
Works
References
Morgan, Hilary and Nahum, Peter. Burne-Jones, The Pre-Raphaelites and Their Century. London: Peter Nahum, 1989.
Toll, Simon. Herbert Draper, 1863-1920: A Life Study. Woodbridge, England: Antique Collector's Club, 2003. [Review by GPL]
---
Last modified 12 August 2006