Photographs by the author, who also scanned the black-and-white images. You may use these images without prior permission for any scholarly or educational purpose as long as you (1) credit the photographer/source and (2) link your document to this URL in a web document or cite it in a print one. [Click on all the images to enlarge them.]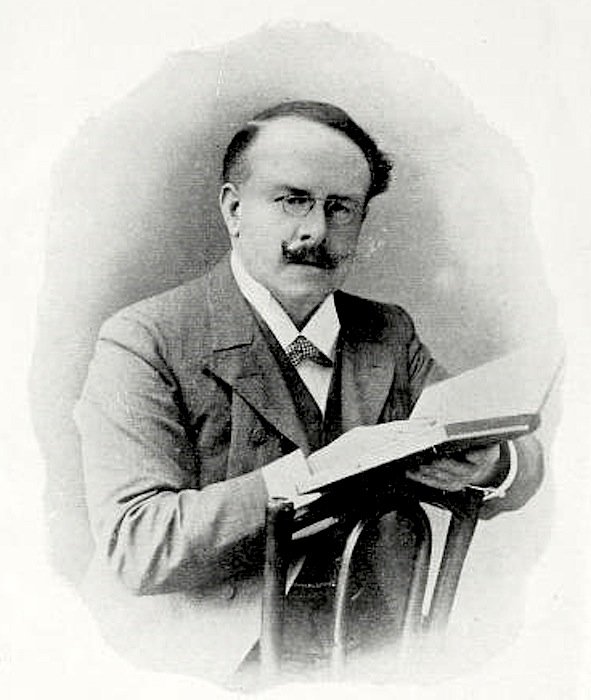 Dr. Barnardo. Source: Batt, frontispiece.
Thomas John Barnardo (1845–1905) was born in Dublin on 4 July 1845. His father's family was of Spanish/Jewish origin, but his father himself was German by birth, and became a naturalised British subject only in 1860. A wholesale furrier by trade, he had been baptised as an adult, and his first wife Elizabeth came from a Quaker family. After she died in childbirth, leaving him with five children, he grew closer to her sister Abigail, whom he subsequently married: young Thomas was the couple's fourth child. As a teenager, the lad was converted to Protestant evangelicalism, and started evangelising in Ireland. Overriding his father's objections, he made his way to London, intending to prepare for the mission field in China. He arrived in 1866 and in 1867 formally entered the London Hospital as a missionary medical student. However, he never completed his studies, and had no real right to the medical title he was to adopt — although he did later become a licentiate (1876) and then fellow (1879) of the Royal College of Surgeons, Edinburgh, making the title an accepted matter of courtesy.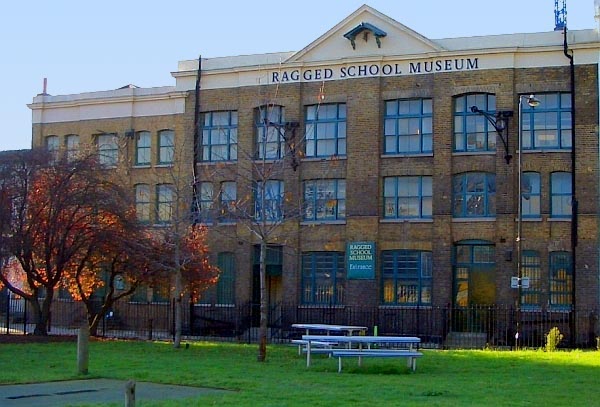 /
Left: The Copperfield Road premises (now the Ragged School Museum). Right: Dr. Barnardo's desk inside a ground floor room, complete with its original labels etc.
During his early months in London, Dr Barnardo, as he wished to be known, became deeply involved with helping the East End, preaching out-of-doors, and for a while teaching at the Ernest Street Ragged School. Together with a few fellow-students at the London Hospital, he then opened an independent Ragged School at some old stabling nearby, which had fallen into disuse. Famously, an encounter with a waif called Jim Jarvis opened his eyes to the appalling living conditions of such children. Before long he had gathered enough funds to acquire two cottages in Hope Place, Stepney Causeway, in 1868. His East End Juvenile Mission, for the care of friendless and destitute children, was now underway. When these premises proved inadequate, he opened his Copperfield Road Free School in canal-side warehousing (the current Ragged School Museum), which was also used as a club and institute for factory girls, serving the latter purpose for some years even after the the school itself was closed in 1908 (see "Nos 46 and 48").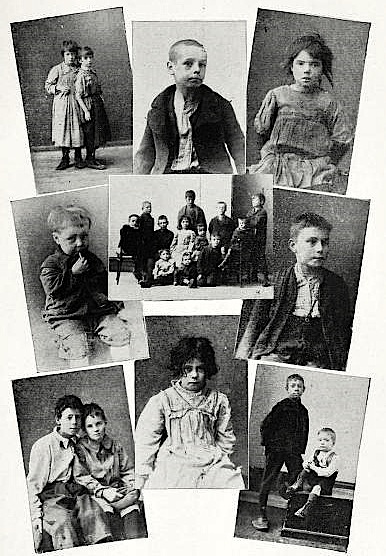 "Some of Dr. Barnardo's Rescues: Waifs and Strays." Batt, facing p. 32.
All this soon became part of a much bigger enterprise. Dr. Barnardo received a small income from the stories he wrote for the magazine he acquired in 1874, the Children's Treasury. But he depended largely on appeals for charity, at first promoting his work by selling staged "before and after" photographs; and also garnering support from important patrons. He was soon running a whole raft of institutions, including a mission church and "coffee palace" (in what had previously been a pub) for working-men, a "receiving house" for girls, and the Girls' Village Home in Barkingside, Essex, which included a church and schools. He lived at the complex himself for a while, with his wife Syrie, whom he married in 1873 at Spurgeon's Metropolitan Tabernacle. Now his organisation's motto was changed from "No destitute boy ever refused admission" to "No destitute child ever refused admittance" — as Gillian Wagner says, "a policy that would lead to repeated financial crises."
His work, and his methods, were not without detractors. His expanding empire was dogged not only by debt, but by controversy. In contrast to those who helped in his philanthropic endeavours, there were others who thought he was undermining the workings of the Poor Law. He was involved in litigation, and was the "prime target" of the Charity Organisation Society (Ellis 394), which was set up to regulate the running of enterprises such as his. In 1877 a Court of Arbitration had settled in his favour, but the effect of the campaign against him had been deletrious. His staunch inculcation of the Protestant faith was a particular problem for Catholics, who resented its effect on the children of Catholic parentage in his care.
From the summer of 1882 he began what was to be his most controversial project, sending groups of children out to Canada for resettlement there, with the help of another philanthropist, Annie McPherson. Although this certainly caused long-lasting distress to some, and is looked upon with disapproval now, the practice was entirely of a piece with his programmes for preparing children for useful working-lives, by teaching them practical skills such as cobbling, tin-smithing and so on; there was also a naval training school. Nor was he by any means the only one to promote juvenile emigration: for example, the Salvation Army supported the idea too (see Parker 266).
However, Dr. Barnardo could also be ahead of his times. For example, in 1886 he adopted the boarding-out system as an integral part of project at home. In the same year he opened the "Babies' Castle" at Hawkhurst, Kent, for a hundred infants (see Marchant), and in 1889 he introduced fostering.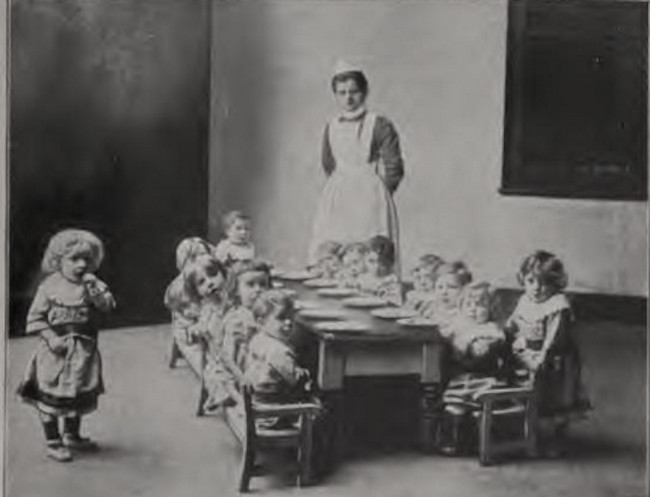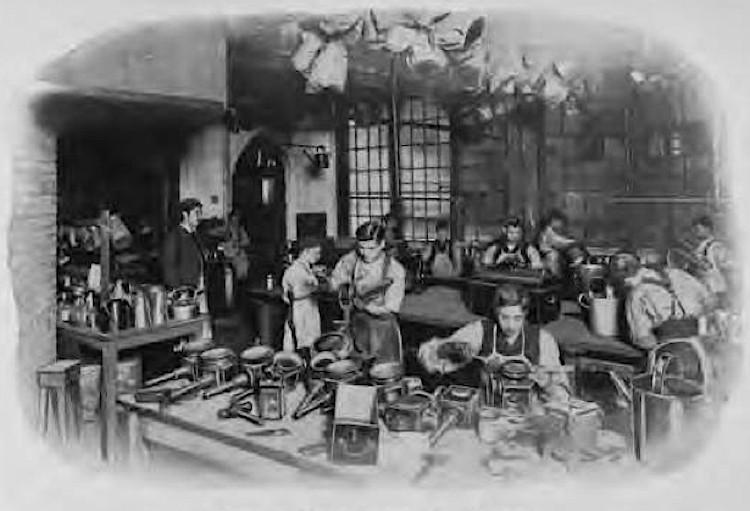 More photographs from the Reverend John Herridge Batt. Left: "Babies' Castle, Hawkhurst, Kent," facing p. 94. Right: "Technical Training — Young Tinsmiths at Work," facing p. 162.
Summing up, the Rev. James Marchant wrote in the early twentieth century,
Barnardo's work grew with amazing rapidity, both at home and in Canada, until the waif and destitute children in his daily charge numbered about 8000. Before his death in 1905 he had rescued and trained 59,384 destitute children and had otherwise assisted as many as 250,000 children in want. Over ninety homes and agencies were founded and maintained by him. The Young Helpers' League which he formed in 1891, under the patronage of Princess Mary Adelaide, Duchess of Teck, who became the first president, and later of Queen Alexandra, aimed at banding together the children of the rich in the service of the sick and suffering poor. The income of the homes was wholly drawn from voluntary sources, and rose from £214. 15s. in 1866 to £196,286. 11s. in 1905, making a total of nearly £3,500,000.
Not to be forgotten, either, is Barnardo's part in promoting the important general principle that the child's welfare should override even parental rights (see Wagner again).
By all accounts a driven, overbearing and often beleagured man, Dr. Barnardo died quite early. Perhaps not surprisingly, his heart gave out and he passed away at the family home in Surbiton on 19 September 1905, at the age of sixty, leaving his wife and their four surviving children. He had been much admired as well as criticised: King Edward VII and Queen Alexandra both sent messages of condolences, with the Queen describing him as "that great philanthropist" (qtd. in Barnardo and Marchant 271). He was cremated at Woking Crematorium, and given a public funeral at his Girls' Village Home, Barkingside. In 1908, on Founder's Day, a monument by Sir George Frampton was unveiled over his tomb. By way of another memorial, a national fund was inaugurated to clear the organisation of debt, though it was several years before this was achieved (see Wagner). It continues its good work today, in different forms, and is currently celebrating its 150th year.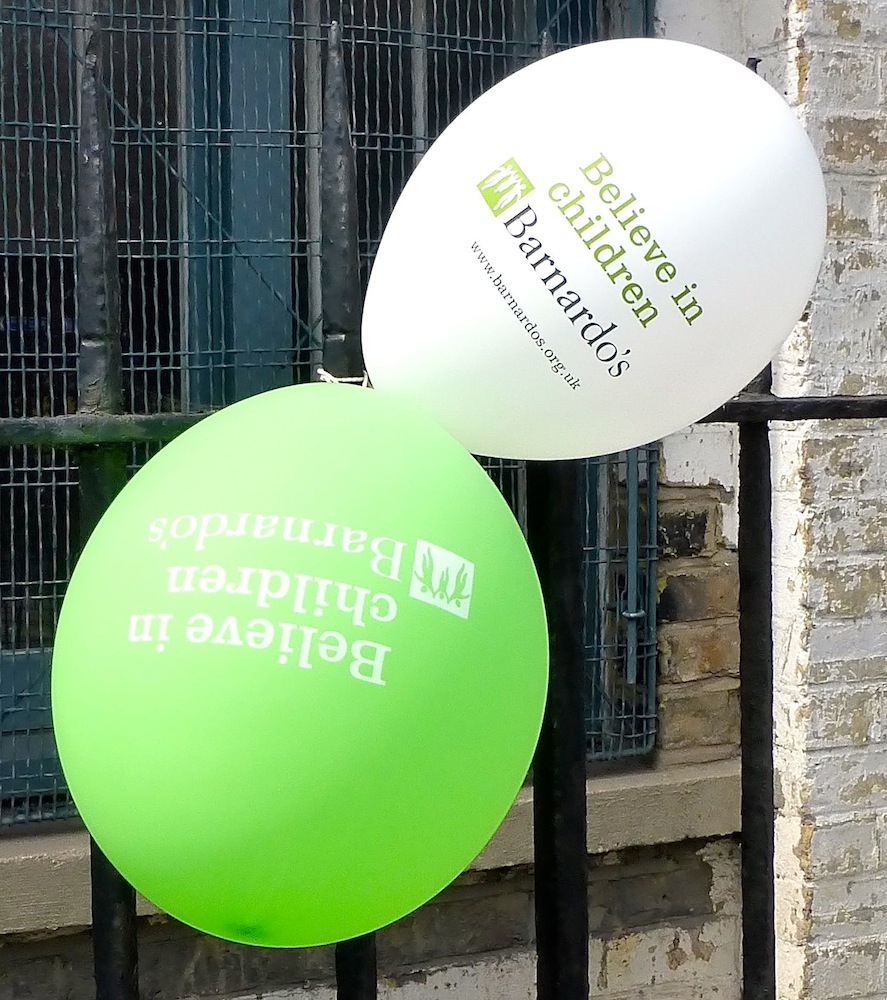 Related Material
Bibliography
Barnardo, Syrie, and Sir James Marchant. Memoirs of the Late Dr. Barnardo. London: Hodder and Stoughton, 1907. Internet Archive. Contributed by the University of Michigan. Web. 9 May 2016. [This has an excellent chronology: Appendix A, 332-341.]
Batt, Rev. John Herridge. Dr Barnardo: The Foster-Father of "Nobody's Children": A Record and an Interpretation. London: S. W. Partridge & Co., 1904. Internet Archive. Contributed by an unknown library. Web. 9 May 2016.
Ellis, Roger. "Thomas Barnardo." Who's Who in Victorian Britain. London: Shepheard-Walwyn, 1997. 393-94.
Marchant, Rev. James. "Barnardo, Thomas John." Dictionary of National Biography. 2nd Supplement, Vol. I. London: Oxford University Press, 1912. Internet Archive. Contributed by Robarts Library, University of Toronto. Web. 9 May 2016.
"Nos 46 and 48 Copperfield Road, E3." British Listed Buildings. Web. 9 May 2016.
Parker, Roy. Uprooted: The Shipment of Poor Children to Canada: 1867-1917. Bristol: The Policy Press, 2010.
Timeline. Dr. Barnardo's Website. Web. 9 May 2016.
Wagner, Gillian. "Barnardo, Thomas John (1845–1905), philanthropist and founder of Dr Barnardo's Homes." Oxford Dictionary of National Biography. Online ed. Web. 9 May 2016.
---
11 May 2016