These photographs on the website of Ozgur Unat, are used here with his kind permission. Copyright, of course, remains with him. — Marjie Bloy Ph.D., Senior Research Fellow, National University of Singapore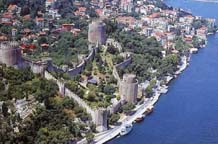 Left: The Bosphorus fort of Anadolu on the Anatolian (Asian) side of the Straits.
Right: The fort at Rumeli on the European side of the Bosphorus
Click on the pictures for a larger view.
These Byzantine forts on either side of the entrance to the Bosphorus, which guard the way to Istanbul, were still in use at the time of the Crimean War. To prevent ships from sailing through to the city, a huge chain was strung between the forts. Any ship attempting to pass without permission was open to fire from both sides of the channel.
Related Material
---
Last modified 10 May 2002