The first photograph was taken by the present author, and is reproduced here by kind permission of the gallery. The other illustrations come from the gallery's press material or from our own website. Images already included on the website may be used without prior permission for any scholarly or educational purpose as long as you (1) credit the source, and (2) link your document to the appropriate URL in a web document or cite it in a print one.
"Christina Rossetti: Vision and Verse" is another of those small but brilliantly conceived and curated exhibitions that make the Watts Gallery such a pleasure to visit. As seen on the right, its title is blazoned in attractive gold script on a deep blue background at the entry to the display areas. This speaks at once of its subject's presence, and her spirituality, and these continue to be felt strongly throughout. Along with them comes a growing sense of her importance, which visitors may not, until now, have fully appreciated.
At first, her achievement might seem to have been overshadowed by that of her artist brother, Dante Gabriel Rossetti, and his circle. She suggests as much herself in an unpublished poem which is also made eye-catching by its gold-on-blue presentation on another wall:
The two Rossetti's (brothers they)
And Holman Hunt and John Millais,
With Stephens, chivalrous and bland,
And Woolner in a a distant land,
In these six men I awestruck see
Embodied, the great P.R.B.
In fact, in this piece of light-hearted occasional verse, Christina underplays her role in the Pre-Raphaelite project. Far from being just an awed observer, as a member of the Rossetti family she was closely involved in it. This, along with her own very distinguished contribution to the cultural scene of the time, soon becomes abundantly clear.
Left: Rossetti's double portrait of Christina and her mother Frances in coloured chalks, 1877. Right: Henry Treffry Dunn's watercolour of Dante Gabriel Rossetti's drawing-room, 1882. Rossetti is reading proofs of his Ballads and Sonnets (1881) to his close friend and confidante, Theodore Watts-Dunton. [Click on these images to enlarge them, and for more information about them.]
By nature, Christina was rather retiring: Max Beerbohm's cartoon, in which he pictures Rossetti teasing her for dressing drably like a "pew-opener," is on display in the main gallery, giving the exhibition one of its several lighter moments. But in such an ambience, a personable younger sister could not escape being frequently drawn and painted. Her portraits look out at us in a variety of mediums, from pencil to oils. In all of them, her solemn gaze betrays a rich inner life, and it is quite understandable that she should have sat for some of her brother's subject paintings, such as the Girlhood of Mary Virgin and his Annunciation as well. (She even modelled for the features of Jesus in William Holman Hunt's famous and much-reproduced work, The Light of the World.) One special point of interest is Rossetti's double portrait, in coloured chalks, of his sister with their mother. This sombre portrait must have meant a great deal to the artist. A larger watercolour, painted by his friend, Henry Treffry Dunn, shows exactly where the portrait used to hang in Rossetti's drawing-room. Here is a unique chance to see the double portrait alongside the painting in which it features.
John Brett's unfinished Portrait of Christina Rossetti, 1857. [Click on the image to enlarge it.]
The most intriguing portrait, however, is the tiny one by John Brett — almost a miniature. Its elements have been debated, but it seems most likely that the disproportionately large feather to the right of Christina's head hints at a quill pen, and indicates her aspirations as a writer — perhaps a role to which she sacrificed her relationship with Brett, who evidently cared deeply for her.
Christina herself studied art for a while at the North London Drawing School, and the exhibition provides a unique chance to see some of her drawings, including small pencil sketches of a fox, a squirrel and a wombat (not her brother's famous pet, it seems, but one she had seen at London Zoo). Yet writing was, of course, where her true talent lay. Most visitors will know her as the author of Goblin Market, or of the shorter poem, "What is pink?" and the popular Christmas carol starting, "In the bleak midwinter." Display cabinets in the large gallery show her books, Goblin Market and Other Poems (1862), "The Prince's Progress" and Other Poems (1866) and Sing-Song, A Nursery Rhyme Book, illustrated by Arthur Hughes (1872), and it is a treat to see the original bindings and to realise how much her works inspired not just her brother, with his well-known illustrations for Goblin Market, and Hughes, but other important illustrators like Arthur Rackham (who illustrated Goblin Market later on). Hughes's large rendering of The Mower, inspired by "Old and New Year Ditties, 3," hangs on the opposite wall.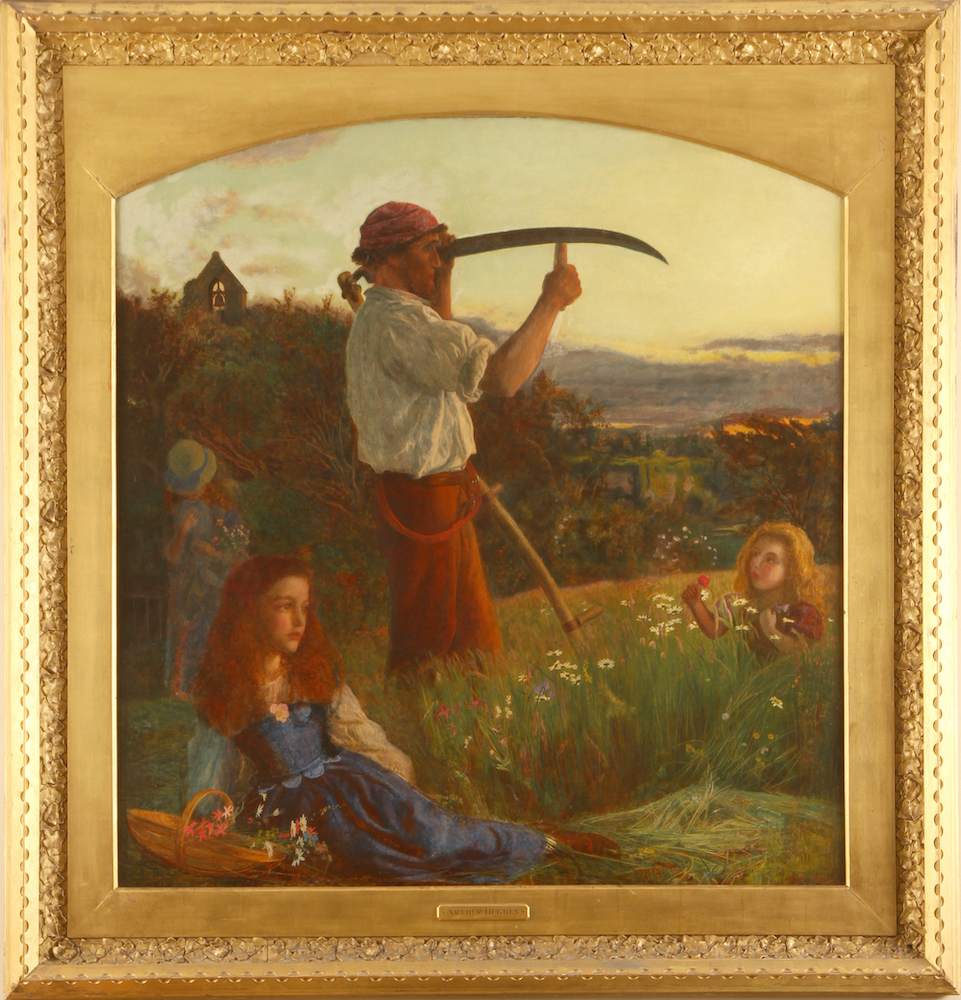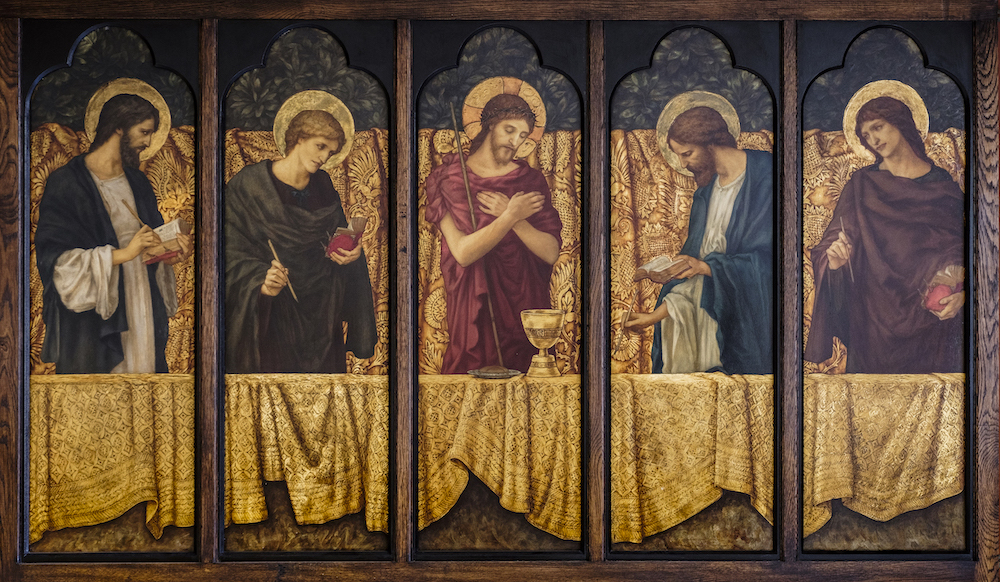 Left: Arthur Hughes's oil-painting The Mower (1863). Right: The memorial for Christina Rossetti designed by Burne-Jones in 1898. [Click on these images to enlarge them.]
Perhaps the most touching exhibits are those that speak most directly of Christina's personal life: her annotated Book of Common Prayer, for instance, inscribed to her mother, and the memorial to her designed by Edward Burne-Jones (yes, something else of his to see, while the current Tate exhibition of his work is still running in London). Showing Jesus with the four Evangelists, this memorial was completed after Burne-Jomes's own death in 1898 by his studio assistant, Thomas Matthews Rooke, and originally placed in the church where Christina worshipped, now the Greek Orthodox Cathedral of St George on Albany Street. It is on loan now from its present home, All Saint's, Margaret Street. Again, the curator has done a fine job of bringing such items together in one space.
Don't be distracted, though, from looking closely at the editions of Christina Rossetti's books on display here — not only to admire the illustrations, but to re-read some of the poems (you can listen to a recording of Goblin Market, too). These lend credence to the view of Lewis Carroll and others that she should have become Poet Laureate after Tennyson. As it is, she is receiving more and more recognition these days, and this most enjoyable exhibition is bound to accelerate that process.
Related Material
---
Created 9 January 2018