Arthur Rackham, long recognised as a principal artist in the Golden Age of British book illustration, graduated from the Lambeth School of Art. He created vigorous pen-and-ink illustrations that he sometimes combined with watercolour wash, which the process of colour-separated printing reproduced well. He won international recognition with his contributions to British children's magazines such as Little Folks and Cassell's, winning a gold medal at the Milan International Exhibition in 1906 and another at the Barcelona International Exposition in 1912. The Louvre had an exhibition of his works in 1914.
His chief achievements in illustratating children's literature include The Ingoldsby Legends (1898), Gulliver's Travels (1900), Fairy Tales of the Brothers Grimm (1900), Rip Van Winkle (Heinemann, 1905), and Peter Pan in Kensington Gardens (Hodder & Stoughton, 1906). Although he communicates the modernist experience through his depictions of London, he himself lived in the suburbs — from 1920 onward at Houghton in West Sussex. He died of cancer at the age of seventy-two in the family's home at Limpsfield, Surrey.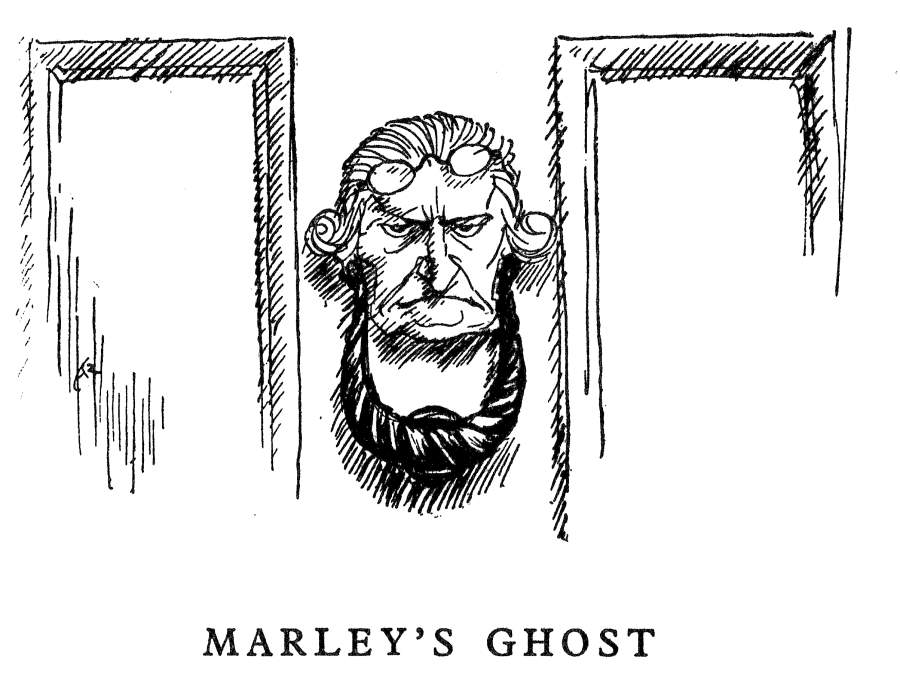 Under Rackham's pen and water-colour brush A Christmas Carol (1915) becomes an elegant children's book whose illustrations range from sentimental scenes from childhood, such as Bob Cratchit's sliding on the ice at Cornhill to "mystical and fantastic" (Davis, 333) realisations of Scrooge's spiritual journey. Although the seven line drawings fancifully depict such moments as Scrooge's old schoolmaster entertaining the boy and his sister, Fan, Rackham's true achievement in this early twentieth-century edition lies in the luminous and quality of his dozen colours.
Unlike John Leech, Hablot Knight Browne, and other Victorian artists, Rackham did not require a technically competent steel- or wood-engraver to translate his fantasies to the printed page because by the time he worked as an illustrator the age of the great wood engravers had passed and photographic processes existed that mechanically reproduced his original drawings and watercolours. — Philip V. Allingham.
Works:
A Christmas Carol

(1915)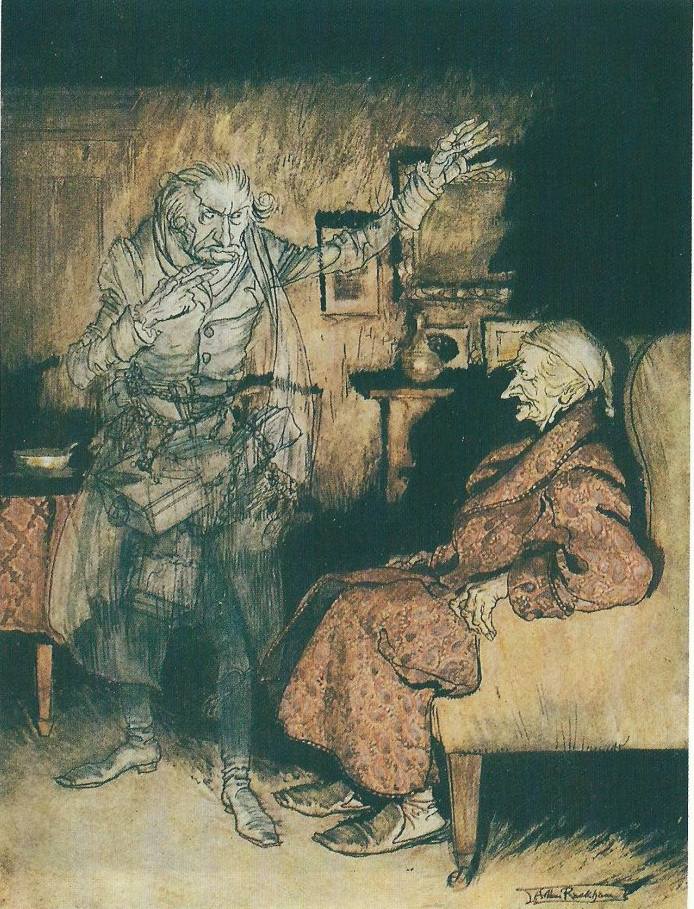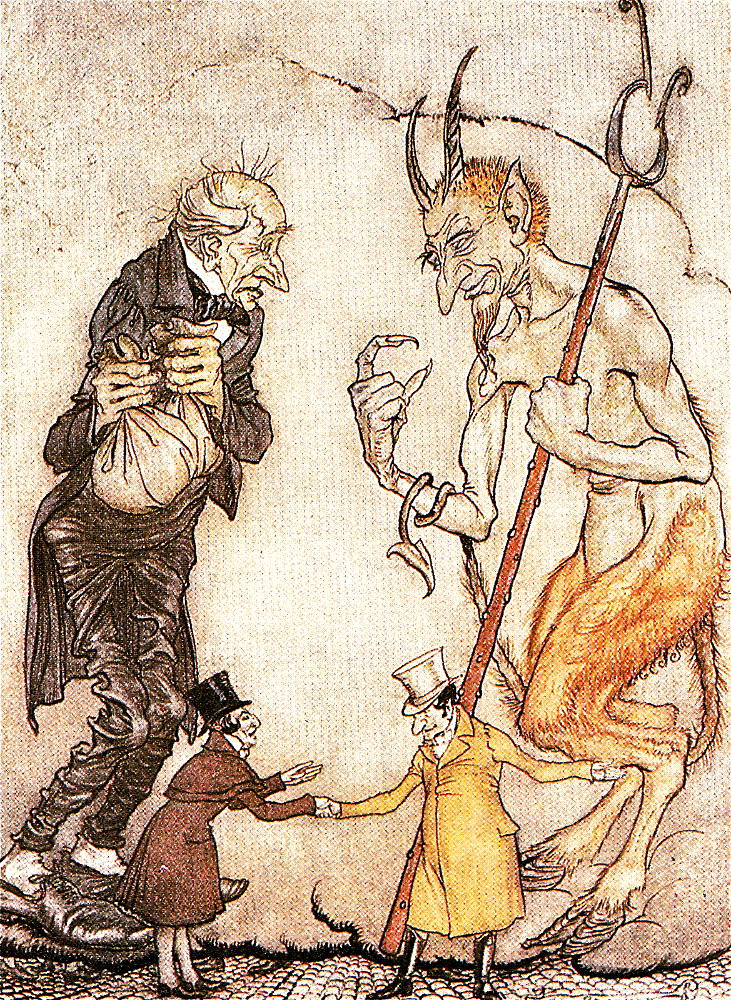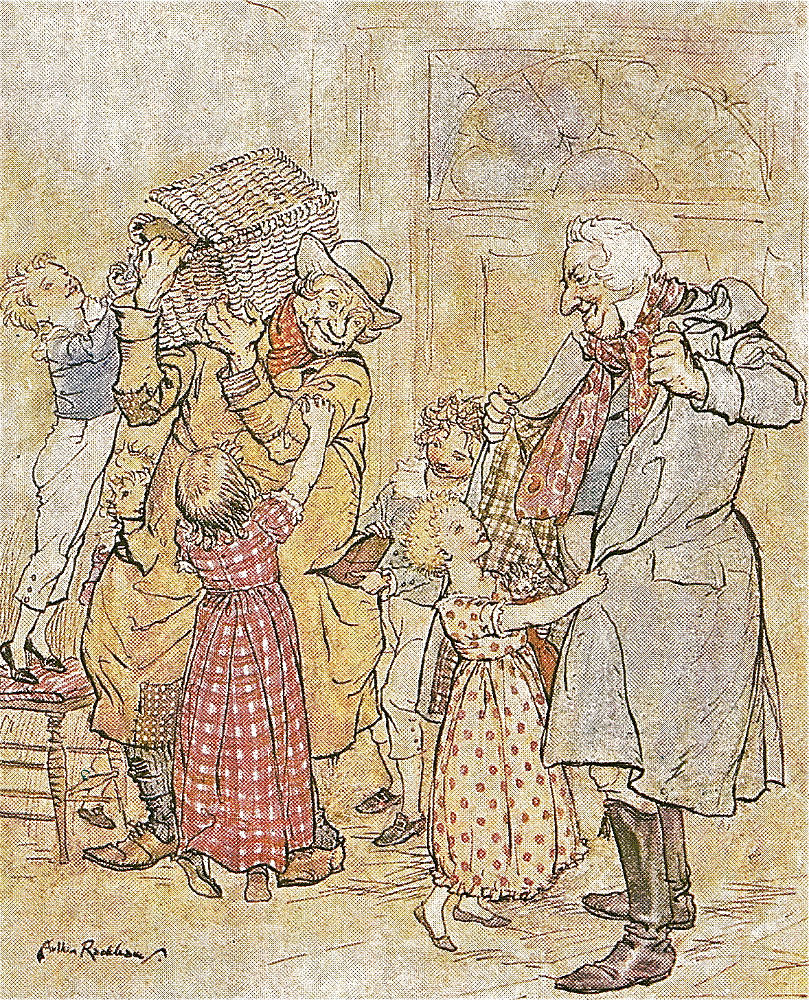 Illustrations for
A Christmas Carol

(1843-1912)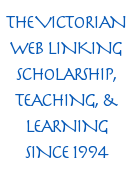 Miscellaneous
Bibliography
Barrie, J. M. Peter Pan in Kensington Gardens. Illustrated by Arthur Rackham. London: Hodder and Stoughton, n. d.
Davis, Paul. Charles Dickens A to Z: The Essential Reference to His Life and Work. New York: Checkmark and Facts On File, 1998.
_____. The Lives and Times of Ebenezer Scrooge. New Haven and London: Yale U. P., 1990.
Dickens, Charles. A Christmas Carol. Illustrated by Arthur Rackham. London: William Heinemann, 1915.
Fantastic Illustration and Design in Britain, 1850-1930. Providence: Museum of Art, Rhode Island School of Design, 1979.
Gettings, Fred. Arthur Rackham. New York: Macmillan, 1975. [Appendix A consists of a bibliography of books illustrated by Rackham.]
Ray, Gordon N. The Illustrator and the Book in England from 1790 to 1914. New York: Pierpont Morgan Library and Oxford University Press, 1976.
---
Created 17 June 2019

Last modified 26 September 2022