Mr. Pickwick no sooner put on his spectacles, than he at once recognised in the future Mrs. Magnus the lady into whose room he had so unwarrantably intruded on the previous night by Phiz (Hablot K. Browne). Household Edition (1874) of Dickens's Pickwick Papers, p. 161. Engraved by one of the Dalziels. [Click on image to enlarge it.]
"What is the meaning of this, Sir?"
By the light of day in the inn at Ipswich, and with his spectacles on, Pickwick recognises the lady in the curl-papers from the previous night's misadventure as his travelling companion Peter Magnus's fiancee, Miss Witherfield. Although Nast's juxtaposition of the figures more accurately reflects Dickens's description, with Miss Withfield at the upper end of the room rather than opposite Peter Magnus, Phiz's dressing of the stage, so to speak, is superior, with the figures better distributed, the room more effectively furnished, and Pickwick's look of recognition — in contrast to the obvious surprise of Peter Magnus and Miss Witherfield — highly believable. The scene realised involves Peter Magnus's dragging Mr. Pickwick down the hall to meet the woman who has just agreed to be his wife; until the ensuing introduction it has not occurred to Pickwick that the fiancee and the lady in the curl-papers from much earlier that morning might possibly be one-and-the-same person:
"You must see her, sir," said Mr. Magnus; "this way, if you please. Excuse us for one instant, gentlemen." Hurrying on in this way, Mr. Peter Magnus drew Mr. Pickwick from the room. He paused at the next door in the passage, and tapped gently thereat.
"Come in!" said a female voice. And in they went.
"Miss Witherfield," said Mr. Magnus. "Allow me to introduce my very particular friend, Mr. Pickwick. Mr. Pickwick, I beg to make you known to Miss Witherfield."
The lady was at the upper end of the room. As Mr. Pickwick bowed, he took his spectacles from his waistcoat pocket, and put them on; a process which he had no sooner gone through, than, uttering an exclamation of surprise, Mr. Pickwick retreated several paces, and the lady, with a half-suppressed scream, hid her face in her hands, and dropped into a chair: whereupon Mr. Peter Magnus was stricken motionless on the spot, and gazed from one to the other, with a countenance expressive of the extremities of horror and surprise. This certainly was, to all appearance, very unaccountable behaviour; but the fact is, that Mr. Pickwick no sooner put on his spectacles, than he at once recognised in the future Mrs. Magnus the lady into whose room he had so unwarrantably intruded on the previous night; and the spectacles had no sooner crossed Mr. Pickwick's nose, than the lady at once identified the countenance which she had seen surrounded by all the horrors of a nightcap. So the lady screamed, and Mr. Pickwick started.
"Mr. Pickwick!' exclaimed Mr. Magnus, lost in astonishment. "What is the meaning of this, sir? What is the meaning of it, sir?" added Mr. Magnus, in a threatening, and a louder tone.
"Sir,' said Mr. Pickwick, somewhat indignant at the very sudden manner in which Mr. Peter Magnus had conjugated himself into the imperative mood, "I decline answering that question."
"You decline it, sir?" said Mr. Magnus.
"I do, Sir," replied Mr. Pickwick; "I object to say anything which may compromise that lady, or awaken unpleasant recollections in her breast, without her consent and permission."
"Miss Witherfield," said Mr. Peter Magnus, "do you know this person?"
"Know him!" repeated the middle-aged lady, hesitating.
"Yes, know him, ma'am; I said know him" replied Mr. Magnus, with ferocity.
"I have seen him," replied the middle-aged lady.
"Where?" inquired Mr. Magnus, "where?"
"That," said the middle–aged lady, rising from her seat, and averting her head, "that would not reveal for worlds."
'I understand you, ma'am,' said Mr. Pickwick, "and respect your delicacy; it shall never be revealed by me depend upon it." [Chapter 24, p. 162 in the Chapman & Hall Household Edition; p. 143 in the Harper & Bros. Household Edition]
Here, then, is yet another scene that Phiz did not attempt in his orginal 1836-37 serial program, but which obviously stimulated his imagination. In terms of the narrative-pictorial sequence, the "recognition" scene sets up the brawl in the market-place after Magistrate George Nupkins has issued a warrant for the arrest of Pickwick, based on Miss Witherfield's testimony. She has approached the magistrate after the verbal altercation between Magnus and Pickwick at the inn since she erroneously believes that the two are about to fight a duel over her, and that the only way of preserving her fiance's life is to have Pickwick incarcerated. Phiz's three figures, though frozen in a tableau vivant at the inception of the complications, are more believable than the cartoon-like figures offered by Nast, who has elected to show Miss Witherfield hiding her face in her hands after she has recognized in her future husband's friend the trespasser of a few hours before. Whereas in his earlier work, Phiz tended to include both pictorial and textual comments within his compositions, the only detail that could be construed as an emblem here is the romantic landscape painting that separates the middle-aged gentlemen. The castle on a hill may be intended to signify the age of chivalry long gone in which noblemen routinely fought duels to preserve that chimera "honour" or "reputation." Whereas Pickwick and Miss Witherfield extent their arms out and downward in recognition, Magnus gestures upward with his right hand, as if inviting explanation from Pickwick. Pickwick's foolishly trying to preserve Miss Witherfield's honour by remaining mum only fuels Magnus's suspicions.
Related Material
Scanned image and text by Philip V. Allingham. Formatting by George P. Landow. [You may use this image without prior permission for any scholarly or educational purpose as long as you (1) credit the person who scanned the image and (2) link your document to this URL in a web document or cite the Victorian Web in a print one.]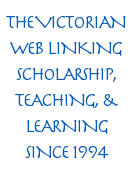 References
Dickens, Charles. Pickwick Papers. The Household Edition. London: Chapman and Hall, 1874; New York: Harpers, 1874.
---
Last modified 9 March 2012