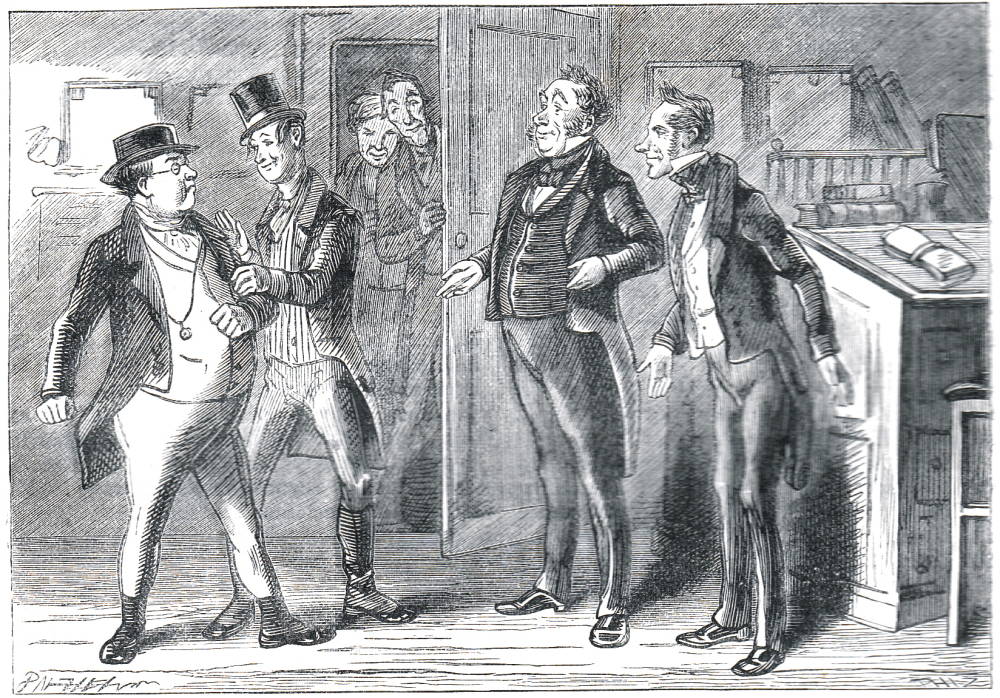 "You just come avay," said Mr. Weller. "Battledore and Shuttlecock's a wery good game, vhen you an't the shuttlecock and two lawyers the battledores." by Phiz (Hablot K. Browne). Household Edition (1874) of Dickens's Pickwick Papers, p. 137. Engraved by one of the Dalziels. [Click on image to enlarge it.]
After the misadventure of the wheelbarrow (commemorated in the title-page vignette of the American Household Edition) and his subsequent ignominy in the village pound, Pickwick returns to London to deal with Mrs. Bardell's attorneys, Dodson and Fogg — unwisely approaching the cunning lawyers without the assistance of his own legal advisor, Mr. Perker. Pickwick's error in judgment of defaming them in front of witnesses (although his accusations are undoubtedly true) is so egregious that both Nast and Phiz felt the scene worthy of realisation, although the British Household Edition sets its scene in the attorneys' outer office (as in Phiz's original illustration of October 1836), while the American version captures Pickwick's Parthian shot as he descends the building's staircase afterwards.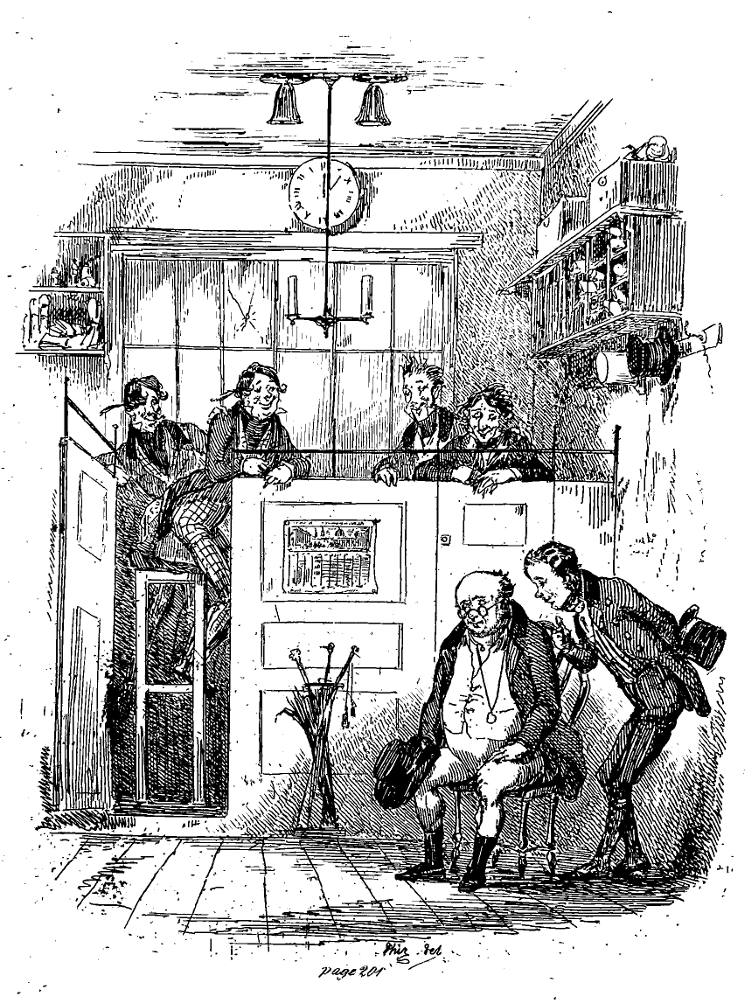 Left: Mr. Pickwick and Sam in the Attorney's Office by Phiz. Right: "Pray do it, sir! by Thomas Nast. [Click on images to enlarge them.]
In both instances, Sam Weller tries to prevent Pickwick's getting himself in further trouble, restraining his all-too-easily-angered employer. From the point of view of strict fidelity to text, Nast's treatment of the scene is superior; however, in terms of the comedy and characterisation of Pickwick and the predatory attorneys, Phiz's has much more to offer the discerning — even if Dickens would not have approved of Phiz's moving the clerks' office from the lower storey of the building and enacting the scene in the lawyers' office rather than on the stairs. In particular, Phiz effectively conveys the pride that the black-suited rogues take in their clever and unethical dealings (as we learn from their treatment of Ramsey, as narrated by one of the clerks earlier in the chapter).
In the Phiz illustration, Pickwick is already denouncing the "disgraceful and rascally proceedings" (134) of Bardell's attorneys, while in the original engraving Pickwick and Sam are still waiting in the reception area, scrutinized by the attorneys' clerks as objects of amusement. The precise moment realised by Phiz in 1873 is this, even if the precise piece of dialogue that serves as the caption is uttered on the stairs, as Pickwick and Sam depart (as envisaged by Nast, with the attorneys at the top of the stairs and the clerks on the landing below):
'Very well, gentlemen, very well,' said Mr. Pickwick, rising in person and wrath at the same time; 'you shall hear from my solicitor, gentlemen."
"We shall be very happy to do so," said Fogg, rubbing his hands.
"Very," said Dodson, opening the door.
"And before I go, gentlemen," said the excited Mr. Pickwick, turning round on the landing, "permit me to say, that of all the disgraceful and rascally proceedings — —"
"Stay, sir, stay," interposed Dodson, with great politeness. "Mr. Jackson! Mr. Wicks!"
"Sir," said the two clerks, appearing at the bottom of the stairs.
"I merely want you to hear what this gentleman says," replied Dodson. "Pray, go on, sir — disgraceful and rascally proceedings, I think you said?"
"I did," said Mr. Pickwick, thoroughly roused. "I said, sir, that of all the disgraceful and rascally proceedings that ever were attempted, this is the most so. I repeat it, sir."
"You hear that, Mr. Wicks," said Dodson.
"You won't forget these expressions, Mr. Jackson?" said Fogg.
"Perhaps you would like to call us swindlers, sir," said Dodson.
"Pray do, sir, if you feel disposed; now pray do, sir."
"I do," said Mr. Pickwick. 'You are swindlers."
"Very good," said Dodson. "You can hear down there, I hope, Mr. Wicks?"
"Oh, yes, sir," said Wicks.
"You had better come up a step or two higher, if you can't," added Mr. Fogg. "Go on, sir; do go on. You had better call us thieves, sir; or perhaps You would like to assault one of us. Pray do it, Sir, if you would; we will not make the smallest resistance. Pray do it, sir."
As Fogg put himself very temptingly within the reach of Mr. Pickwick's clenched fist, there is little doubt that that gentleman would have complied with his earnest entreaty, but for the interposition of Sam, who, hearing the dispute, emerged from the office, mounted the stairs, and seized his master by the arm.
You just come away," said Mr. Weller. "Battledore and shuttlecock's a wery good game, vhen you ain't the shuttlecock and two lawyers the battledores, in which case it gets too excitin' to be pleasant. Come avay, sir. If you want to ease your mind by blowing up somebody, come out into the court and blow up me; but it's rayther too expensive work to be carried on here." [Chapter 20, Chapman & Hall Household Edition, p. 134; Harper & Bros. Household Edition, p. 121]
Phiz better communicates Pickwick's indignation, his fists clenched, as Sam attempts to make him see that saying nothing whatsoever to the scoundrels is in his best interests. Phiz's clerks, looking in through the door communicating to the outer office, are obviously enjoying the baiting, whereas Nast's clerks lack any expression. And, further, Sam's remonstrance is more effectively communicated by his body language and gesture of a raised hand (implying that Pickwick has said enough) in Phiz's 1873 illustration.
Related Material
Scanned image and text by Philip V. Allingham. Formatting by George P. Landow. [You may use this image without prior permission for any scholarly or educational purpose as long as you (1) credit the person who scanned the image and (2) link your document to this URL in a web document or cite the Victorian Web in a print one.]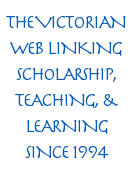 References
Dickens, Charles. Pickwick Papers. The Household Edition. London: Chapman and Hall, 1874; New York: Harpers, 1874.
---
Last modified 9 March 2012