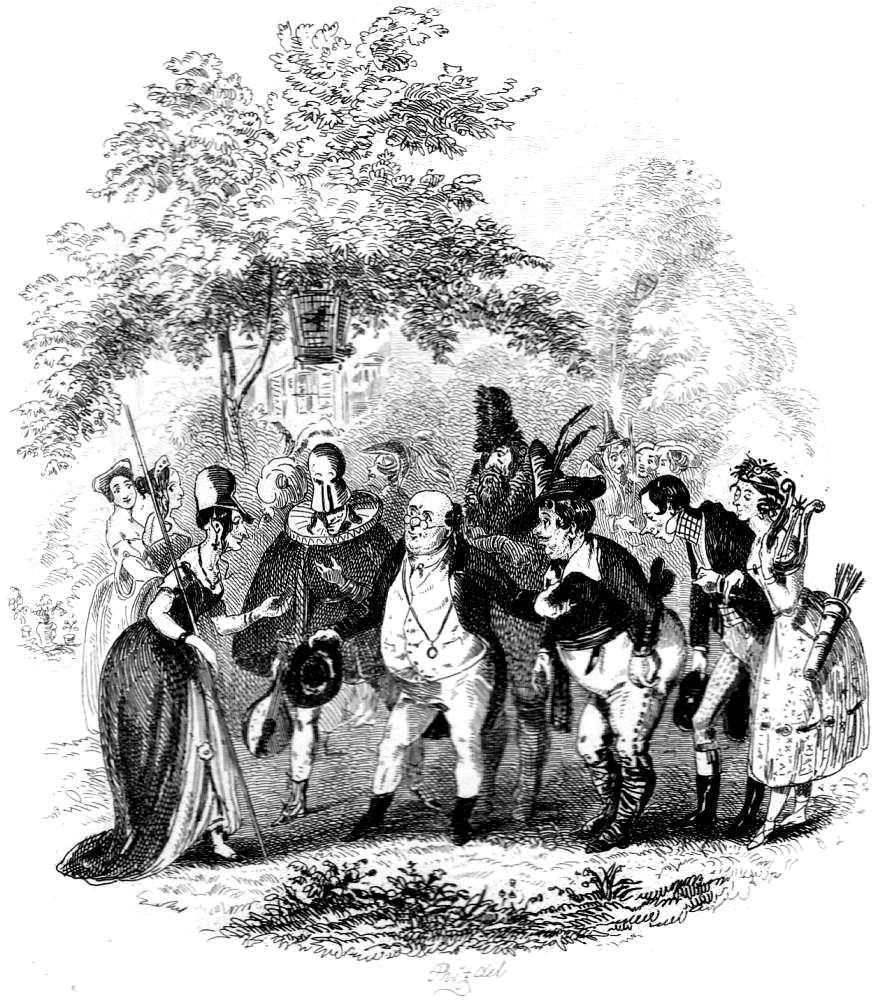 Mrs. Leo Hunter's Fancy-Dress Dejeuner
Phiz (Hablot K. Browne)
September 1836
Steel Engraving
Dickens's Pickwick Papers
[Click on image to enlarge it.]
Details
Scanned image and text by Philip V. Allingham.
[You may use this image without prior permission for any scholarly or educational purpose as long as you (1) credit the person who scanned the image and (2) link your document to this URL in a web document or cite the Victorian Web in a print one.]
Having heard a travelling salesman recount "The Bagman's Story" at the Peacock Inn, where all the Pickwickians but Pickwick himself have been staying while observing the Eatanswill election (Plate), the group attend Mrs. Leo Hunter's costume party, a féte champetre, where their hostess recites her original poetic composition "Ode to an Expiring Frog." Pickwick is astounded to discover that Jingle, too, is attending the event under the pseudonym "Charles Fitz-Marshall." He and Sam then pursue the confidence man and his devious servant, Job Trotter, to the Angel Inn at Bury St. Edmunds. The twin plates of the sixth monthly part (September 1836) therefore underscore the theme of subterfuge and deception, innocently through the elaborate and somewhat ridiculous costumes of Mrs. Hunter's party and more malevolently through the consequences of Trotter's deceiving Pickwick into believing that Jingle is planning to elope with an heiress from Miss Tomkin's School, a deception that results in Pickwick's being found in a highly embarrassing situation at night behind the walls of the ladies' seminary.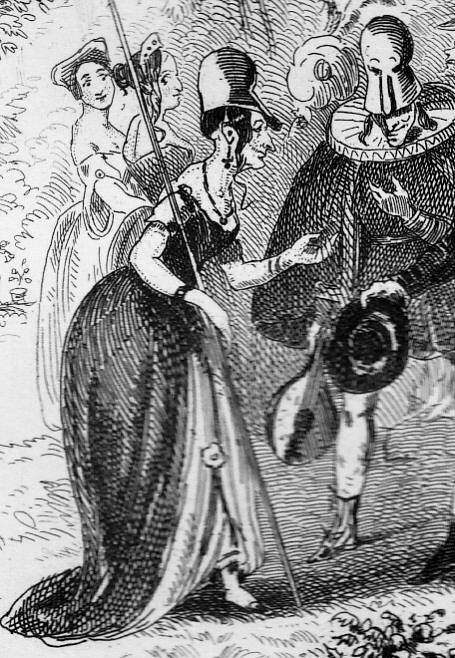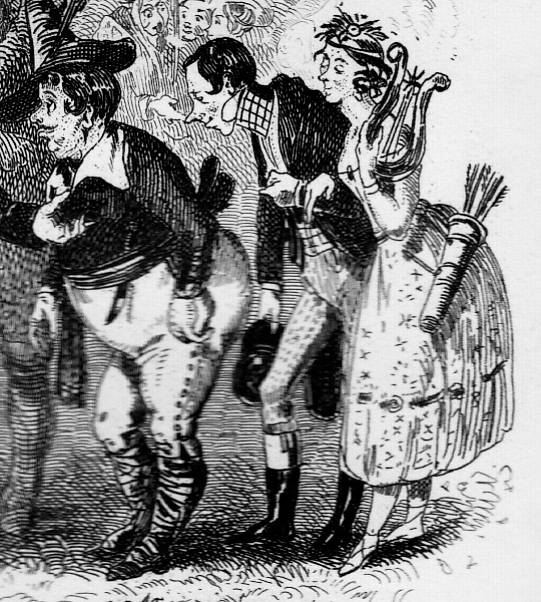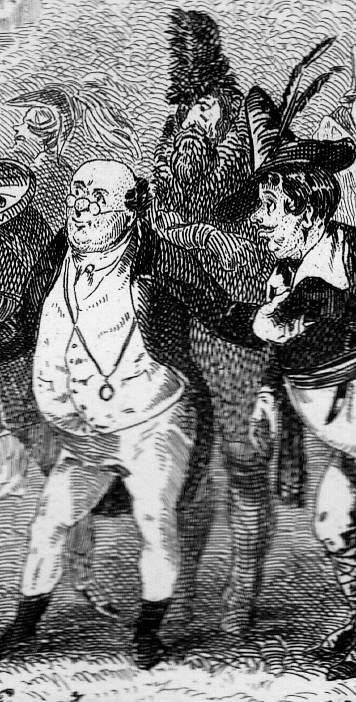 Left: (a) Mrs. Leo Hunter Tupman and Winkle in costume/ (c) Pickwick, Pott, and Tupman. Click on images and those below to enlarge them.
Prior to going to the party, Pickwick and Tupman have a falling out over the issue of Tupman's proposed costume. To show his romantic sympathies, Tupman proposes — to Pickwick's chagrin — to wear a costume suggestive of an alpine bandit: velveteen shorts and "a green velvet jacket, with a two-inch tail. . ." (chapter 15), the very getup in which we see him (face browned with burnt cork) in Phiz's 1836 and 1873 illustrations. Thomas Nast chose to focus on the quarrel between Tupman and his chief over the matter of the frog costume in "'Come on Sir!' replied Mr. Pickwick" (p. 91 in the American Household Edition), whereas Phiz elected to reprise his 1836 steel engraving in a full page wood-cut (facing page 101).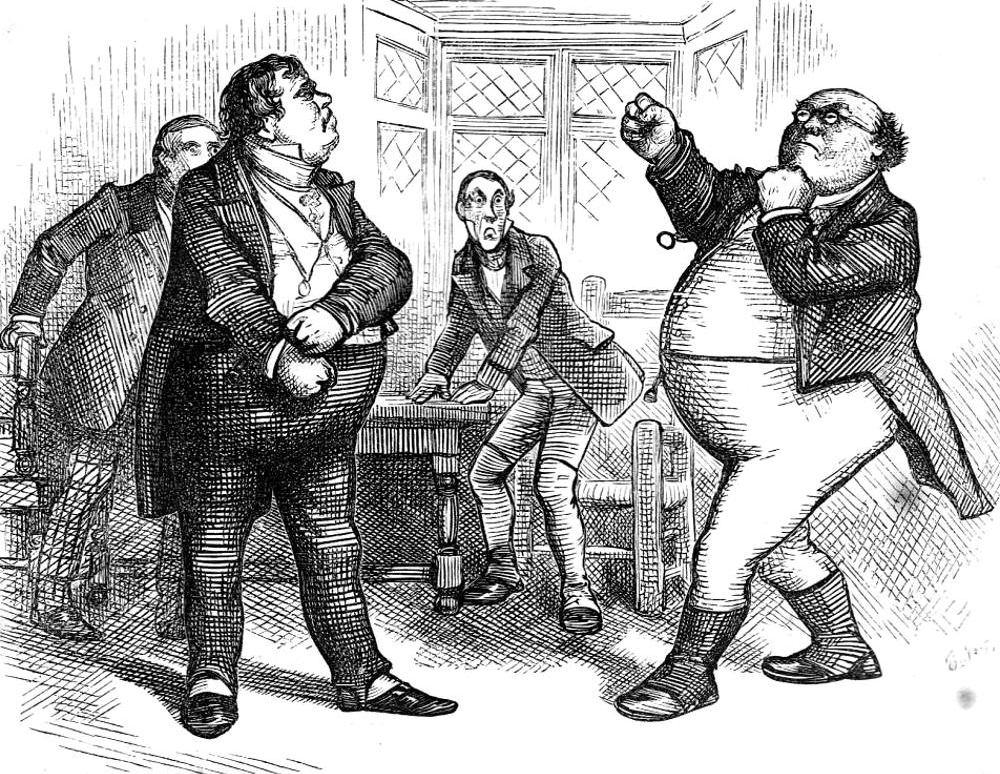 In the 1836 illustration, the poetess "in the character of Minerva" (patroness of the arts) is wearing "a white satin gown with gold spangles," exactly as her husband had described to Pickwick when he delivered the invitation earlier in the chapter. Among her guests are "half a dozen lions from London — authors, real authors, who had written whole books and printed them afterwards" — although not a single "lion" is evident in Phiz's illustration. The woman accompanying Winkle is none other than Mrs. Pott (the wife of the editor of the Eatanswill Gazette) in the character of Apollo (hence, her lyre and quiver). According to the text, Mr. Snodgrass is the figure in the Grecian helmet. Pott appears in the character of a "Russian officer of justice," and therefore must be the tall man behind Tupman and Pickwick in the right foreground.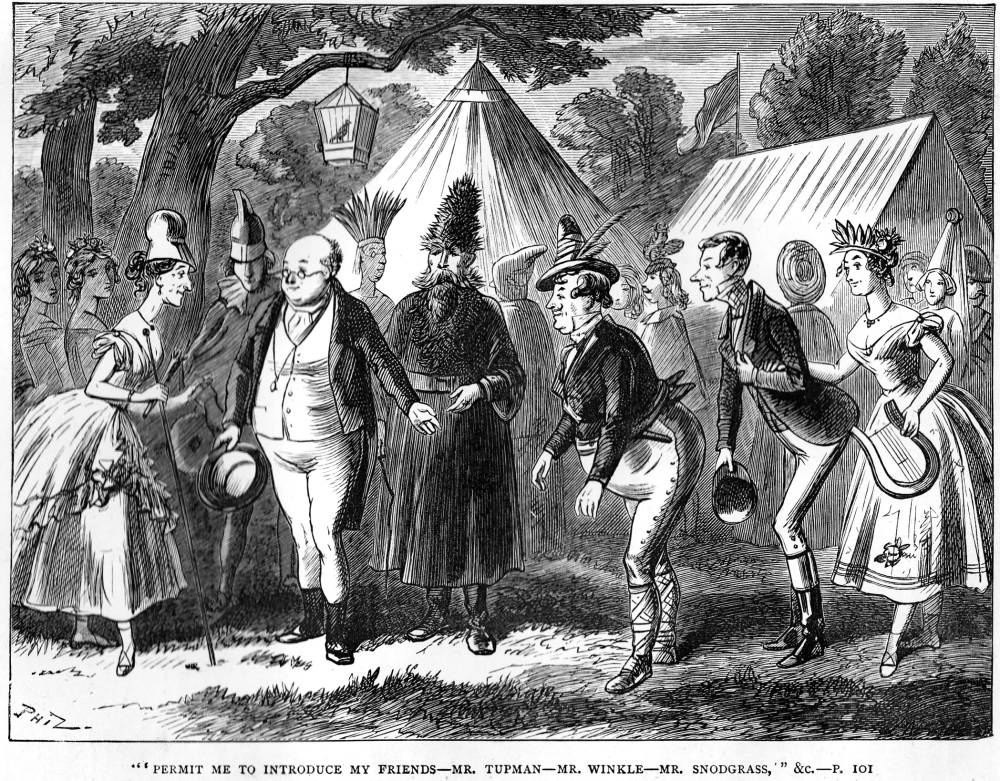 As always, in both Phiz illustrations, Pickwick is readily identifiable, and, by virtue of their close proximity to him, so are Tupman ("fat," as Pickwick says, and looking decidedly uncomfortable in his ridiculous getup), the tall Pott (as a blend of a bearded Cossack and a judge, in the background in the 1836 plate, but brought forward in that for 1873), and the slender Winkle, as usual, wearing gaiters, and a red jacket appropriate to a huntsman — or a postman. The background in Phiz's 1836 plate suggests the kind of outdoor and natural setting that the French court of the eighteenth century would have required for such an affair, but Phiz has filled the 1873 illustration's background with two tents and nine figures in "fancy dress." In both, the elderly Mrs. Hunter looks very much "mutton got up as lamb," in contrast to the younger women whose beauty the skimpy costumes complement.
More significantly, in the 1873 revision of this illustration, Phiz has pushed Mrs. Hunter to the right margin, giving greater prominence to Pickwick and his associates. Having a larger field to fill (13 by 17.4 cm for 1873; 12 by 10.5 for 1836), in the second iteration Phiz has been able to make his figures much larger, but the change in medium (and probably his partial paralysis and blindness) has meant a loss in the delicacy of line and subtlety of shading in the later illustration. Subtle changes are obvious upon closer inspection: for example, the young Mrs. Pott, dressed as Apollo with quiver and lyre (right), does not hold her musical instrument up in the 1873 plate and has a more natural pose. The later plate presents figures modelled with a greater sense of three-dimensional space, emphasising, for example, the trunks and boughs of the trees in the backdrop, whereas the original illustration created a Watteau-esque setting by focusing the trees' foliage and by showing the trees in their entirety. In essence, then, Phiz's view in 1836 is panoramic, but that of the 1873 woodcut is a close-up in which the principals crowd out the background detail: note, for example, the figure in the helmet between Pickwick and his hostess — in bringing the bearded editor forward in the Household Edition woodcut, Phiz has forced that other-worldly figure in the helmet (Snodgrass) into the background.
The essential point of both Dickens's text and Phiz's 1836 illustration is the satirising of society lady poets and their bad poetry, a topic which Mark Twain later revisited when in Huckleberry Finn he introduced the maudlin poetess Emmeline Grangerford and her poem "Funeral Ode to Stephen Dowling Botts," the original Ms. Grangerford probably being the real-life poet Julia Anne Moore, the "Sweet Singer of Michigan" (1847-1920).
Passage Illustrated
"Mr. Pickwick, ma'am," said a servant, as that gentleman approached the presiding goddess, with his hat in his hand, and the brigand and troubadour on either arm.
"What! Where!" exclaimed Mrs. Leo Hunter, starting up, in an affected rapture of surprise.
"Here," said Mr. Pickwick.
"Is it possible that I have really the gratification of beholding Mr. Pickwick himself!" ejaculated Mrs. Leo Hunter.
"No other, ma'am," replied Mr. Pickwick, bowing very low. "Permit me to introduce my friends — Mr. Tupman — Mr. Winkle — Mr. Snodgrass — to the authoress of 'The Expiring Frog.'
Very few people but those who have tried it, know what a difficult process it is to bow in green velvet smalls, and a tight jacket, and high-crowned hat; or in blue satin trunks and white silks, or knee-cords and top-boots that were never made for the wearer, and have been fixed upon him without the remotest reference to the comparative dimensions of himself and the suit. Never were such distortions as Mr. Tupman's frame underwent in his efforts to appear easy and graceful — never was such ingenious posturing, as his fancy-dressed friends exhibited.
"Mr. Pickwick,' said Mrs. Leo Hunter, "I must make you promise not to stir from my side the whole day. There are hundreds of people here, that I must positively introduce you to."
"You are very kind, ma'am," said Mr. Pickwick. [chapter 15]
References
Davis, Paul. Charles Dickens A to Z: The Essential Reference to His Life and Work. New York: Facts On File and Checkmark Books, 1998.
Dickens, Charles. "Pickwick Papers (1836-37). Il. Hablot Knight Browne. The Charles Dickens Edition. Boston: Ticknor & Fields, 1867.
Dickens, Charles. "Pickwick Papers (1836-37). Il. Hablot Knight Browne. The Household Edition. London: Chapman and Hall, 1873.
Dickens, Charles. "Pickwick Papers (1836-37). Il. Thomas Nast. The Household Edition. New York: Harper and Bros., 1873.
Guiliano, Edward, and Philip Collins, eds. The Annotated Dickens. Vol. 1. New York: Clarkson N. Potter, 1986.
Hammerton, J. A. The Dickens Picture-Book. London: Educational Book Co., 1910.
Kitton, Frederic G. Dickens and His Illustrators. 1899. Rpt. Honolulu: U. Press of the Pacific, 2004.
Steig, Michael. Dickens and Phiz. Bloomington & London: Indiana U.P., 1978.
---

Victorian
Web

Pickwick
Papers

Illus-
tration

Phiz

Next
Last modified 27 January 2012