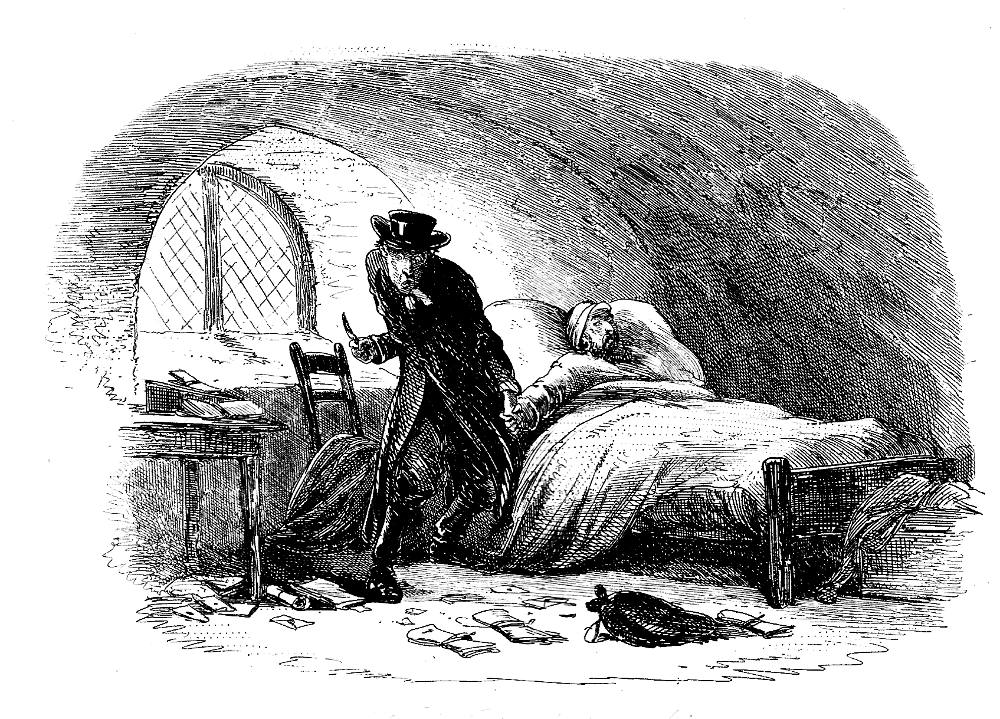 Holy Paul in a Fix (March 1859) by Phiz (Hablot K. Browne), forty-first serial illustration for Charles Lever's Davenport Dunn: A Man of Our Time, Part 21 (April 1859), Chapter LXXV, "Showing 'How the Wounds are Healed'," facing 653.
Bibliographical Information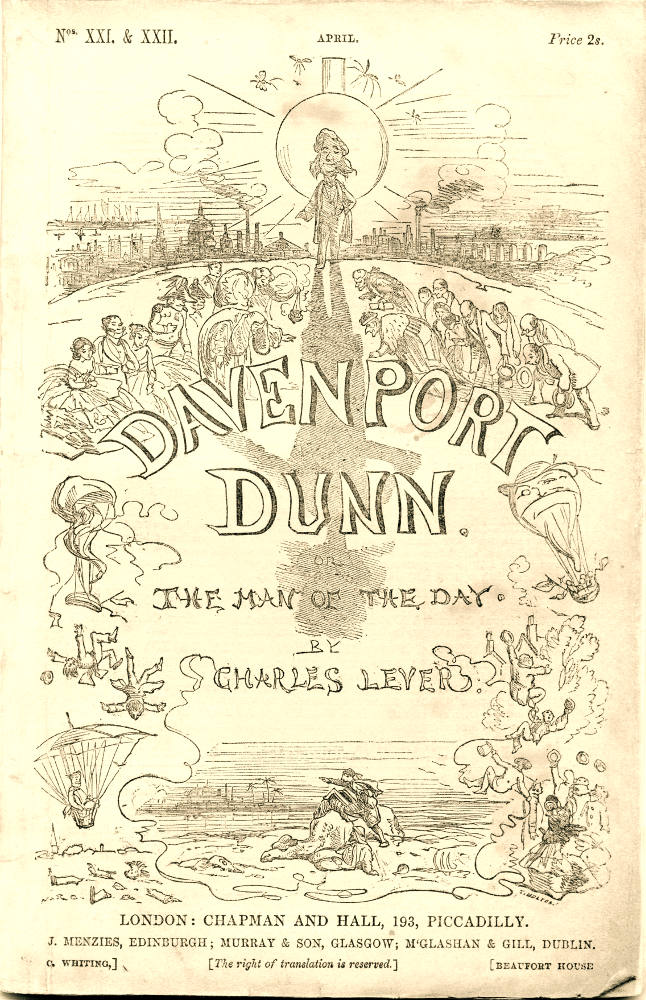 In the 1859 (first edition) single-volume edition Holy Paul in a Fix appeared in Chapter LXXV, facing page 653, steel-plate etching; 3 ½ by 5 ⅛ inches (9 cm high by 13 cm wide), vignetted. Lever describes Paul Classon at a decisive moment, for he can effect his escape from the cell only if he is prepared to cut off the fingers that hold him in a death grip. The story was serialised by Chapman and Hall in monthly parts, from July 1857 through April 1859. The forty-third and forty-fourth illustrations in the volume initially appeared in reverse order at the very beginning of the final monthly instalment, which went on sale on 1 April 1859. This double number (No. XXI & XXII), priced at 2 shillings instead of a single shilling, included Chapters LXXIV through LXXIX, and ran from page 641 through 695. Thus, this so-called "double-number" had twice the regular number of illustrations, but was not quite twice the length of the typical, 32-page monthly part.
This same chapter, entitled "Showing 'How All Wounds are Healed'," appeared as Chapter XXXII in the second volume of the Chapman & Hall two-volume edition of 1872 (re-issued in 1901 by Little, Brown & Co., Boston).
Passage Illustrated: Holy Paul Trapped
For a moment Classon stood still and motionless; then bending down his head, he tried to listen to what was passing outside, for there was a sound of voices in the corridor, and Driscoll's one of them. "The scoundrel is betraying me!" muttered Paul to himself. "At all events, these must not be found upon me." And with this, and by the aid of his one disengaged hand, he proceeded to strew the floor of the room with the various papers he had abstracted from the box. Again, too, he listened; but now all was still without. What could it mean? Had Driscoll got clear away, without even alluding to him? And now he turned his gaze upon the sick man, who lay there calm and motionless as before. "This will end badly if I cannot make my escape," muttered he to himself; and he once more strove with all his might to unclasp the knotted fingers; but such was the rigid tenacity of their grasp, they felt as though they must sooner be broken than yield. "Open your hand, sir. Let me free," whispered he, in Conway's ear. "That fellow has robbed you, and I must follow him. There, my poor man, unclasp your fingers," said he, caressingly, "or it will be too late!"
Was it a delusion, that he thought a faint flickering of a smile passed over that death-like countenance? And now, in whispered entreaty, Classon begged and implored the other to set him free.
"There is nothing for it, then, but this," said Paul, with a muttered curse, "and your own fault is it that I am driven to it!" And, so saying, he drew a powerful clasp-knife from his pocket, and tried to open it with his teeth; but the resistance of the spring still defied all his efforts for some time, and it was only after a long struggle that he succeeded. "He's insensible; he'll never feel it," muttered Paul below his breath; "and even if he should, self-preservation is the first of all cares." And with this he grasped the knife vigorously in his strong hand, and gazed at the sick man, who seemed to return his stare as fixedly. There was in Conway's look even a something of bold defiance, that seemed to say, "I dare and defy you!" so at least did Classon read it, and quailed before its haughty meaning. "What wretched cowardice is over me, and at a time when minutes are worth days!" muttered Classon. "Here goes!" But now a confused noise of many voices, and the steps of advancing feet were heard in the corridor; and Classon sank down beside the bed, a cold sweat covering his forehead and face, while he trembled in every limb. [Chapter LXXV, "Showing 'How All Wounds are Healed'," p. 653]
Scanned image by Simon Cooke; colour correction, sizing, caption, and commentary by Philip V. Allingham. [You may use this image without prior permission for any scholarly or educational purpose, as long as you (1) credit the person who scanned the image, and (2) link your document to this URL in a web document or cite the Victorian Web in a print one.] Click on the image to enlarge it.
Bibliography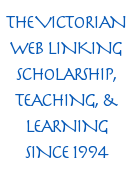 Harvey, John R. "Conditions of Illustration in Serial Fiction." Victorian Novelists and Their Illustrators. London: Sidgwick and Jackson, 1970. 182-198.
Lever, Charles. Davenport Dunn: A Man of Our Day. Illustrated by "Phiz" (Hablot Knight Browne). London: Chapman and Hall, 1859.
Lever, Charles. Davenport Dunn: The Man of The Day. Illustrated by "Phiz" (Hablot Knight Browne). London: Chapman and Hall, April 1859 (Parts XXI & XXII).
---
Last modified 2 May 2019