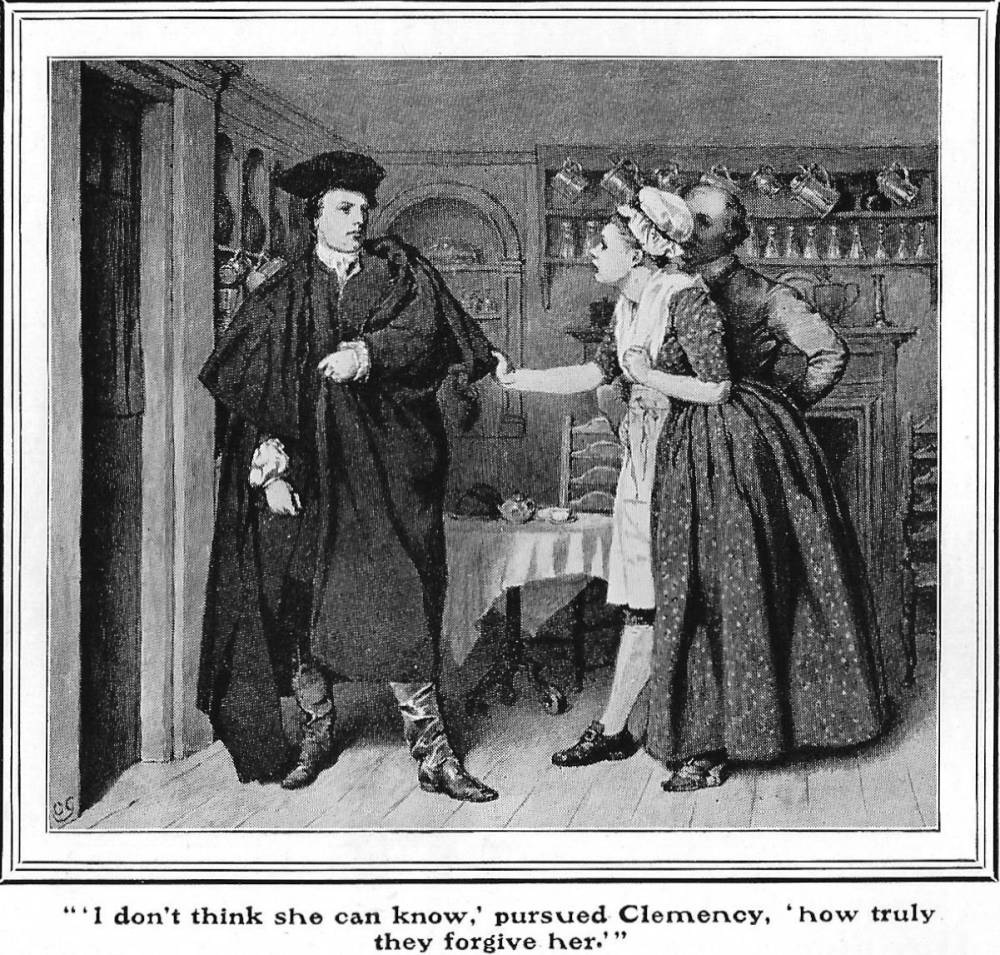 Clemency catches Mr. Warden's Cloak by Charles Green (122). 1893. 8 x 8.9 cm, exclusive of frame. Dickens's The Battle of Life, Pears Centenary Edition (1912), in which the plates often have captions that are different from the titles in the "List of Illustrations" (13-14). Specifically, the caption beneath this illustration on page 122 is "I don't think she can know," pursued Clemency, "how truly they forgive her."
Context of the Illustration
"Stay!" said Michael Warden, quietly interposing himself between the door and Britain. "What would you do?"
"Let them know that you are here, sir," answered Clemency, clapping her hands in sheer agitation. "Let them know that they may hear of her, from your own lips; let them know that she is not quite lost to them, but that she will come home again yet, to bless her father and her loving sister — even her old servant, even me," she struck herself upon the breast with both hands, "with a sight of her sweet face. Run, Ben, run!" And still she pressed him on towards the door, and still Mr. Warden stood before it, with his hand stretched out, not angrily, but sorrowfully.
"Or perhaps," said Clemency, running past her husband, and catching in her emotion at Mr. Warden's cloak, "perhaps she's here now; perhaps she's close by. I think from your manner she is. Let me see her, sir, if you please. I waited on her when she was a little child. I saw her grow to be the pride of all this place. I knew her when she was Mr. Alfred's promised wife. I tried to warn her when you tempted her away. I know what her old home was when she was like the soul of it, and how it changed when she was gone and lost. Let me speak to her, if you please!"
He gazed at her with compassion, not unmixed with wonder: but, he made no gesture of assent.
"I don't think she can know," pursued Clemency, 'how truly they forgive her; how they love her; what joy it would be to them, to see her once more. She may be timorous of going home. Perhaps if she sees me, it may give her new heart. Only tell me truly, Mr. Warden, is she with you?" ["Part the Third," 1912 edition, 120-121]
Commentary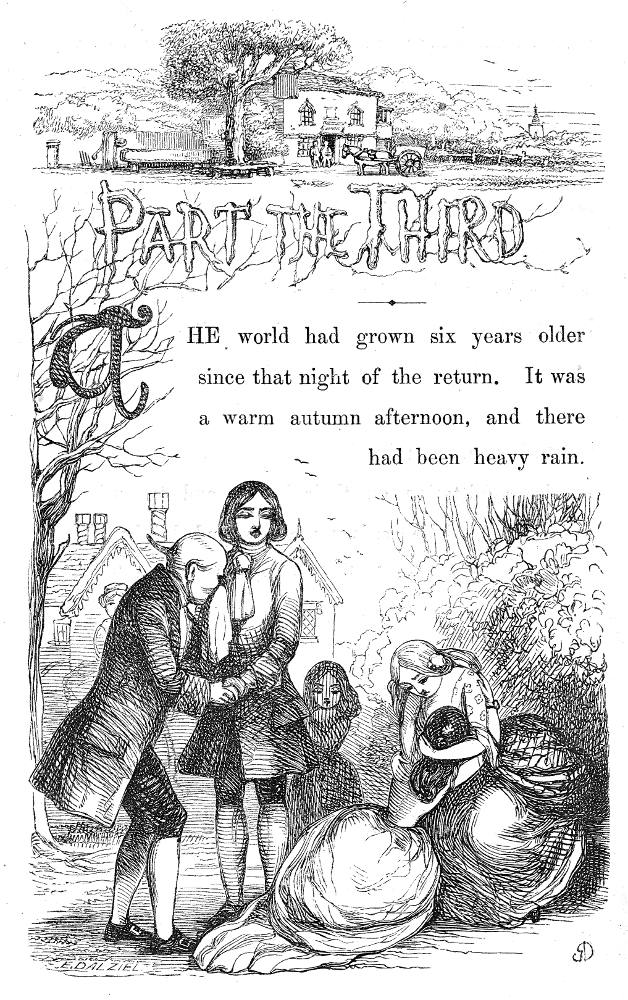 Doyle's anticipating the climax of the story's final movement, Part the Third.
Clemency and her husband, the publican, retired domestic servant M. Britain, do not know that Marion has been living with the doctor's sister. Therefore, Dickens utterly misleads the reader about Marion's fate when he has Warden suddenly appear in deep mourning. In the 1846 edition of the novella, which Green had probably studied, the team of illustrators omit this scene of the former servants confronting the returned Warden. However, the original illustrators certainly foreshadow the tearful reunion of Grace and Marion in the headpiece for the final chapter, Richard Doyle's Part the Third, which establishes certain expectations in the reader's mind. In Green illustrations, the source of suspense is not the circumstances under which Marion will return (if, indeed, she is still alive), but whether she has died abroad, as Warden's wearing deep mourning in this and the previous illustration, both set at The Nutmeg Grater Inn, suggest.
Above: Abbey's more dashing realisation of the scene in which Warden, now a seasoned traveller, arrives at the village inn, A gentleman attired in mourning, and cloaked and booted like a rider on horseback, who stood at the bar-door.
Whereas E. A. Abbey in the 1876 American Household Edition seems chiefly concerned with Clemency's startled recognition of a mysterious traveller, foreign in appearance but English in origin, at The Nutmeg Grater Inn, Green seems to focus on the fact that Warden is wearing deep mourning, and does not present him as having significantly aged. The exquisite detailing of the Green's theatrical set, the parlour of the roadside inn, features glasses regimentally lined up and pewter tankards organized to emphasize the right-to-left movement of Clemency's gesture. The afternoon tea that Warden has just interrupted is still visible on the little table in the space between him and Clemency, who effectively blocks the reader's view of Ben.
Before Warden can explain the events of that night over five years ago to Clemency and arrest the reader's being kept in suspense, the surviving partner of the legal team of Snitchey and Craggs interrupts him. The lawyer's arrival effectively defers Warden's explanation yet again. Green has dramatically communicated the tension of the moment when Clemency, determined to learn the truth, grabs Warden by the cloak as he is about to step back. The door, to which he has been making, is immediately to the left. The centre of the theatrically organized composition is Clemency's upstage arm, extended in supplication, preventing Warden from leaving before he has told all. But Green's Warden seems reluctant, holding something back, as the gesture with his left hand and arm indicates.
Relevant Illustrationss from the 1846​and later editions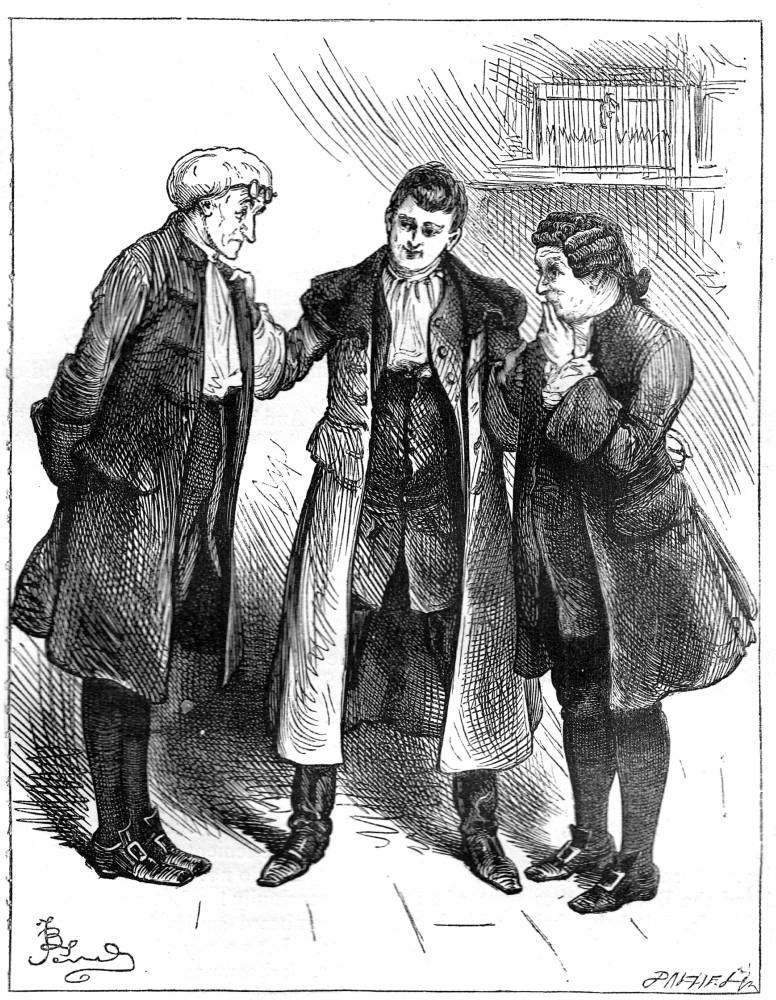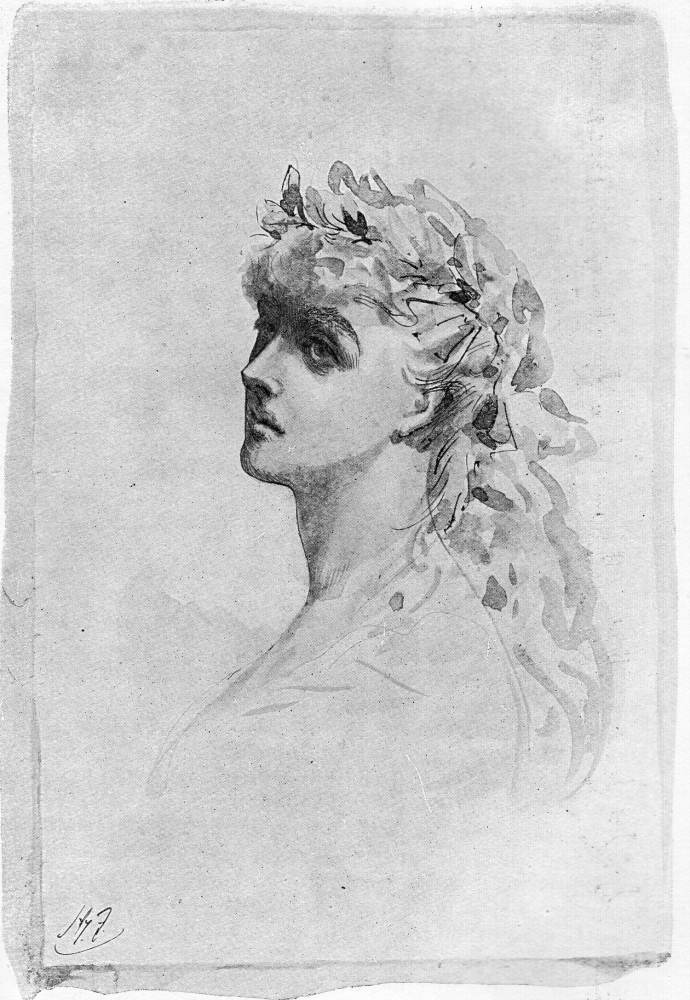 Left: Barnard's more humorous realisation of the aged attorneys, concerned that their client is a fortune-hunter, seeking to address his financial problems by marrying an heiress (who is also their client!), "I think it will be better not to hear this, Mr. Craggs?" (1878). Right: Furniss's portrait of the long-lost sister, Marion (1910).
Illustrations for the Other Volumes of the Pears' Centenary
Christmas Books

of Charles Dickens (1912)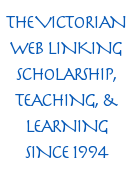 Each contains about thirty illustrations from original drawings by Charles Green, R. I. — Clement Shorter [1912]
Scanned image and text by Philip V. Allingham. [You may use this image without prior permission for any scholarly or educational purpose as long as you (1) credit the person who scanned the image and (2) link your document to this URL in a web document or cite the Victorian Web in a print one.]
Bibliography
Dickens, Charles. The Battle of Life: A Love Story. Illustrated by John Leech, Richard Doyle, Daniel Maclise, and Clarkson Stanfield. London: Bradbury and Evans, 1846.
_____. The Battle of Life: A Love Story. Illustrated by John Leech, Richard Doyle, Daniel Maclise, and Clarkson Stanfield. (1846). Rpt. in Charles Dickens's Christmas Books, ed. Michael Slater. Hardmondsworth: Penguin, 1971, rpt. 1978.
_____. The Battle of Life. Illustrated by Charles Green, R. I. London: A & F Pears, 1912.
_____. Christmas Books. Illustrated by Sol Eytinge, Jr. The Diamond Edition. Boston: Ticknor and Fields, 1867.
_____. Christmas Books, illustrated by Fred Barnard. Household Edition. London: Chapman and Hall, 1878.
_____. Christmas Books, illustrated by A. A. Dixon. London & Glasgow: Collins' Clear-Type Press, 1906.
_____. Christmas Books. Illustrated by Harry Furniss. The Charles Dickens Library Edition. London: Educational Book, 1910.
_____. Christmas Stories. Illustrated by E. A. Abbey. The Household Edition. New York: Harper and Brothers, 1876.
---
Created 1 June 2015

Last modified 6 April 2020