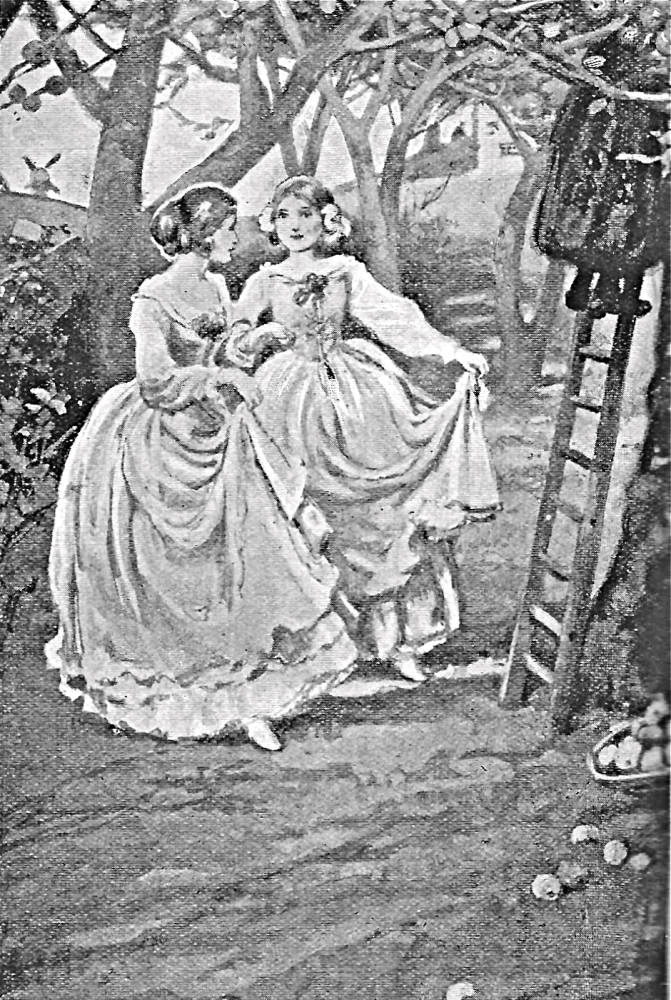 Danced in the freedom and gaiety of their hearts
A. A. Dixon
1906
Lithographic reproduction of watercolour
12.2 cm high x 7.9 cm wide
[Click on image to enlarge it and mouse over text for links.]
The story's adolescent sistersdo not look quite so much alike as Dixon implies, for in the original 1846 illustrations one is clearly a blonde, the other a brunette. Moreover, if the 1846 frontispiece were his model, he has lost much of Daniel Maclise's charming details. [Commentary continued below.]
Scanned image and text by Philip V. Allingham.
[You may use this images without prior permission for any scholarly or educational purpose as long as you (1) credit the photographer and (2) link your document to this URL in a web document or cite the Victorian Web in a print one.]
Passage Illustrated from "Part the First"
Nowhere more altered, perhaps, about a hundred years ago, than in one little orchard attached to an old stone house with a honeysuckle porch; where, on a bright autumn morning, there were sounds of music and laughter, and where two girls danced merrily together on the grass, while some half-dozen peasant women standing on ladders, gathering the apples from the trees, stopped in their work to look down, and share their enjoyment. It was a pleasant, lively, natural scene; a beautiful day, a retired spot; and the two girls, quite unconstrained and careless, danced in the freedom and gaiety of their hearts.
If there were no such thing as display in the world, my private opinion is, and I hope you agree with me, that we might get on a great deal better than we do, and might be infinitely more agreeable company than we are. It was charming to see how these girls danced. They had no spectators but the apple-pickers on the ladders. They were very glad to please them, but they danced to please themselves (or at least you would have supposed so); and you could no more help admiring, than they could help dancing. How they did dance! ["Part the First," pp. 294]
Commentary
Although both E. A. Abbey and Fred Barnard have illustrated the 1846 novella for the American and British Household Edition volumes in the 1870s, neither illustrator offered Arthur Dixon a model of sisterly devotion and feminine charm in suitable portraits of the Jeddler sisters, Marion and Grace. Accordingly, Dixon was almost certainly responding to the original volume's images of the young women, particularly the elegant frontispiece in which Daniel Maclise depicts the sisters dancing in the orchard on their father's property.
In Sol Eytinge's 1867 Diamond Edition anthology The Christmas Books as in the Household Edition volumes are studies of the celebratory breakfast that Dr. Jeddler holds for Alfred Heathfield in acknowledgement of his departure for medical studies, but in these illustrations Dixon would not have found models of the sisters. In The Parting Breakfast, humourist John Leech focuses more on the comic characters (the lawyers Snitchey and Craggs, and the crotchety servants Clemency Newcome and Benjamin Britain) and less on Alfred and the two young women with whom he is in love.
However, neither in Leech's wood-engraving dropped into the letterpress nor in the British Household Edition volumes of 1876 and 1878 are the sisters so well realised as in Daniel Maclise's initial frontispiece for the Bradbury and Evans Christmas Book issued in December 1846, an ornate "fine arts" frontispiece which contrasts the workaday activity of the apple-pickers above and the carefree exuberance of the upper-middle-class adolescent dancers in period dress entitled Grace and Marion Jeddler Dancing.
Although Dixon's lithograph points towards a specific textual passage in both its caption and its subheading, "Page 294," it necessarily lacks the sharpness of detail that one finds in the 1846 original. In particular, Maclise has rendered the peasant spectators and the apple tree far more effectively, and has even included the source of the music, a harpist and his instrument, and a peasant fiddler (right). Dixon suggests the activity in the background chiefly through a strategically placed ladder, and provides only the feet and skirt of one apple-picker. A considerable amount of the grassy foreground in the 1906 lithograph contributes nothing whatsoever, whereas the 1846 engraving has an ornate border of fruits and leaves meeting the dancers' feet from either margin to frame the pastoral scene. Although Dixon's young women are fair of face, he fails to suggest a moment in the midst of action, whereas Maclise shows the dancers each with a foot off the ground. Ungainly boughs frame the Jeddler sisters in the lithograph, whereas six apple-pickers provide an informing context for the bucolic scene in Maclise's.
Related Illustrations from Other Editions, 1846-1910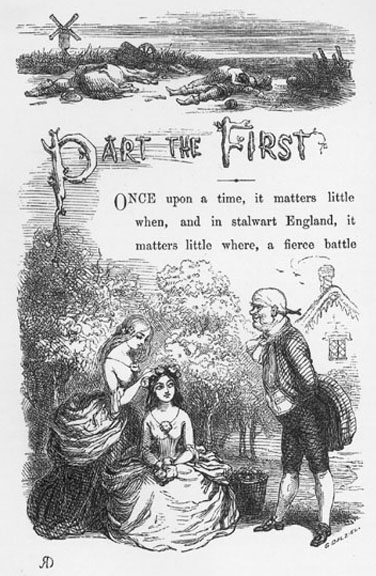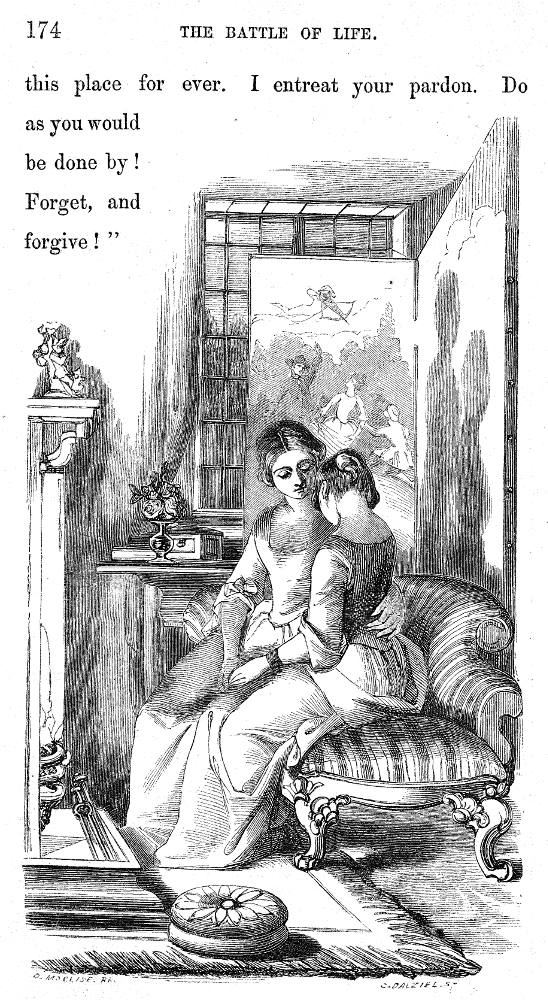 Left: Daniel Maclise's frontispiece "Grace and Marion Jeddler Dancing" (1846); centre: Richard Doyle's "Part the First" (1846); right: Daniel Maclise's "The Sisters" (1845). [Click on images to enlarge them.]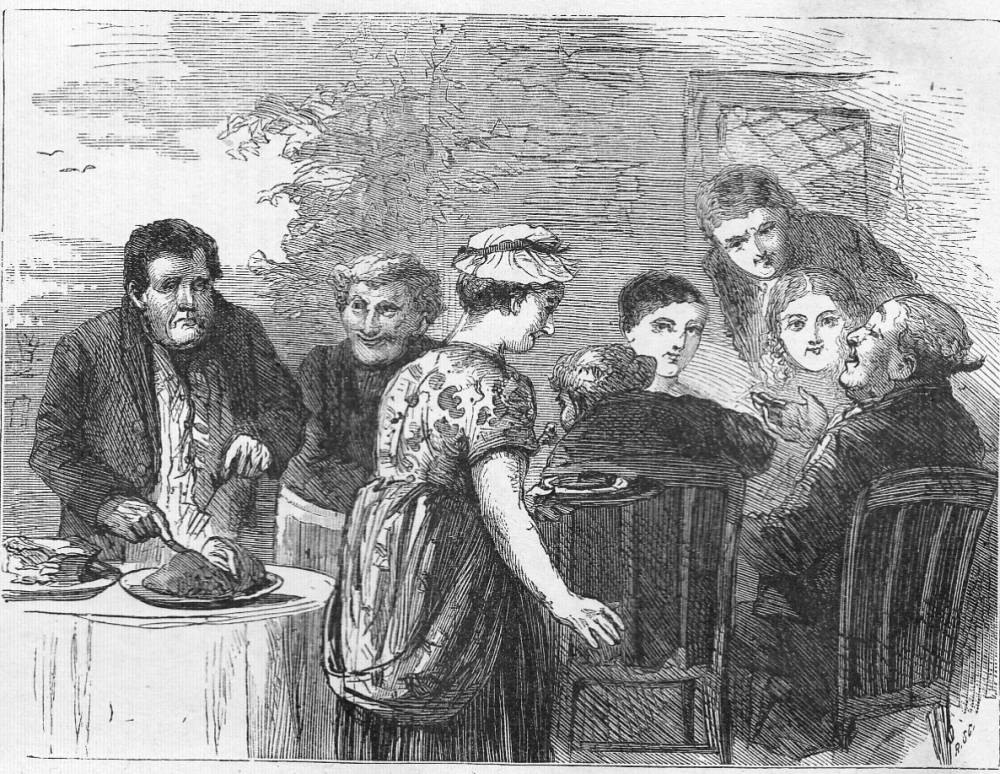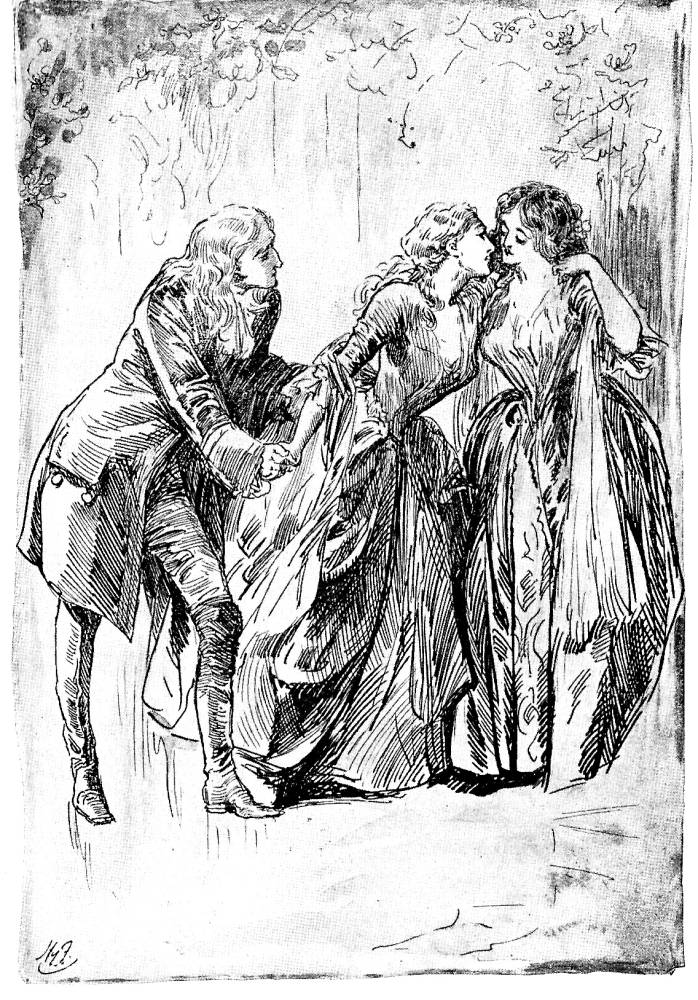 Left: Sol Eytinge, Junior's "The Breakfast" (1867). Right: Harry Furniss's "Alfred's Farewell" (1910). [Click on images to enlarge them.]
References
Bolton, H. Philip. "The Cricket on the Hearth." Dickens Dramatized. Boston: G. K. Hall, 1987. Pp. 273-295.
Cohen, Jane Rabb. Charles Dickens and His Original Illustrators. Columbus, Ohio: Ohio U. P., 1980.
Dickens, Charles. The Battle of Life. Il. John Leech, Richard Doyle, Daniel Maclise, Edwin Landseer, and Clarkson Stanfield. London: Bradbury and Evans, 1846.
Dickens, Charles. The Christmas Books. Il. Harry Furniss. Charles Dickens Library Edition. 18 vols. London: Educational Book Co., 1910. Vol. 8.
Dickens, Charles. The Christmas Books. Il. Sol Eytinge, Jr. The Diamond Edition. 16 vols. Boston: Ticknor and Fields, 1867.
Dickens, Charles. Christmas Books. Il. Fred Barnard. The Household Edition. London: Chapman and Hall, 1878.
Dickens, Charles. Christmas Books. Il. A. A. Dixon. London & Glasgow: Collins' Clear-Type Press, 1906.
Dickens, Charles. The Christmas Books. Il. Harry Furniss. Charles Dickens Library Edition. 18 vols. London: Educational Book Company, 1910. Vol. 8.
Dickens, Charles. Christmas Stories. Il. E. A. Abbey. The Household Edition. New York: Harper and Brothers, 1876.
Solberg, Sarah A. "'Text Dropped into the Woodcuts': Dickens' Christmas Books." Dickens Studies Annual 8 (1980): 103-118.
Thomas, Deborah A. Dickens and The Short Story. Philadelphia: U. Pennsylvania Press, 1987.
---

Victorian
Web

Illus-
tration

A. A.
Dixon

Christmas
Books

Next