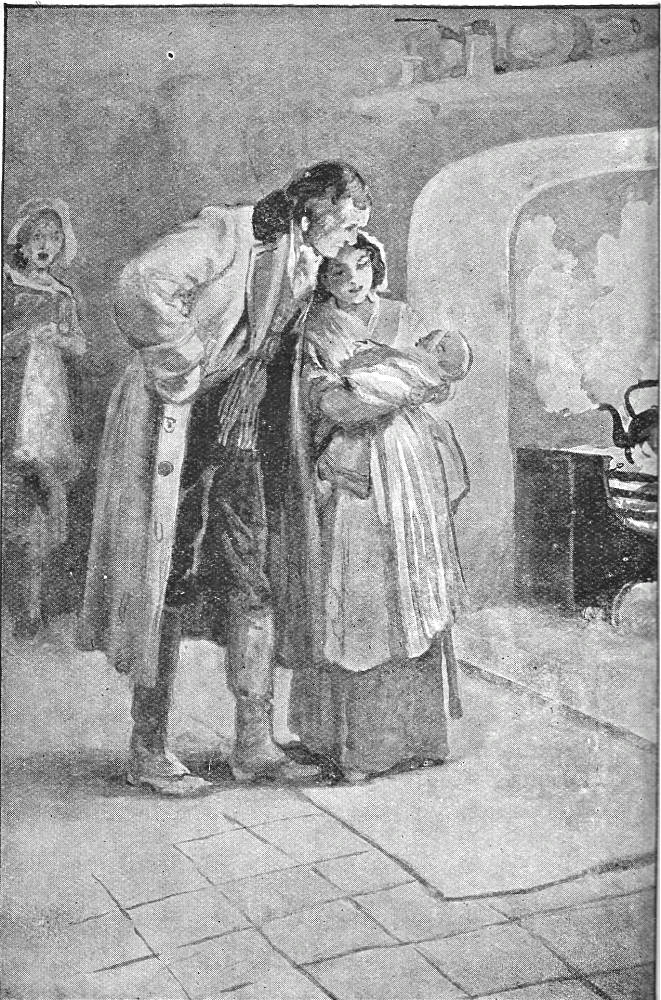 John surveyed it from a safe distance
A. A. Dixon
1906
Lithographic reproduction of watercolour
12.2 cm high x 8.1 cm wide
[Click on image to enlarge it and mouse over text for links.]
The nuclear family around whom the plot of the domestic novella revolves includes the carrier John Peerybingle; his young wife, Dot; their infant; and the awkward but good-hearted adolescent nurse, Tilly Slowboy. [Commentary continued below.]
Scanned image and text by Philip V. Allingham.
[You may use this images without prior permission for any scholarly or educational purpose as long as you (1) credit the photographer and (2) link your document to this URL in a web document or cite the Victorian Web in a print one.]
Passage Illustrated from The First Chirp
It was pleasant to see Dot, with her little figure, and her baby in her arms — a very doll of a baby — glancing with a coquettish thoughtfulness at the fire, and inclining her delicate little head just enough on one side to let it rest in an odd, half-natural, half-affected, wholly nestling and agreeable manner, on the great rugged figure of the Carrier. It was pleasant to see him, with his tender awkwardness, endeavouring to adapt his rude support to her slight need, and make his burly middle-age a leaning-staff not inappropriate to her blooming youth. It was pleasant to observe how Tilly Slowboy, waiting in the background for the baby, took special cognizance (though in her earliest teens) of this grouping; and stood with her mouth and eyes wide open, and her head thrust forward, taking it in as if it were air. Nor was it less agreeable to observe how John the Carrier, reference being made by Dot to the aforesaid baby, checked his hand when on the point of touching the infant, as if he thought he might crack it; and bending down, surveyed it from a safe distance, with a kind of puzzled pride, such as an amiable mastiff might be supposed to show, if he found himself, one day, the father of a young canary. ["Chirp the First," pp. 199-200]
Commentary
The lower-middle-class household grouping has been the subject of illustration since the original Bradbury and Evans publication in December 1845. The carrier, one suspects, was already regarded as a phenomenon of the nineteenth century when Dixon composed the illustration in 1906. Certainly, his John Peerybingle is not the rough-and-ready fellow one finds in the illustrations of John Leech and Fred Branard, nor is he the young husband of the E. A. Abbey wood-engraving from thirty years earlier, "Ain't he beautiful, John?" in a sweater suggesting that there about him of the merchant marine than the Dorset high road. The original novella, the third in the series dubbed in Eytinge's 1867 Diamond Edition anthology The Christmas Books, in fact offers interpretations of the central character with a moral dilemma, as Leech, Maclise, and Doyle all offered their unique interpretations. However, in neither these prints dropped into the letterpress nor the British Household Edition is John so well dressed and so distinguished as in Dixon's illustration. In place of the jolly, hale carter of Fred Barnard in John Peerybingle's Fireside is a slender, middle-aged gentleman in great-coat and riding boots, which have replaced the gaiters worn by the carrier in earlier versions of this scene. Daniel Maclise's elegant frontispiece, too, is a contrast in artistic treatments and themes since it is rife with ornamental, Pre-Raphaelite fairies and thumbnail scenes which render it as complex as Dixon's is straightforward. Then, too, Dixon has made the young wife in her white apron highly attractive, particularly in terms of her delicate facial features, in comparison to the Dot somewhat crudely portrayed by Richard Doyle and John Leech in the 1845 sequence. In his Diamond Edition illustration The Peerybingeles Tilly and the dog join in Dot's welcoming a burly, fustian-clothed giant home from his labours on the road, but there is nothing particularly sanctified about the domestic scene in which Sol Eytinge, Junior gives the sizeable hearth the central position. The rather more attractive and better modelled couple that Harry Furniss depicts before their fireside in his 1910 impressionistic treatment of the same scene is juxtaposed against a menacing shadow, a suggestion of the putative adultery that John will shortly have to wrestle with emotionally. In Dixon's idyllic illustration there is no hint of the moral conflict to come.
Indeed, if one is looking for an earlier picture upon which Dixon probably elected to model the pretty wife and doting, older husband, one would would have to settle on Barnard's half-page wood-engraving in the Household Edition, although Barnard's greater penchant for character comedy is evident in his gangly Tilly (left), whom Dixon reduces to a mere background figure, of lesser importance to Dixon apparently that the steaming kettle on the coal-fired hearth. Dixon has absorbed the gentle stillness and perfect harmony of the Holy Family into the lower-middle-class Peerybingles, rendering them wholly admirable in the comeliness, purity of intention, and mutual devotion. Instead of the dynamic movement and sideboard clutter of Barnard's triple character study, Dixon provides a focussed treatment that eschews background details, including the amusing family dog, Boxer, whom Edwin Landseer realized so effectively in the original little volume. And, despite the presence of a fairy in the title-page vignette of the British household Edition, none of these latter interpretations, including those of Furniss and Dixon, suggest that this is a modern "fairy-tale."
Related Illustrations from Other Editions, 1845-1910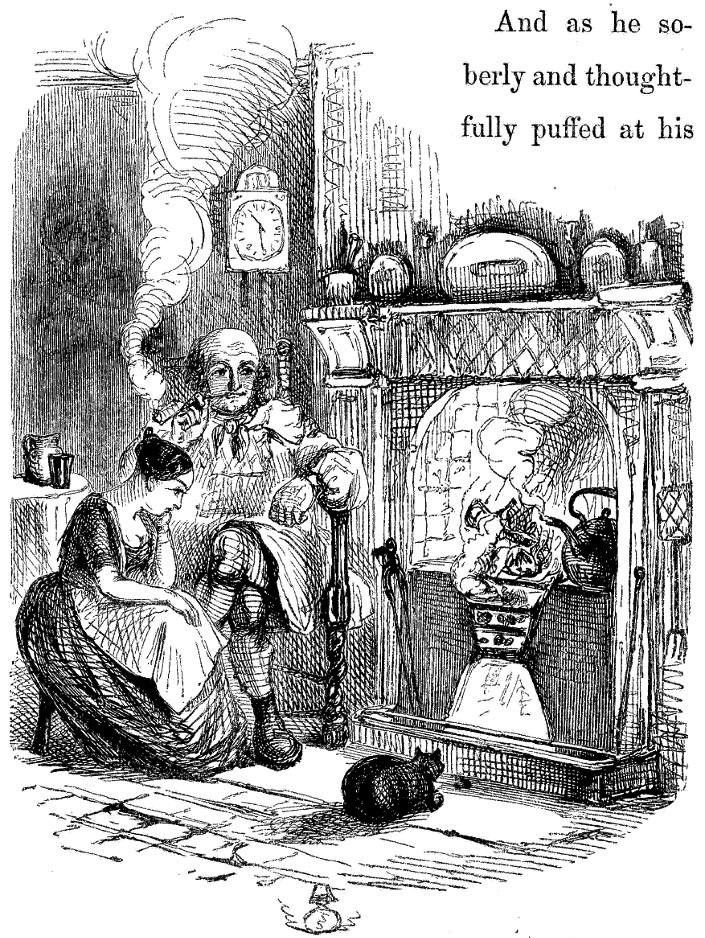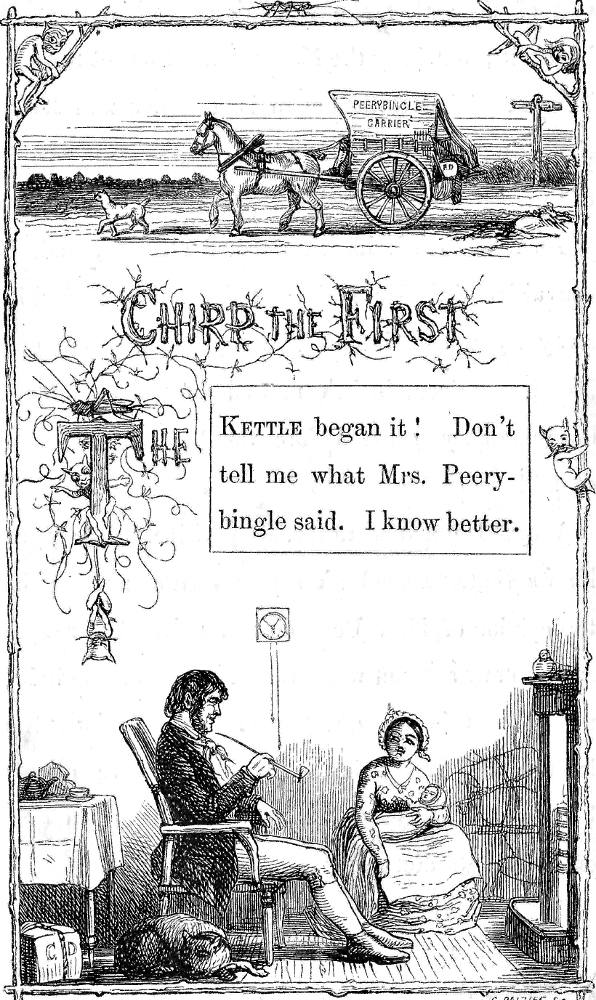 Left: Daniel Maclise and G. Dalziel's "Ornamental title-page" (1845); centre: John Leech's "John and Dot" (1845); right: Richard Doyle's "Chirp the First" (1845). [Click on images to enlarge them.]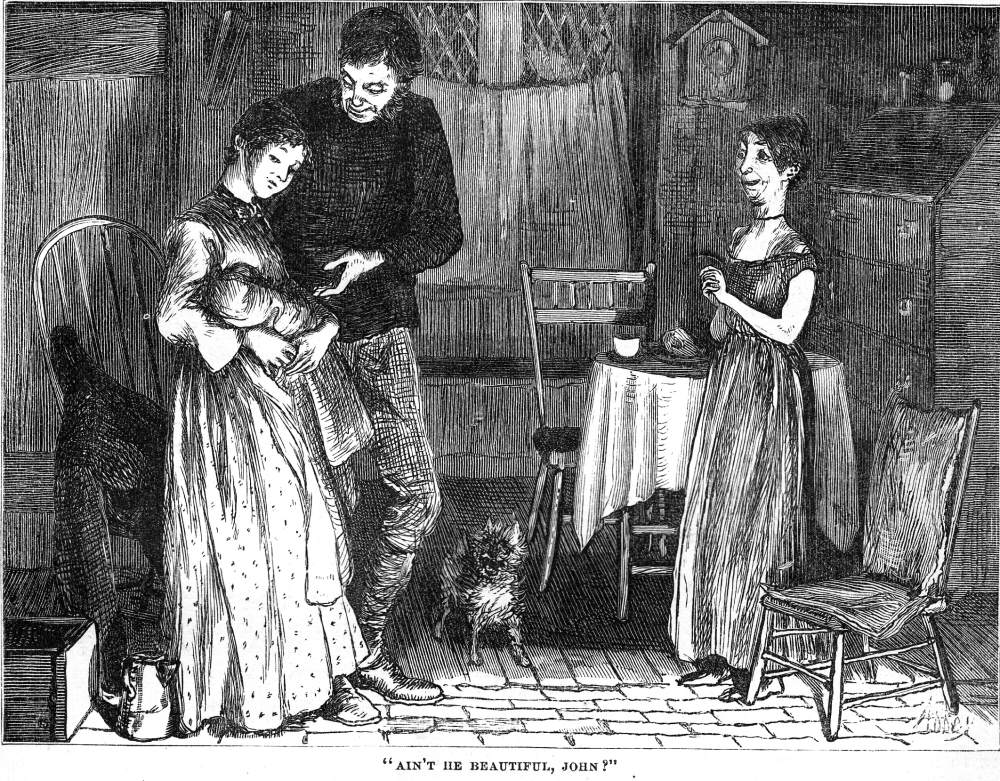 Left: Sol Eytinge, Junior's "The Peerybingles" (1867). Right: E. A. Abbey's "Ain't he beautiful, John?" (1876); right, [Click on images to enlarge them.]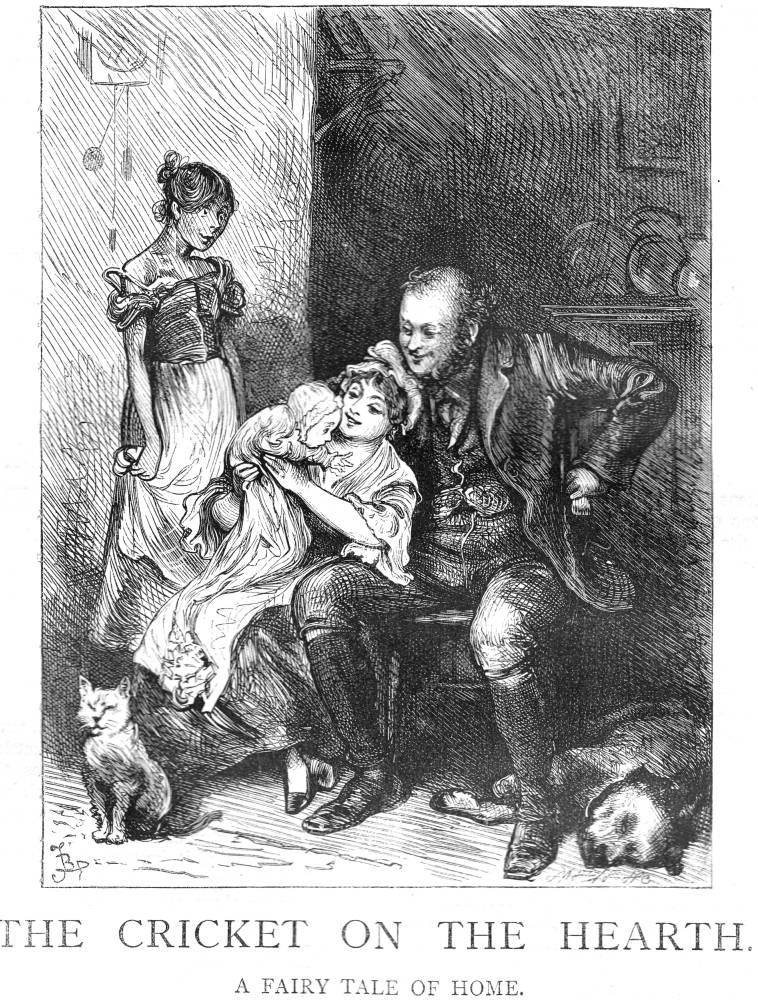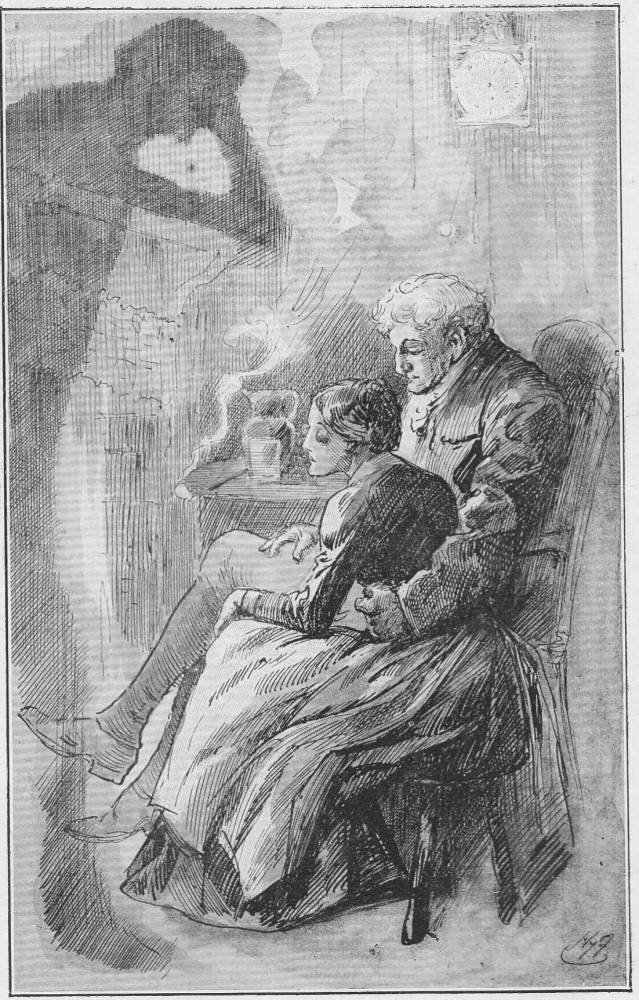 Left: Fred Barnard's "John Peerybingle's Fireside" (1878). Right: Harry Furniss's "The Shadow on the Hearth" (1910). [Click on images to enlarge them.]
References
Bolton, H. Philip. "The Cricket on the Hearth." Dickens Dramatized. Boston: G. K. Hall, 1987. Pp. 273-295.
Cohen, Jane Rabb. Charles Dickens and His Original Illustrators. Columbus, Ohio: Ohio U. P., 1980.
Dickens, Charles. The Cricket on the Hearth. A Fairy Tale of Home. Il. John Leech, Richard Doyle, Daniel Maclise, Edwin Landseer, and Clarkson Stanfield. London: Bradbury and Evans, 1845 [dated 1846].
Dickens, Charles. The Christmas Books. Il. Harry Furniss. Charles Dickens Library Edition. 18 vols. London: Educational Book Co., 1910. Vol. 8.
Dickens, Charles. The Christmas Books. Il. Sol Eytinge, Jr. The Diamond Edition. 16 vols. Boston: Ticknor and Fields, 1867.
Dickens, Charles. Christmas Books. Il. Fred Barnard. The Household Edition. London: Chapman and Hall, 1878.
Dickens, Charles. Christmas Books. Il. A. A. Dixon. London & Glasgow: Collins' Clear-Type Press, 1906.
Dickens, Charles. The Christmas Books. Il. Harry Furniss. Charles Dickens Library Edition. 18 vols. London: Educational Book Company, 1910. Vol. 8.
Dickens, Charles. Christmas Stories. Il. E. A. Abbey. The Household Edition. New York: Harper and Brothers, 1876.
Kurata, Marilyn J. "Fantasy and Realism: A Defense of The Chimes."Dickens Studies Annual 13 (1984): 19-34.
Morley, Malcolm. "'The Cricket' on the Stage."Dickensian 48 (1952): 17-24.
Solberg, Sarah A. "'Text Dropped into the Woodcuts': Dickens' Christmas Books." Dickens Studies Annual 8 (1980): 103-118.
Thomas, Deborah A. Dickens and The Short Story. Philadelphia: U. Pennsylvania Press, 1987.
---

Victorian
Web

Illus-
tration

A. A.
Dixon

Great
Expectations

Next
Last modified 29 March 2014