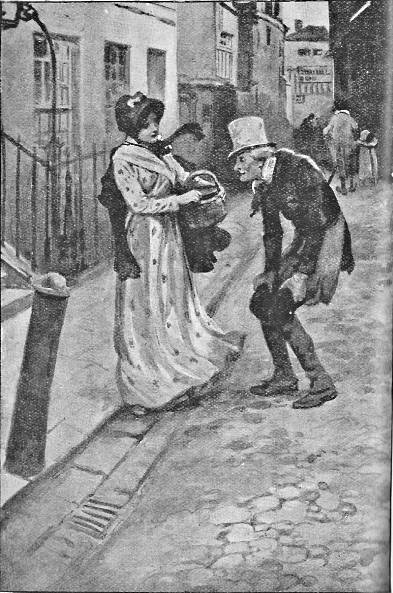 "Ah! It's very nice," said Toby
A. A. Dixon
1906
Lithographic reproduction of watercolour
12.2 cm high x 8.1 cm wide
[Click on image to enlarge it and mouse over text for links.]
The dramatic opening of The Chimes; A Goblin Story (1844) in which, buffeted by frigid winds, ticket-porter Trotty Veck meets his beautiful daughter on the church steps has been the subject of a number of illustrations since the Christmas Book's initial publication, but Dixon's suffers in the comparison. [Commentary continued below.]
Scanned image and text by Philip V. Allingham.
[You may use this images without prior permission for any scholarly or educational purpose as long as you (1) credit the photographer and (2) link your document to this URL in a web document or cite the Victorian Web in a print one.]
Passage Illustrated from The First Quarter
"No, no, no," said Meg, with the glee of a child. "Lengthen it out a little. Let me just lift up the corner; just the lit-tle ti-ny cor-ner, you know," said Meg, suiting the action to the word with the utmost gentleness, and speaking very softly, as if she were afraid of being overheard by something inside the basket; "there. Now. What's that?"
Toby took the shortest possible sniff at the edge of the basket, and cried out in a rapture:
"Why, it's hot!"
"It's burning hot!" cried Meg. "Ha, ha, ha! It's scalding hot!"
"Ha, ha, ha!" roared Toby, with a sort of kick. "It's scalding hot!"
"But what is it, father?" said Meg. "Come. You haven't guessed what it is. And you must guess what it is. I can't think of taking it out, till you guess what it is. Don't be in such a hurry! Wait a minute! A little bit more of the cover. Now guess!"
Meg was in a perfect fright lest he should guess right too soon; shrinking away, as she held the basket towards him; curling up her pretty shoulders; stopping her ear with her hand, as if by so doing she could keep the right word out of Toby's lips; and laughing softly the whole time.
Meanwhile Toby, putting a hand on each knee, bent down his nose to the basket, and took a long inspiration at the lid; the grin upon his withered face expanding in the process, as if he were inhaling laughing gas.
"Ah! It's very nice," said Toby. "It an't — I suppose it an't Polonies?"
"No, no, no!" cried Meg, delighted. 'Nothing like Polonies!'
"No," said Toby, after another sniff. "It's — it's mellower than Polonies. It's very nice. It improves every moment. It's too decided for Trotters. An't it?"
Meg was in an ecstasy. He could not have gone wider of the mark than Trotters — except Polonies.
"Liver?" said Toby, communing with himself. "No. There's a mildness about it that don't answer to liver. Pettitoes? No. It an't faint enough for pettitoes. It wants the stringiness of Cocks' heads. And I know it an't sausages. I'll tell you what it is. It's chitterlings!"
"No, it an't!" cried Meg, in a burst of delight. "No, it an't!"
"Why, what am I a-thinking of!' said Toby, suddenly recovering a position as near the perpendicular as it was possible for him to assume. "I shall forget my own name next. It's tripe!" [The First Quarter, pp. 108-109]
Commentary
Every major illustrator of The Chimes, including John Leech, has attempted to realise the novella's "Everyman" protagonist, the humble and good-hearted ticket porter Trotty Veck, at the outset of novel, either by himself, awaiting a commission on the church steps, or interacting with other characters in the same location. Punch cartoonist and political satirist John Leech in the original scarlet volume published in December 1844 set the terms of illustration for future illustrators, providing five of the novella's thirteen illustrations and four images of Trotty Veck. The novella's other illustrators seem to have followed Leech's lead in the remaining eight illustrations, with Richard Doyle showing Trotty in The Dinner on the Steps, Daniel Maclise Trotty at Home, and Clarkson Stanfield The Old Church; in fact, in only five of the thirteen illustrations does Trotty not appear. He begins as caricature in Leech's Trotty Veck, but rounds out the series as a character with whom the reader may identify as he dances with Mrs. Chickenstalker at his daughter's wedding in The New Year's Dance. A. A. Dixon's model for Trotty was apparently partly the figure in Alderman Cute and Friends, and partly the more modelled and natural figure of Trotty created by Fred Barnard in "No," said Toby after another sniff.
With the advantage of being able to review a number of earlier representations of this scene, Dixon might have achieved an interesting synthesis of the panoramic group and the dual portraiture of his predecessors. Instead, however, he focuses on making the street setting look real, using linear perspective, but in the process he has lost the church itself, and given Meggy Veck the central position and more natural pose. Alderman Cute and his hangerson are nowhere to be seen, but the London byway is convincing, if not interesting. Again, the foreground occupies rather too much of the picture. Had Dixon been able to study Abbey's "What's the matter?" in the American Household Edition (which, owing to restrictive copyright laws on both sides of the Atlantic he likely could not), he might have chosen a vertical orientation and thereby given himself greater scope for depicting a more dynamic group scene, with the politicos interacting with Trotty, and Richard and Meg to one side. As it is, his illustration flags an important relationship (the harmonious father-daughter relationship upon which the plot of the novel in part relies), but conveys little sense of Trotty's character. Furniss's treatment of the same moment, Trotty Veck's Dinner is more interesting visually, and conveys a sense of Meg's beauty and Trotty's vivacity, but does not provide the urban context for the action.
Related Illustrations from Other Editions, 1844-1915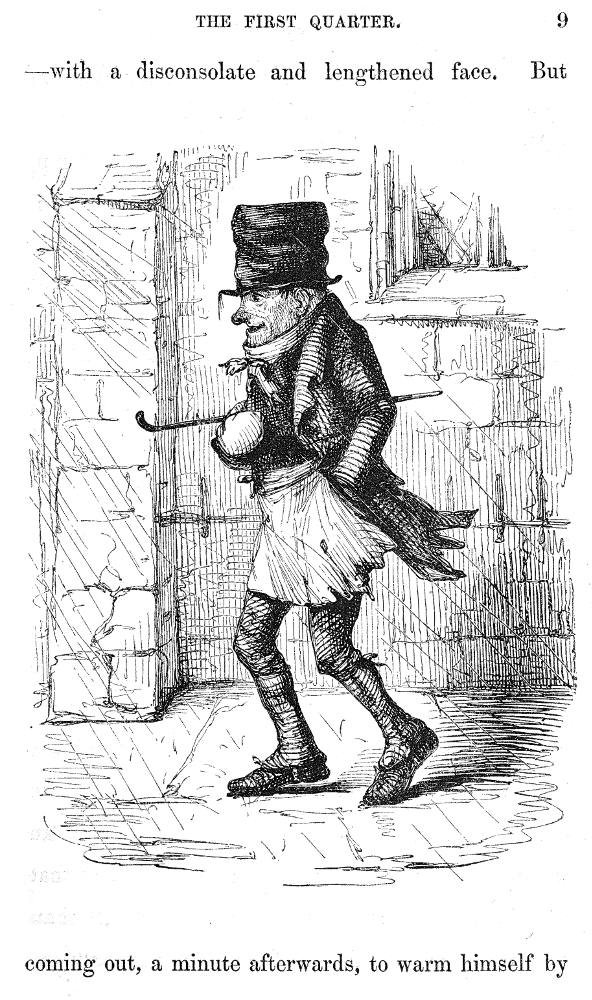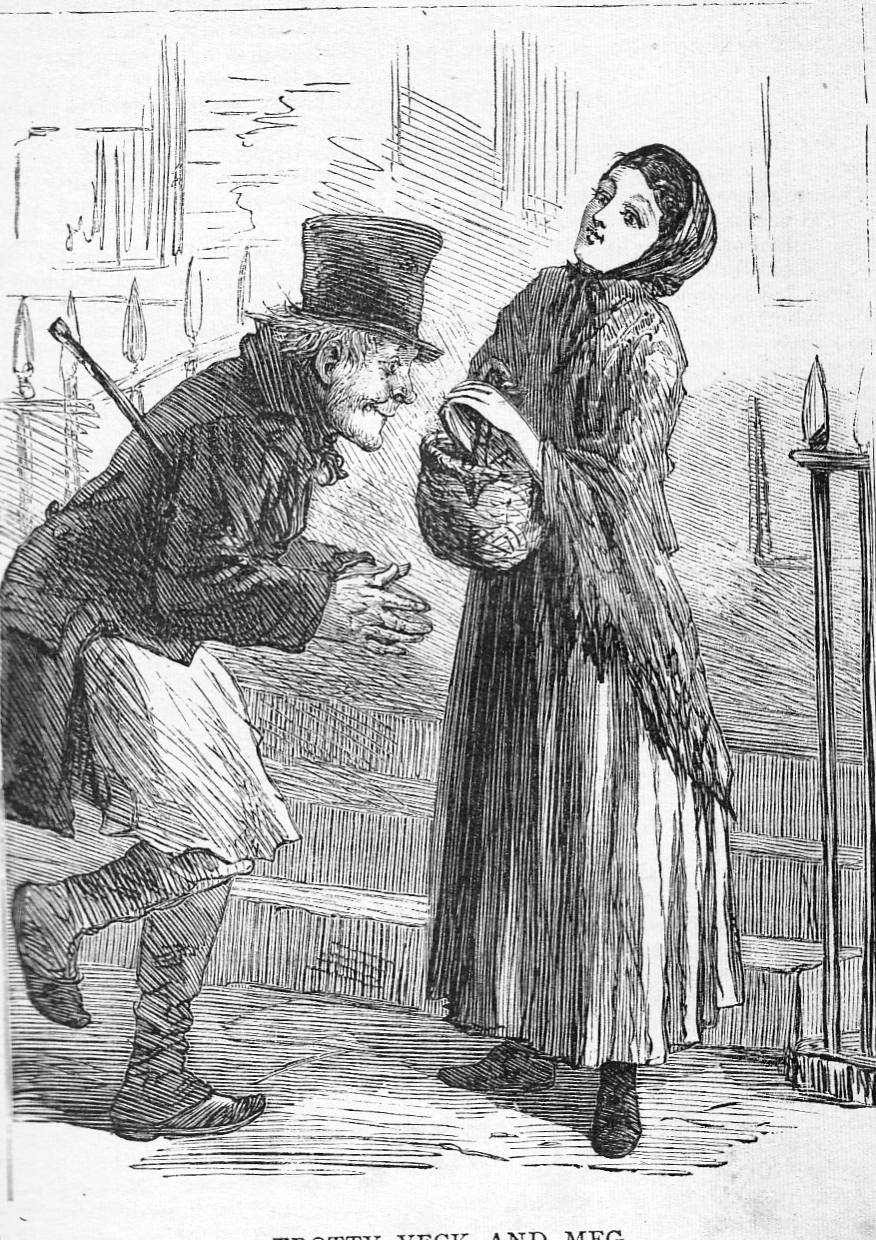 Left: John's Leech's "Trotty Veck" (1844); right: Sol Eytinge, Jr.'s "Trotty Veck and Meg" (1867). [Click on images to enlarge them.]
Left: Fred Barnard's "'No,' said Toby after another sniff. 'It's — it's mellower than Polonies.'" (1878); centre: Harry Furniss's "Trotty Veck's Dinner" (1910). [Click on images to enlarge them.]
References
Cohen, Jane Rabb. Charles Dickens and His Original Illustrators. Canton, Ohio: Ohio U. P., 1980.
Davis, Paul. The Lives and Times of Ebenezer Scrooge. New Haven: Yale U. P., 1990.
Dickens, Charles. The Chimes: A Goblin Story of Some Bells That Rang an Old Year Out and a New Year In. Il. John Leech, Richard Doyle, Daniel Maclise, and Clarkson Stanfield. London: Bradbury and Evans, 1844 [dated 1845].
Dickens, Charles. The Christmas Books. Il. Sol Eytinge, Jr. The Diamond Edition. 16 vols. Boston: Ticknor and Fields, 1867.
Dickens, Charles. Christmas Books. Il. E. A. Abbey. The Household Edition. New York: Harper and Brothers, 1876.
Dickens, Charles. Christmas Books. Il. Fred Barnard. The Household Edition. London: Chapman and Hall, 1878.
Dickens, Charles. Christmas Books. Il. A. A. Dixon. London & Glasgow: Collins' Clear-Type Press, 1906.
Dickens, Charles. The Christmas Books. Il. Harry Furniss. Charles Dickens Library Edition. 18 vols. London: Educational Book Company, 1910. Vol. 8.
Dickens, Charles. Christmas Stories. Il. E. A. Abbey. The Household Edition. New York: Harper and Brothers, 1876.
Solberg, Sarah A. "'Text Dropped into the Woodcuts': Dickens' Christmas Books." Dickens Studies Annual 8 (1980): 103-118.
Thomas, Deborah A. Dickens and The Short Story. Philadelphia: U. Pennsylvania Press, 1982.
Welsh, Alexander. "Time and the City in The Chimes." Dickensian 73, 1 (January 1977): 8-17.
---

Victorian
Web

Illus-
tration

A. A.
Dixon

Great
Expectations

Next
Last modified 29 March 2014