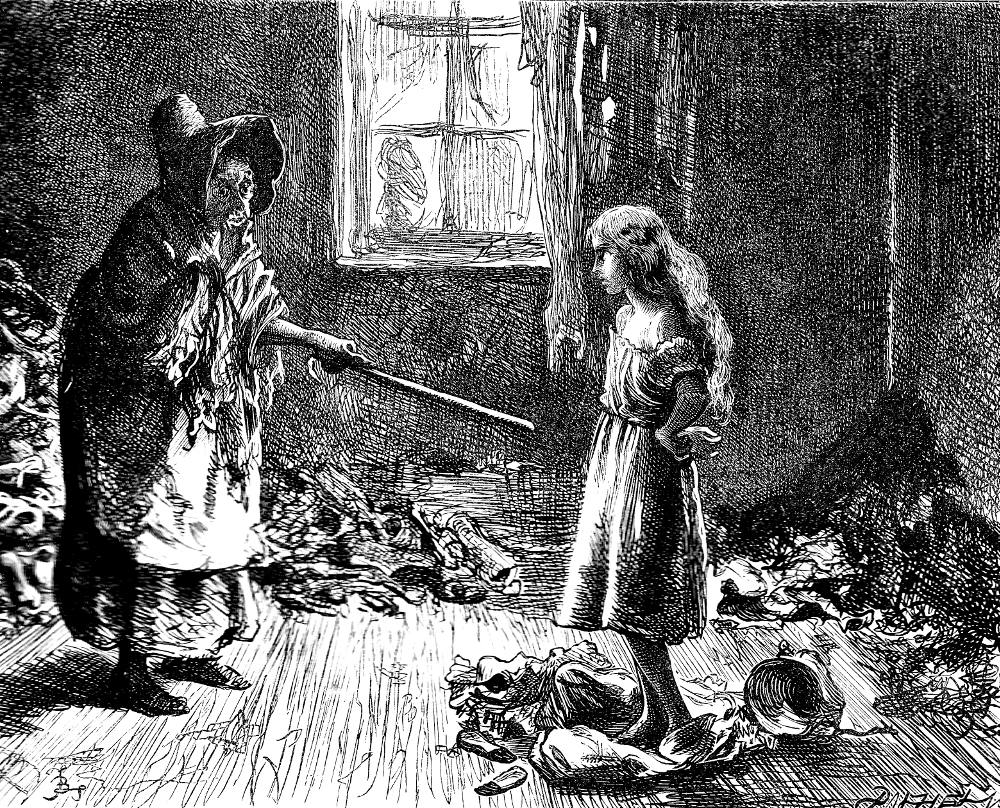 Florence obeyed as fas as her trembling hands would allow; keeping, all the while, a frightened eye on Mrs. Brown — Fred Barnard's seventh illustration for Dickens's Dombey and Son, Household Edition (1877), page 37. (scene from chap. vi). Wood engraving by the Dalziels, 4 ⅛ x 5 ½ inches (10.8 cm high by 13.8 cm wide), framed. Running head: "Florence Lost," 37. [Click on the image to enlarge it.]
Passage Illustrated
"I'm not a going to keep you, even, above an hour," said Mrs. Brown. "D'ye understand what I say?"
The child answered with great difficulty, "Yes."
"Then," said Good Mrs. Brown, taking her own seat on the bones, "don't vex me. If you don't, I tell you I won't hurt you. But if you do, I'll kill you. I could have you killed at any time — even if you was in your own bed at home. Now let's know who you are, and what you are, and all about it."
The old woman's threats and promises; the dread of giving her offence; and the habit, unusual to a child, but almost natural to Florence now, of being quiet, and repressing what she felt, and feared, and hoped; enabled her to do this bidding, and to tell her little history, or what she knew of it. Mrs Brown listened attentively, until she had finished.
"So your name's Dombey, eh?" said Mrs. Brown.
"I want that pretty frock, Miss Dombey," said Good Mrs. Brown, "and that little bonnet, and a petticoat or two, and anything else you can spare. Come! Take 'em off."
Florence obeyed, as fast as her trembling hands would allow; keeping, all the while, a frightened eye on Mrs Brown. When she had divested herself of all the articles of apparel mentioned by that lady, Mrs B. examined them at leisure, and seemed tolerably well satisfied with their quality and value. [Chapter 6, "Paul's Second Deprivation," 37]
Comment
Barnard generally eschews caricature, but not here: his "Good Mrs. Brown is a crone straight out of The Brothers Grimm and Perrault. Barnard's genial nature seems to have recoiled as this ghastly menacer of lost children and clothes-thief; his more realistic treatment of Florence and the disreputable room in which she is trapped is in stark contrast the hideous visage of her abductor. Barnard introduces the evil old woman much earlier than Phiz, perhaps in part to reinforce the reader's sympathy with Florence, who is consistently a noble victim throughout the novel.
As Barnard makes perfectly clear in this contrast of Darwinian survival and youthful innocence, Mrs. Brown is anything but "Good." She has managed to eke out a living in the London slums by begging, stealing, and selling stolen goods, particularly well-sewn clothing that she has extorted from unwary middle-class children such as Florence. In her heer cunning and fierce determination she is more than a match for her inveterate enemy, James Carker, whom she detests fior his having seduced and abandoned her daughter.
The Relevant Illustrations of Good Mother Brown from Other Editions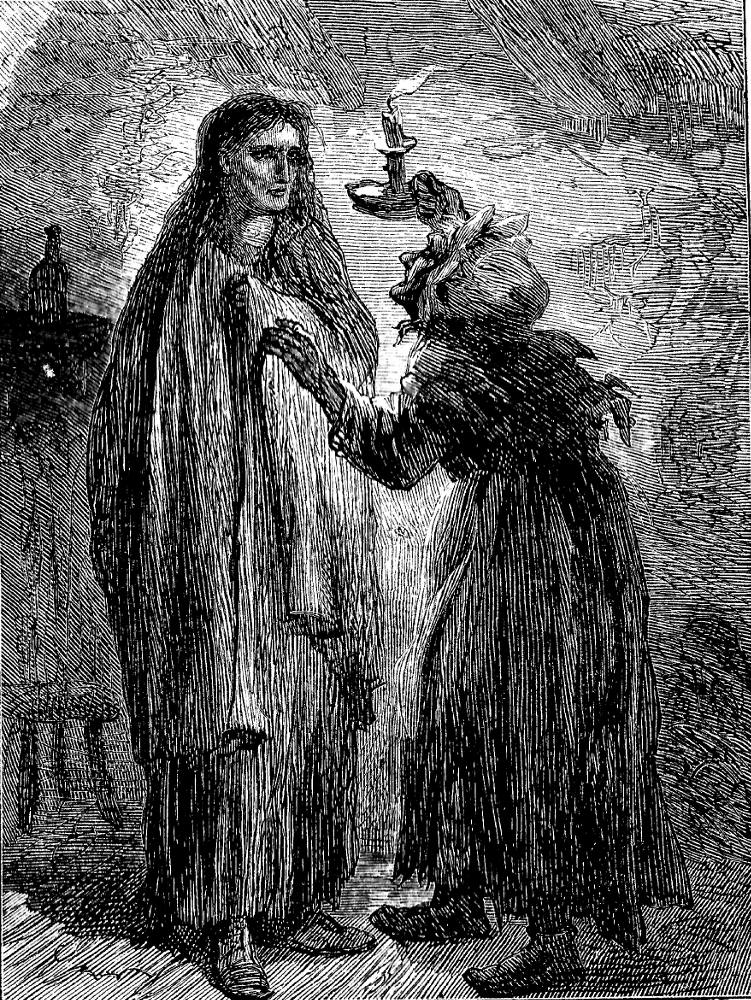 Left: Phiz's August 1847 introduction of Good Mrs. Brown and her daughter, The Rejected Alms. Centre: Sol Eytinge, Jr.'s contrasting study of the beautiful daughter and her hideous, decrepit mother: Mrs. Brown and Alice. Right: Sir John Gilbert's frontispiece for the Sheldon & Co. third volume of the novel (1862): "It's my handsome daughter, living and come back," she screamed again. . . .
Related Material including Other Illustrated Editions of
Dombey and Son
Scanned image and text by Philip V. Allingham. [You may use this image without prior permission for any scholarly or educational purpose as long as you (1) credit the person who scanned the image and (2) link your document to this URL in a web document or cite the Victorian Web in a print one.]
Bibliography
Dickens, Charles. Dombey and Son. Illustrated by Phiz. (Hablot K. Browne). London: Chapman and Hall, 1848.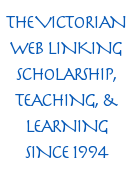 _______. Dombey and Son. Illustrated by Hablot Knight Browne (Phiz). 8 coloured plates. London and Edinburgh: Caxton and Ballantyne, Hanson, 1910.
_______. Dombey and Son. Illustrated by Fred Barnard [62 composite wood-block engravings]. The Works of Charles Dickens. The Household Edition. 22 vols. London: Chapman and Hall, 1877. XV.
"Dombey and Son — Sixty-two Illustrations by Fred Barnard." Scenes and Characters from the Works of Charles Dickens, Being Eight Hundred and Sixty-six Drawings by Fred Barnard, Gordon Thomson, Hablot Knight Browne (Phiz), J. McL. Ralston, J. Mahoney, H. French, Charles Green, E. G. Dalziel, A. B. Frost, F. A. Fraser, and Sir Luke Fildes. London: Chapman and Hall, 1907.
---
Created 27 March 2017

Last modified 14 December 2020