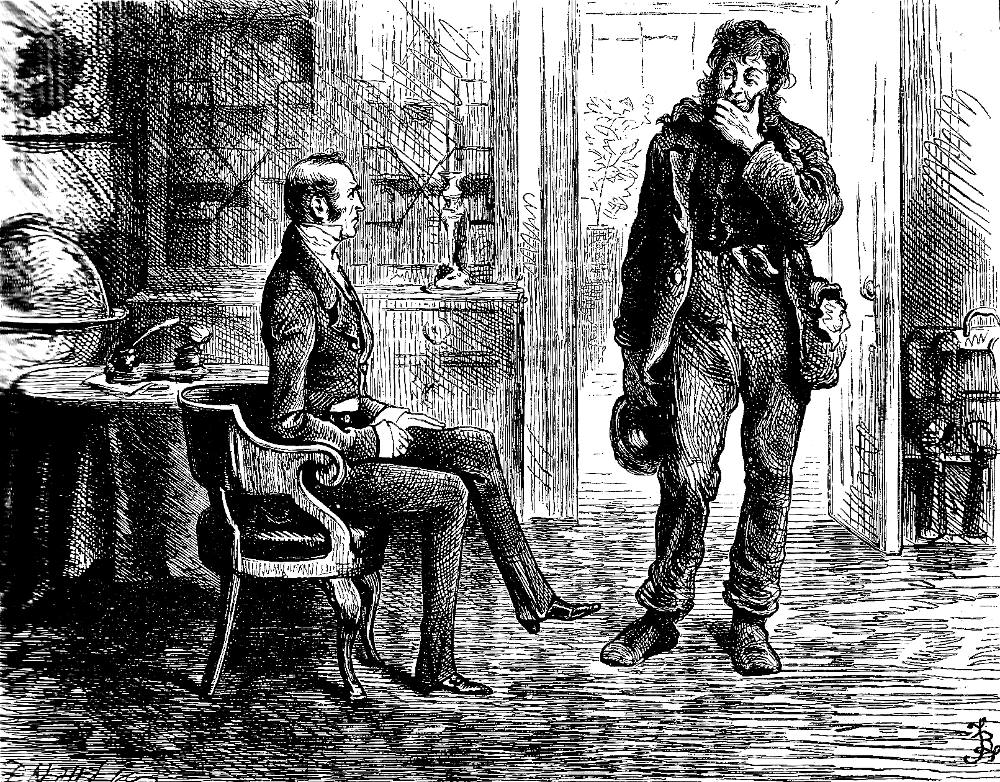 A thorough contrast in all respects to Mr. Dombey — Fred Barnard's frontispiece for Dickens's Dombey and Son, Household Edition (1877), page 1. (scene from chap. ii). Wood engraving by the Dalziels, 4 ¼ x 5 ⅜ inches (10.9 cm high by 13.3 cm wide), framed. Running head: "Mrs. Dombey's medical attendants," 3. [Click on the image to enlarge it.]
Passage Illustrated
"I hope you do, Richards," said Mr. Dombey. "I have no doubt you know it very well. Indeed it is so plain and obvious that it could hardly be otherwise. Louisa, my dear, arrange with Richards about money, and let her have it when and how she pleases. Mr. what's-your name, a word with you, if you please!"
Thus arrested on the threshold as he was following his wife out of the room, Toodle returned and confronted Mr. Dombey alone. He was a strong, loose, round-shouldered, shuffling, shaggy fellow, on whom his clothes sat negligently: with a good deal of hair and whisker, deepened in its natural tint, perhaps by smoke and coal-dust: hard knotty hands: and a square forehead, as coarse in grain as the bark of an oak. A thorough contrast in all respects, to Mr. Dombey, who was one of those close-shaved close-cut moneyed gentlemen who are glossy and crisp like new bank-notes, and who seem to be artificially braced and tightened as by the stimulating action of golden showerbaths. [Chapter 2, "In which Timely Provision is made for an Emergency that will sometimes arise in the best-regulated Families," 9]
Comment
The plate seems to be Barnard's more genial and yet more realistic response to one of Phiz's initial illustrations, Miss Tox Introduces "The Party"(Chapter 2, Oct. 1846, first monthly part). Barnard sharpens the contrast between the large-framed, roughly dressed Toodle, a thoroughly genial proletarian, and the correctly dressed rigid representative of the British merchant class, middle-aged Paul Dombey. The gigantic Toodle, a stoker on the railway, seems utterly out of place in Dombey's well-appointed study as he contemplates the widower Dombey's offer to have his wife, Polly, serve as the infant's wet-nurse in the Dombey establishment. Dombey is so embarrassed by the family connection that he has suggested that he will refer to the Toodle family as the "Richards."
The Relevant Illustrations of the Early Chapters of the Novel in the 1846-48 Edition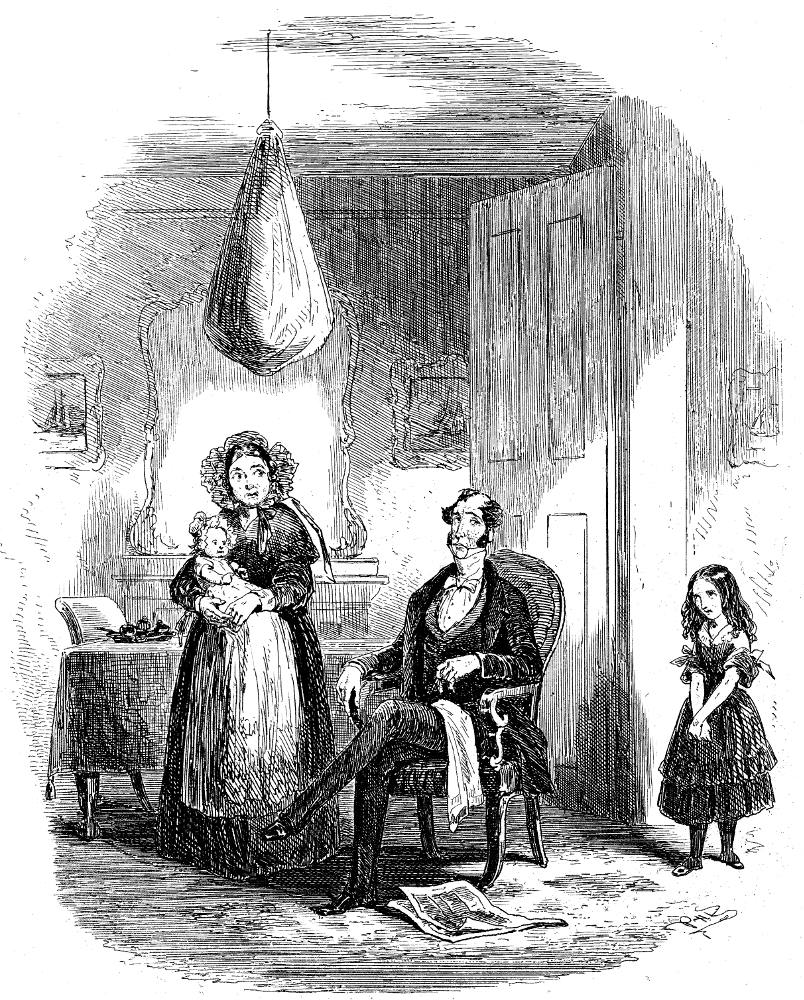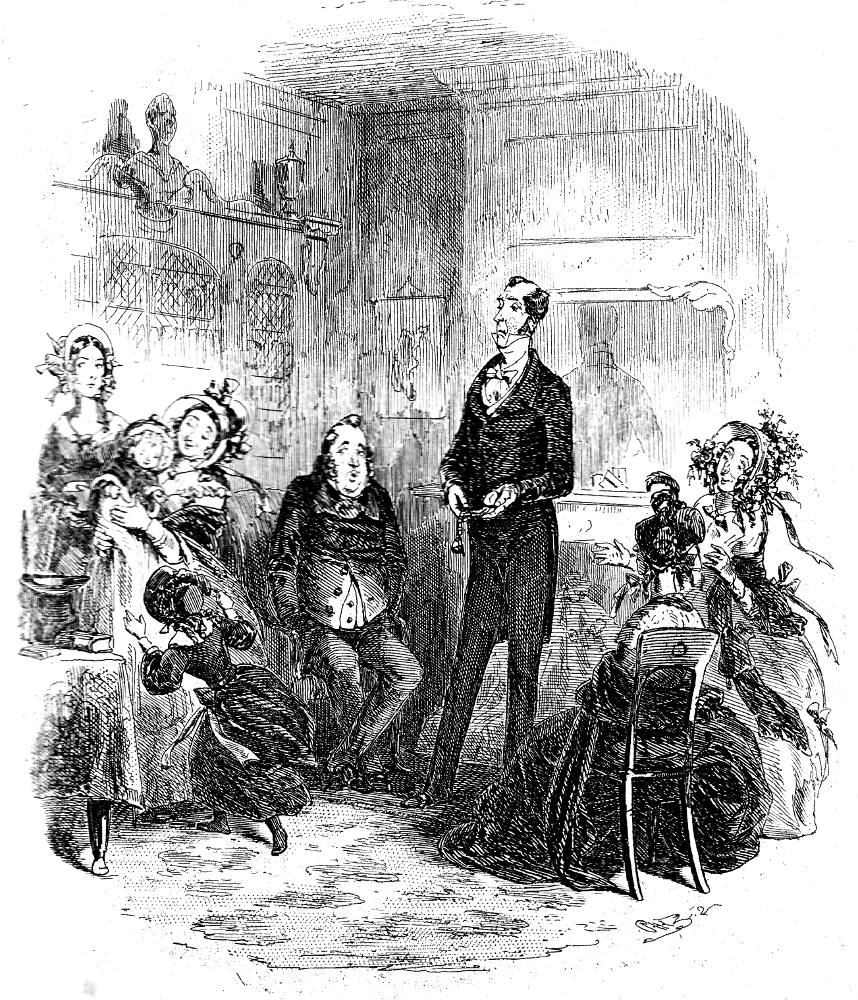 Left: Phiz's October 1846 illustration for the second chapter, Miss Tox Introduces "The Party". Centre: Phiz's October 1846 introduction of the merchant-prince and his dependents, The Dombey Family. Right: The awkward family gathering for span class="tcartwork">The Christening Party (Chapter 5: Part 2, November 1846)
Related Material including Other Illustrated Editions of
Dombey and Son
Scanned image and text by Philip V. Allingham. [You may use this image without prior permission for any scholarly or educational purpose as long as you (1) credit the person who scanned the image and (2) link your document to this URL in a web document or cite the Victorian Web in a print one.]
Bibliography
Dickens, Charles. Dombey and Son. Illustrated by Phiz. (Hablot K. Browne). London: Chapman and Hall, 1848.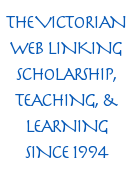 _______. Dombey and Son. Illustrated by Hablot Knight Browne (Phiz). 8 coloured plates. London and Edinburgh: Caxton and Ballantyne, Hanson, 1910.
_______. Dombey and Son. Illustrated by Fred Barnard [62 composite wood-block engravings]. The Works of Charles Dickens. The Household Edition. 22 vols. London: Chapman and Hall, 1877. XV.
"Dombey and Son — Sixty-two Illustrations by Fred Barnard." Scenes and Characters from the Works of Charles Dickens, Being Eight Hundred and Sixty-six Drawings by Fred Barnard, Gordon Thomson, Hablot Knight Browne (Phiz), J. McL. Ralston, J. Mahoney, H. French, Charles Green, E. G. Dalziel, A. B. Frost, F. A. Fraser, and Sir Luke Fildes. London: Chapman and Hall, 1907.
---
Created 27 March 2017

Last modified 14 December 2020