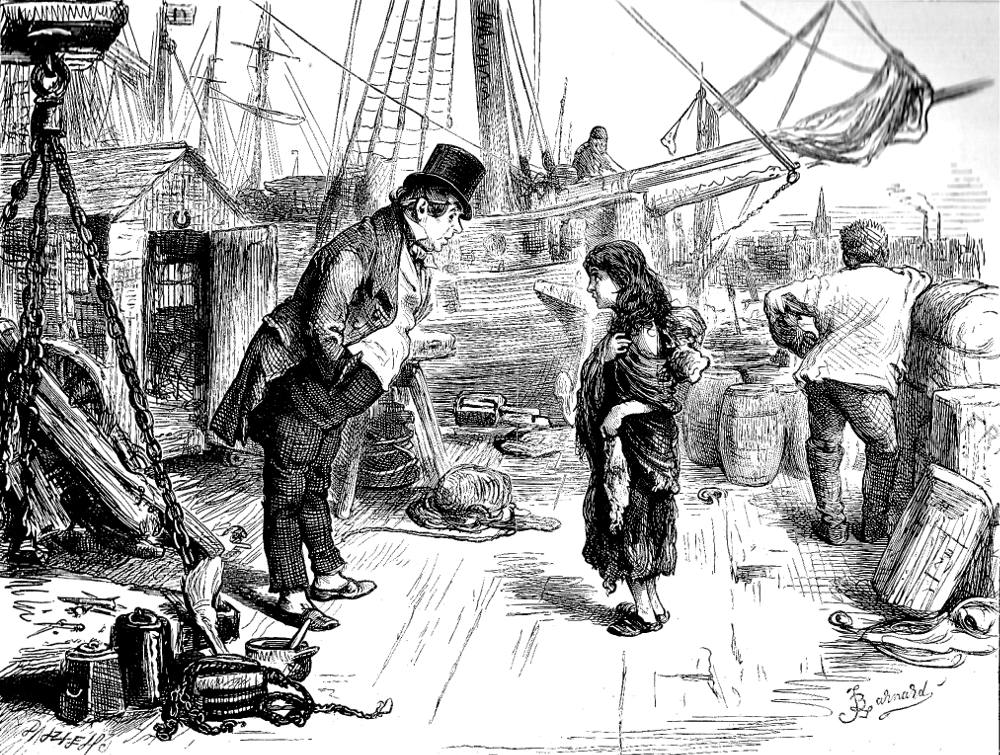 "Why, what can you want with Dombey and Son's?" — Fred Barnard's frontispiece for Dickens's Dombey and Son, Household Edition (1877), facing the title-page (scene from chap. vi). Wood engraving by the Dalziels, 5 ½ x 6 ¾ inches (13.3 cm high by 17 cm wide), framed. This is the first of the volume's four full-page illustrations. [Click on the images to enlarge them.]
Passage Illustrated
Tired of walking, repulsed and pushed about, stunned by the noise and confusion, anxious for her brother and the nurses, terrified by what she had undergone, and the prospect of encountering her angry father in such an altered state; perplexed and frightened alike by what had passed, and what was passing, and what was yet before her; Florence went upon her weary way with tearful eyes, and once or twice could not help stopping to ease her bursting heart by crying bitterly. But few people noticed her at those times, in the garb she wore: or if they did, believed that she was tutored to excite compassion, and passed on. Florence, too, called to her aid all the firmness and self-reliance of a character that her sad experience had prematurely formed and tried: and keeping the end she had in view steadily before her, steadily pursued it.
It was full two hours later in the afternoon than when she had started on this strange adventure, when, escaping from the clash and clangour of a narrow street full of carts and waggons, she peeped into a kind of wharf or landing-place upon the river-side, where there were a great many packages, casks, and boxes, strewn about; a large pair of wooden scales; and a little wooden house on wheels, outside of which, looking at the neighbouring masts and boats, a stout man stood whistling, with his pen behind his ear, and his hands in his pockets, as if his day's work were nearly done.
"Now then!" said this man, happening to turn round. "We haven't got anything for you, little girl. Be off!"
"If you please, is this the City?" asked the trembling daughter of the Dombeys.
"Ah! It's the City. You know that well enough, I daresay. Be off! We haven't got anything for you."
"I don't want anything, thank you," was the timid answer. "Except to know the way to Dombey and Son's."
The man who had been strolling carelessly towards her, seemed surprised by this reply, and looking attentively in her face, rejoined:
"Why, what can you want with Dombey and Son's?"
"To know the way there, if you please."
The man looked at her yet more curiously, and rubbed the back of his head so hard in his wonderment that he knocked his own hat off.
"Joe!" he called to another man — a labourer — as he picked it up and put it on again.
"Joe it is!" said Joe.
"Where's that young spark of Dombey's who's been watching the shipment of them goods?" [Chapter 6, "Paul's Second Deprivation," 39]
Commentary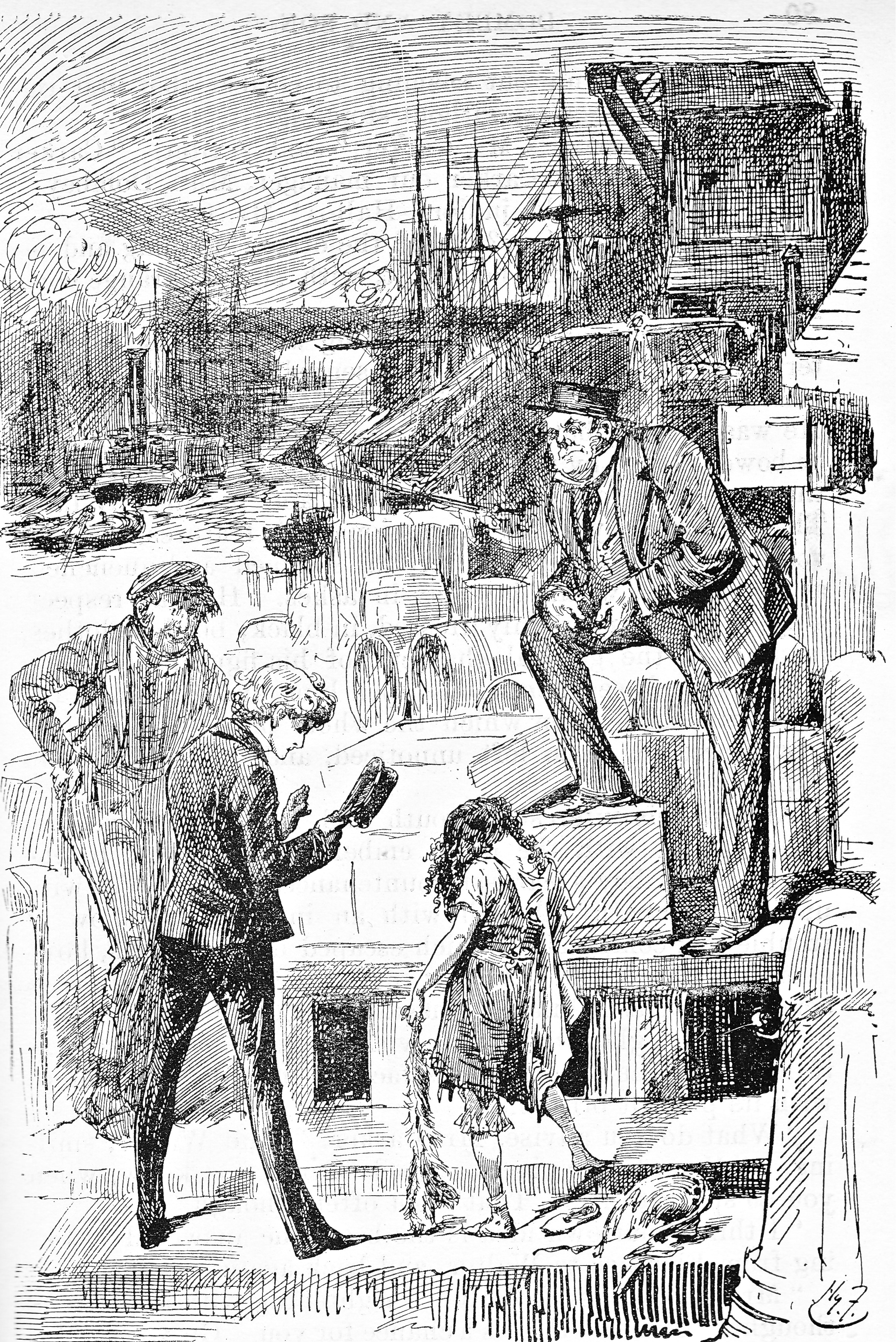 Harry Furniss's version of the same scene for the Charles Dickens Library Edition: Florence's Plight (1910).
Florence Dombey, lost in the metropolis after being robbed of her clothing by "Good" Mrs. Brown and dressed in rags, tries to find her way to her father's office, in chapter 6. Although Charles Dickens first published this novel some thirty years ahead of the appearance of the Household Edition volume of 1877, readers may well have had Phiz's excellent narrative-pictorial sequence in mind in reading the new edition. Consequently, Fred Barnard had to make sure that his presentations of the characters were consistent with those of the original serial illustrator. Such is the case with Florence Dombey, although Barnard's pretty girl seems more cheerful than Phiz's pensive protagonist. If Mr. Dombey is a merchant-prince, then Florence here is a Cinderella figure, a princess in rags, charming, older, and more self-assured than the tentative little girl in fashionable dress one encounters in Phiz's illustrations.
Fred Barnard in his illustrations for various Household Edition volume, 1872-79, is responding to the work of Dickens's original illustrators, particularly Phiz; also responding to Phiz's Dombey and Son illustrations, John Gilbert and Felix Octavius Carr Darley for the 55-volume "Household" Edition issued by various New York publishers in the 1860s produced elegantly engraved frontispieces that British illustrators such as Barnard and Mahoney are not likely to have seen. Consequently, although Phiz influenced all of these later illustrators, they did not influence each other.
The frontispiece introduces readers to the firm of Dombey and Son and the daughter of the house, long-suffering and dutiful Florence, in advance of introducing Mr. Dombey himself, the subject of one of the two initial Phiz illustrations in the 1846-48 serial, The Dombey Family (Ch. 3). Whereas Phiz focuses on Mr. Dombey from start to finish, Florence assumes a greater prominence in the 1877 Household Edition, in which she appears in the large-scale opening wood-engraving and her daughter (also Florence) appears in the tailpiece; Florence as a child and young woman appears in a dozen other illustrations beside. Here, Florence demonstrates her pluck after getting separated from her nurse, Polly Toodle, after her outing with her brother Paul to Stagg's Gardens. Whereas Phiz made the rescue of Polly's oldest boy, Rob the Grinder, the subject of his illustration for the sixth chapter, Barnard focuses from the first on the central figure of Florence. Having been caught up by a witch-like crone as if she were the heroine of a fairytale, Florence has been taken to Mrs. Brown's hovel, then abandoned in the city streets, almost unrecognizable in the rags in which Mrs. Brown has dressed her. Young Walter Gay, a junior employee of the House of Dombey, comes to Florence's rescue after two hours utterly alone, hoping to find her father's offices in the City.
The scene in the Barnard plate is the river-side wharf, where one of Dombey's ships is being loaded under the superintendence of the clerk in charge, Mr. Clarke, pen behind his ear as in the description. Although Mr. Dombey's associate, if not his employee, Clark fails to recognize the heiress in rags, whose identity Walter Gay confirms as he agrees to take her to her father. However, as the firm's offices have closed for the day, they proceed to his uncle's. Barnard's handling of the shipping scene is masterful, with Florence holding her rags together as she converses with the incredulous Mr. Clark. On the skyline is the southern shore of the Thames, with a church spire (Southwark Cathedral) and several factory chimneys, the perspective being from Lower Thames Street on the City side. Although Florence is configured as Cinderella, there is nothing romantic about the ramshackle wharf, whose industrial objects such as a winch and coils of rope underscore the mundane reality of Dombey's import-export business.
The Relevant Illustrations of the Early Chapters of the Novel in Other Editions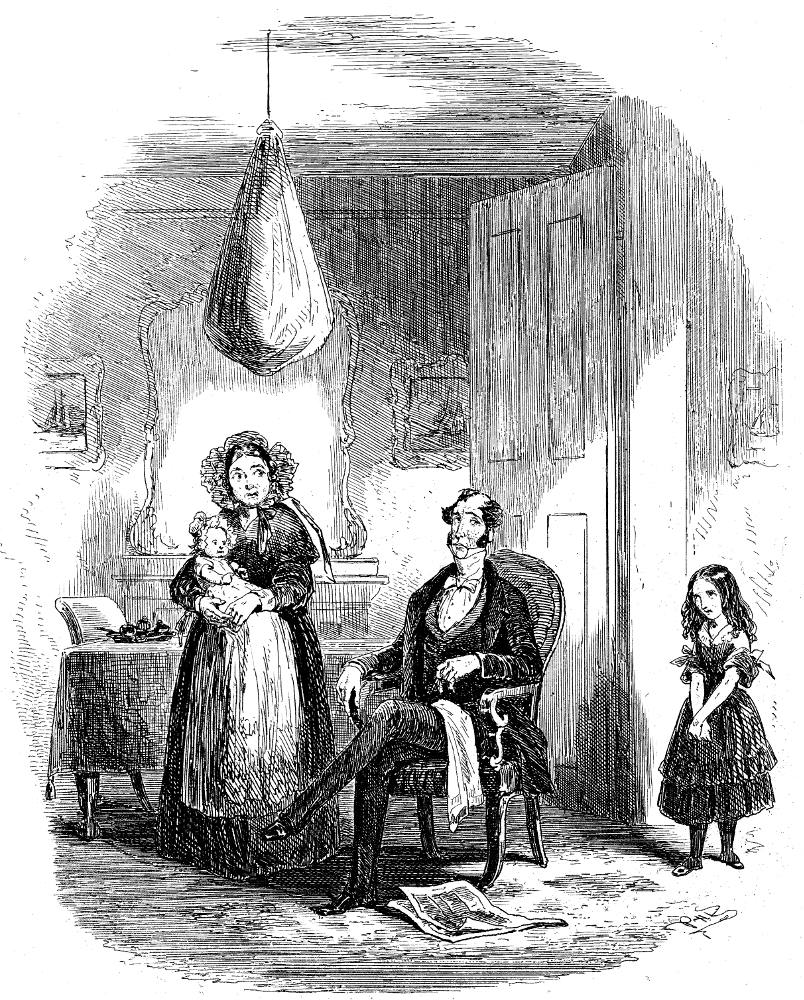 Left: Phiz's November 1846 illustration for the sixth chapter, Polly Rescues the Charitable Grinder. Centre: F.O. C. Darley's engraved frontispiece for the first volume, Captain Cuttle in Ambush. Right: Phiz's October 1846 introduction of the merchant-prince and his dependents, The Dombey Family. [Click on the images to enlarge them.]
Related Material including Other Illustrated Editions of
Dombey and Son
Scanned image and text by Philip V. Allingham. [You may use this image without prior permission for any scholarly or educational purpose as long as you (1) credit the person who scanned the image and (2) link your document to this URL in a web document or cite the Victorian Web in a print one.]
Bibliography
Dickens, Charles. Dombey and Son. Illustrated by Phiz. (Hablot K. Browne). London: Chapman and Hall, 1848.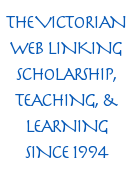 _______. Dombey and Son. Illustrated by Hablot Knight Browne (Phiz). 8 coloured plates. London and Edinburgh: Caxton and Ballantyne, Hanson, 1910.
_______. Dombey and Son. Illustrated by F. O. C. Darley and John Gilbert. The Works of Charles Dickens. The Household Edition. 55 vols. New York: Sheldon and Company, 1862. Vols. 1-4.
_______. Dombey and Son. Illustrated by Fred Barnard [62 composite wood-block engravings]. The Works of Charles Dickens. The Household Edition. 22 vols. London: Chapman and Hall, 1877. XV.
"Dombey and Son — Sixty-two Illustrations by Fred Barnard." Scenes and Characters from the Works of Charles Dickens, Being Eight Hundred and Sixty-six Drawings by Fred Barnard, Gordon Thomson, Hablot Knight Browne (Phiz), J. McL. Ralston, J. Mahoney, H. French, Charles Green, E. G. Dalziel, A. B. Frost, F. A. Fraser, and Sir Luke Fildes. London: Chapman and Hall, 1907.
---
Created 27 March 2017

Last modified 23 December 2020