Silver, because it is an expensive material, encourages more cautious attitudes to experiment than, for example, furniture. Experimental pieces when they survive are of especial interest.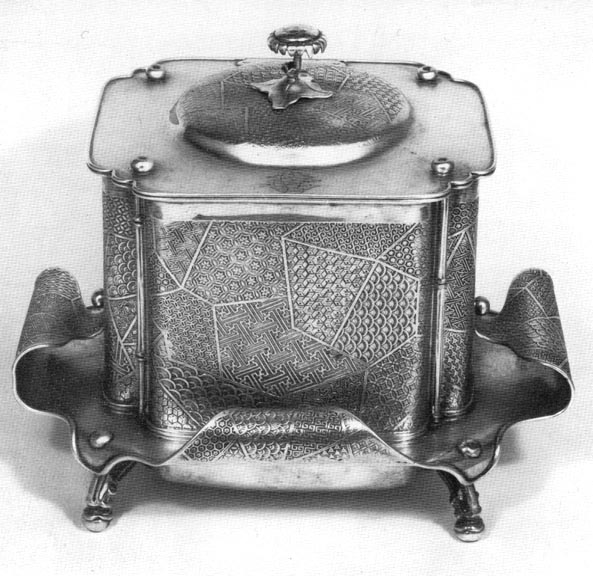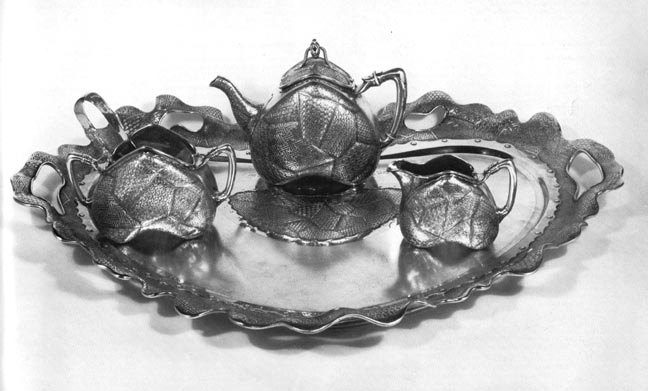 Biscuit Box and Tea Set by Elkington and Company, Birmingham (Nos. 231 and 234)
Elkington & Company who had a long history in pioneering innovations including electroplating and electrotyping also had the enlightened policy of employing major artists like the Frenchmen Leonard Morel Ladeuil (1820-1888), the sculptor, Albert Willms and from the 1870s, Dr. Christopher Dresser (No. 229). Elkingtons were the earliest English firm to experiment with champleve and later cloisonn&eacute enamelling. Cloisonné was developed by Willms to a remarkable degree of technical refinement (No. 230) and attracted a great deal of excitement at the Philadelphia Centennial Exhibition of 1876. Elkingtons were probably the first English makers to produce adaptations of Japanese designs making use of "Komai" patterns in a number of pieces (Nos. 231 and 234). (Lewis F. Day in The Planning of Ornament (London, 1887) instances this type of pattern as a freak, although a charming one, of Japanese perversity). Both the pieces using "Komai" patterns are remarkable technical feats.
The Gorham Corporation, one of the oldest American silversmithing companies, unlike Elkingtons were not prevented from combining "other metals" with their sterling silver. This technique, a Japanese one, was used by the Gorham Corporation over a number of years who employed Japanese sword-decorators who had become unemployed after the decree banning the wearing of swords (Nos. 240-242). The Jug (No. 329) by Gorham has a simplicity and elegance reminiscent of the work of Dresser. Another American company. Tiffany, under the influence of Edward C. Moore, its president and a keen orientalist, also used Japanese techniques, the tray (No. 265) is an interesting example of the combination of silver with other metals.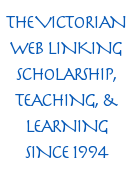 Related Materials
References
The Aesthetic Movement and the Cult of Japan. London: The Fine Art Society, 1972. P. 35.
The Fine Art Society, London, has most generously given its permission to use information, images, and text from its catalogues in the Victorian Web, and this generosity has led to the creation of hundreds and hundreds of the site's most valuable documents on painting, drawing, sculpture, furniture, textiles, ceramics, glass, metalwork, and the people who created them. The copyright on text and images from their catalogues remains, of course, with the Fine Art Society. [GPL]
---
Last modified 14 December 2004