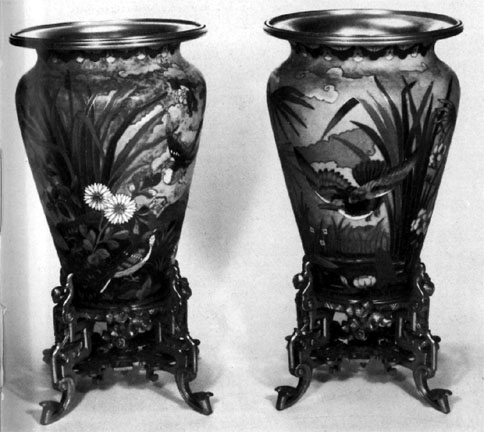 Vase
Albert Willms [sic]
Manufacturer: Elkington and Company
c. 1875
Porcelain
Without base: 24 cm/ 9 1/2 inches
Height with base: 32 cm/ 12 1/2 inches
Fine Art Society, London
"Vases with bases. . . Cloisonné enamel, decorated with birds and flowers, the necks decorated with a hand of conventionalised floral motifs, in blue, green, yellow and white on a sky blue ground. Marks: Elkington & Co (on base and in the decoration), the pieces numbered 351 and 351A." [Spencer, p. 32].
"A contemporary source spoke of Elkington's cloisonné enamels as far surpassing the Chinese or thc modern Japanese examples of the art, and even approaching 'the exquisite beauty of the old Japanese'. A group of Elkington's cloisonne enamels were exhibited at the Philadelphia Exhibition of 1876. (See illustration . . . from Contributions to the International Exhibition at Philadelphia l876 London, 1876.)
Albert Willms, a Parisian, was trained under Klagman, Dieterle and Constant. He came to England after the revolution of 1848 and worked for the emigré firm of Morel & Co which had been recently established. Returning to Paris for a time he worked with Christoffe, Froment-Meurice and Paillard. He prepared designs for the International Exhibition of 1855 and was appointed head designer for Elkingtons in the late 1850s, a position he held until the end of the century. He came to the attention of the English public with his designs for the 'Pompeian' dessert servicc shown at the International Exhibition of 1862. See Patricia Wardle, Victorian Silver and Silver-Plate London, 1963.
References
Spencer, Robin. The Aesthetic Movement and the Cult of Japan. London: The Fine Art Society, 1972. Pl. 230.
The Fine Art Society, London, has most generously given its permission to use information, images, and text from its catalogues in the Victorian Web. This generosity has led to the creation of hundreds and hundreds of the site's most valuable documents on painting, drawing, sculpture, furniture, textiles, ceramics, glass, metalwork, and the people who created them. The copyright on text and images from their catalogues remains, of course, with the Fine Art Society. [GPL]
---

Victorian
Web

Visual
Arts

Decorative
Arts

Ceramics

Next
Last modified July 1999