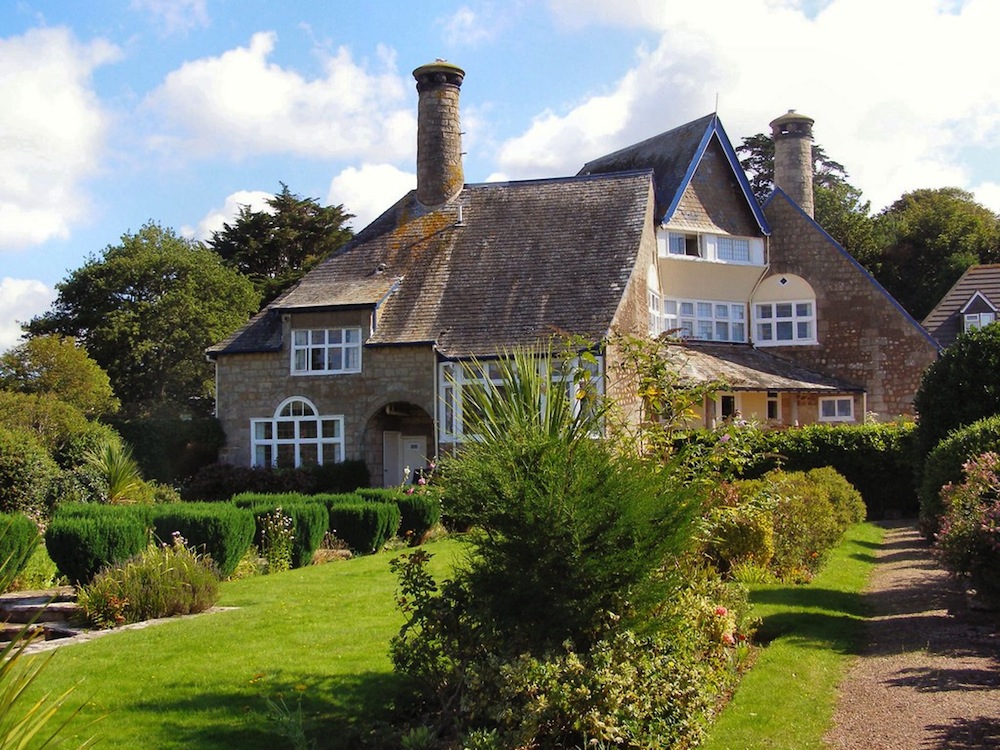 The Barn Hotel, Exmouth, by Edward Schroder Prior (1852-1932). This Grade II listed building was originally a private home commissioned by a Major Weatherall, designed in 1896 and erected at cost of more than £7,000. The building, dated to 1897, has been seen as "[o]ne of the seminal buildings of the Arts and Crafts movement both in its plan and for its use of varied local vernacular materials" (listing text). In Bridget Cherry and Nikolaus Pevsner's Devon, too, it is called an "early landmark" of this movement in architecture (109), and, later, "a brilliant exercise in Arts and Crafts design by a brilliant pupil of Norman Shaw" (446). Like the later Voewood, which it foreshadows, it is on a butterfly plan, and derives much of its effect from this and from the textured work on its façade. A special feature here is the use of huge round capped stone chimneys at either end. The original house, which had a thatched roof, burnt down in 1905, but was rebuilt to the same design soon afterwards, with a tiled roof. This must have changed its external appearance, but not the essential layout. It stands on Foxholes Hill, Exmouth, overlooking the sea. — Jacqueline Banerjee.
Photograph by David Dixon, with thanks to him and to the Geograph website; it is available for reuse, with attribution, on the Creative Commons License. Click on the image to enlarge it.
Bibliography
"The Barn, Exmouth." British Listed Buildings. Web. 12 June 2016.
Cherry, Bridget, and Nikolaus Pevsner. Devon. Buildings of England. 2nd ed. New Haven and London: Yale University Press, 2002.
Cook, Martin Godfrey. Edward Prior: Arts and Crafts Architect. Marlborough: The Crowood Press, 2015. See Chapter 5.
---
Lat modified 3 July 2016