What is "listing," and how did it start?
The damage inflicted by air raids in World War II meant that many hard choices had to be made. Which damaged buildings were worth rebuilding? Which should make way for new developments? There had to be some protocol to help decide what was worth preserving for future generations. In England, the process of listing "Buildings of Special Architectural or Historic Interest" began with the Town and Country Planning Act of 1947, and is still continuing. English Heritage assesses individual buildings and advises the Secretary of State on their eligibility for this "Statutory List," maintaining a database of around half a million buildings. The process is ongoing in the sense that buildings can be added to or removed from the list, and their status can be changed too (see "How Do Buildings Become Listed?").
Why are so many Victorian buildings listed?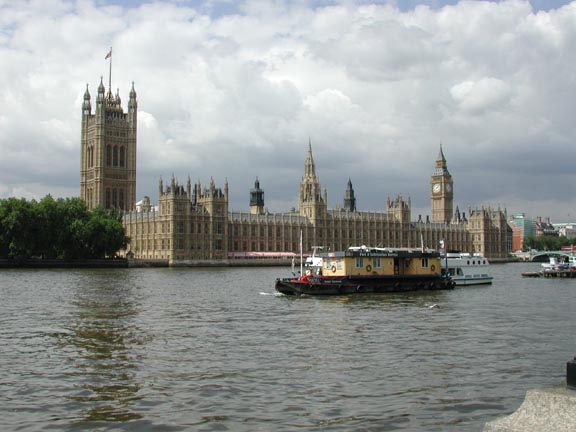 The Houses of Parliament, probably the most important Grade 1 listed building in the country, by Sir Charles Barry and A. W. N. Pugin, 1840-60 (with work continuing for another decade, while the building was already in use). Click on this and the following pictures for larger images and more information.
Despite the premium on age, many listed buildings (about 32%) date from the nineteenth century, slightly more than from the eighteenth (31%; see "Listed Buildings"). This is hardly surprising: the later period was a time of rapid and enormous population growth, and hence of great expansion and increased professionalism in the building trade. It was also the time of large-scale urbanisation, and, of course, of empire, when buildings designed for industrial, commercial and administrative purposes alike reflected the confidence of a world power. Added to that, the Victorians built to last. For example, they developed techniques for fireproofing. Minimising fire risk was a major concern when designing buildings as different as the former Record Office in Chancery Lane, London, where it was essential to safeguard the nation's records, and Jenners department store on Princes Street in Edinburgh, where fire had destroyed the previous building on those premises. There were economic factors in their survival, too: "So much of the built environment, not least working public buildings — government offices and town halls, university colleges and schools, railway stations and churches — were products of the Victorian decades so that it would have been prodigal to replace them simply because they were unfashionable" (Stamp 16). Thus a large number of Victorian structures withstood both the horrors of war and the vagaries of taste. As for the latter, now that their worth is recognised, many such buildings have been given Listed Building status.
What kind of buildings are listed?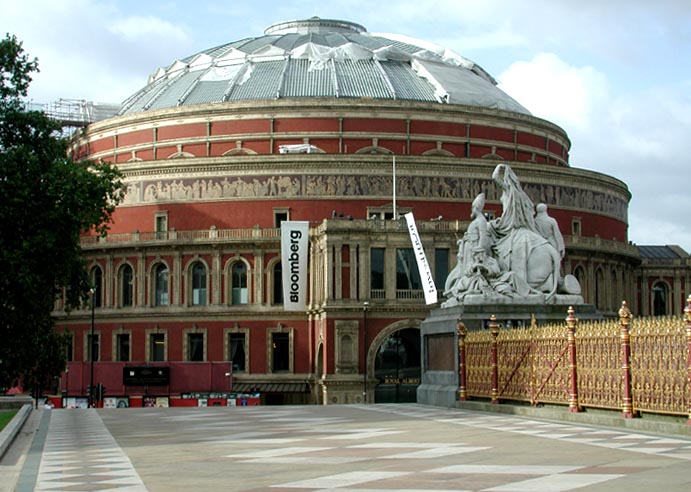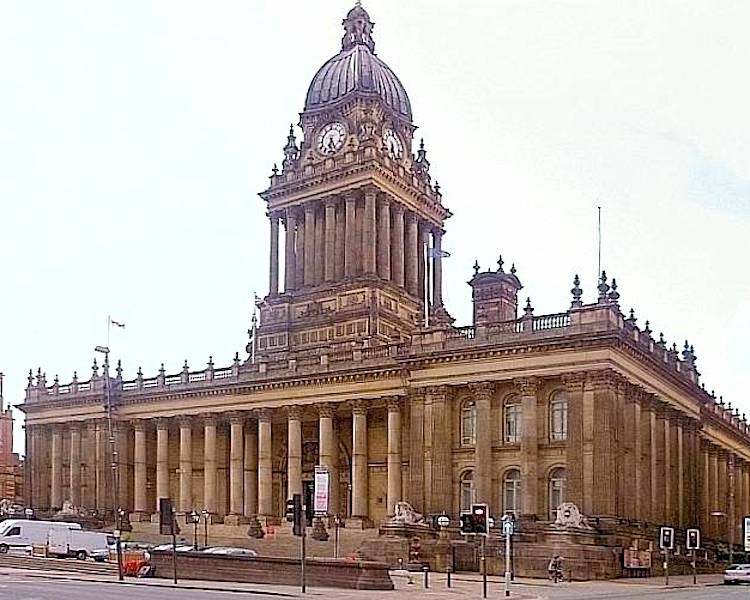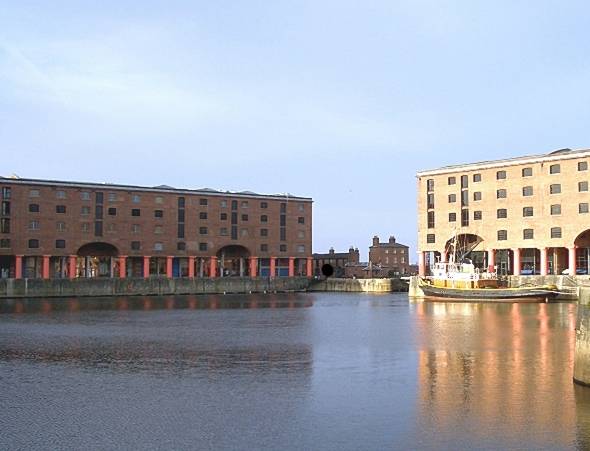 Three Grade I listed buildings, left to right: (a) The Royal Albert Hall in Kensington, by Captain Francis Fowke, 1871. (b) Leeds Town Hall, by Cuthbert Brodrick. 1852-58. (c) The Albert Dock, Liverpool, by Jesse Hartley with Philip Hardwick, 1843-45.
A single building, or a group of buildings that provide "a fine example of planning (such as squares, terraces and model villages)," might qualify for listing in one of three categories ("How Do Buildings Become Listed?"). These categories range from Grade I (2.5%) and Grade II* (5.5%) to simply Grade II for the rest — the vast majority of buildings that are considered "nationally important," around 92% (again, see "Listed Buildings" for these facts and figures). Victorian Grade I listed buildings range from national treasures like the Palace of Westminster and the Royal Albert Hall, to such icons of the industrial heartland as Leeds Town Hall and the Albert Dock, Liverpool, and include many of our most splendid Victorian churches, like William Burges's masterpiece, St Mary's, Studely. Among Grade II* listed buildings are monuments to the industrial age like Salts Mill in Saltaire, and engineering marvels like the Clifton Suspension Bridge. Into the Grade II category fall Alexandra Palace in London, the Council House in Birmingham, most of the older houses in Bedford Park, London, and many, many more.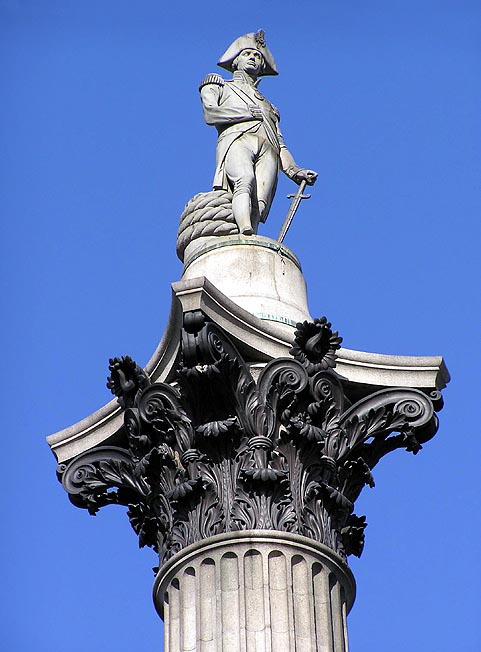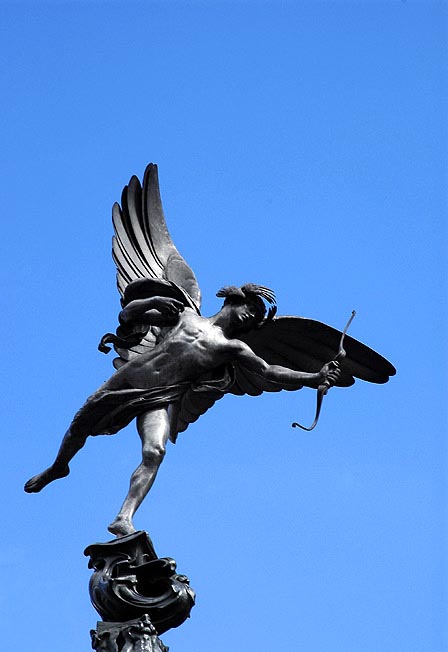 Two listed monuments: Left: Eros on the Shaftesbury Memorial Fountain at Piccadilly Circus, by Sir Alfred Gilbert, 1893. Right: Nelson at the top of his column in Trafalgar Square, by E. H. Baily, 1843.
Among the listed buildings of all grades are important sculptural works. As might be expected, these include Nelson's Column and the Shaftesbury Memorial Fountain (Eros) in London, both Grade I listed. The Nelson monuments in Birmingham and Liverpool are both Grade II*, and many other well-regarded Victorian works fall into the much wider Grade II category, from Albert Bruce Joy's statue of John Bright in Albert Square, Manchester, to John Cassidy's statue of Edward Colston in Bristol.
What about Wales, Scotland and Northern Ireland?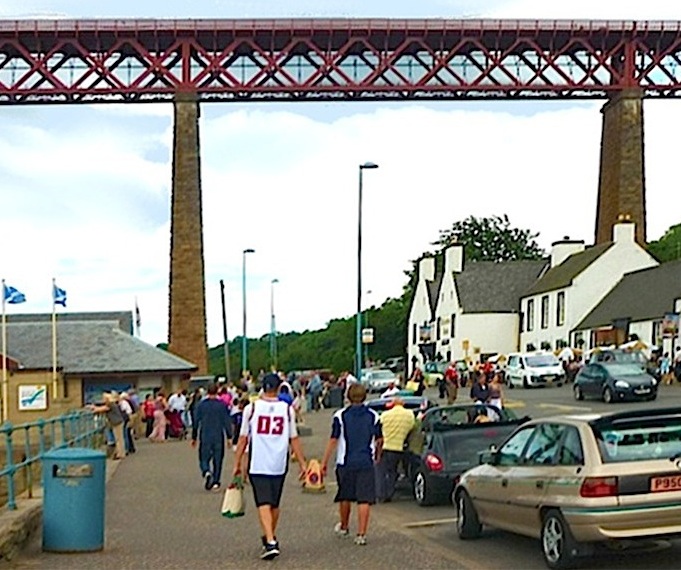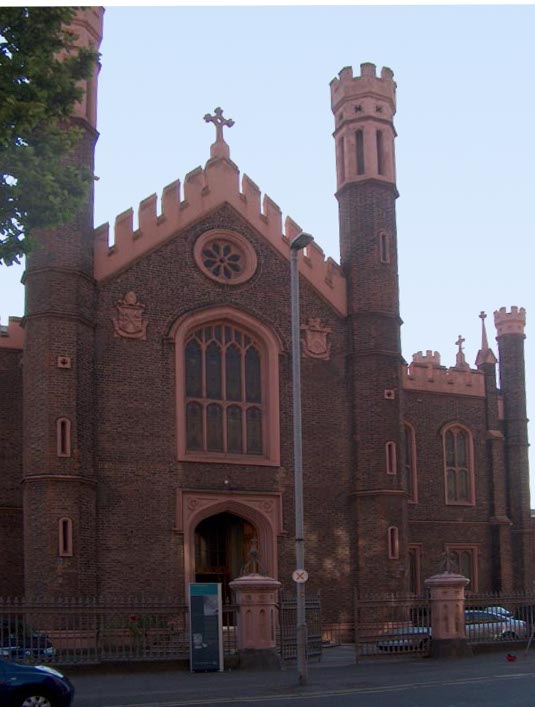 Examples of Grade I or Category A listed buildings in Wales, Scotland and Ireland, left to right: (a) The Pierhead Building at Cardiff Harbour by William Frame, 1897. (b) The Forth Railway Bridge, by Sir John Fowler and Benjamin (later Sir Benjamin) Baker, 1882-89. (c) St Malachy's R.C. Church, Alfred Street, Belfast, by Thomas Jackson, 1844..
Wales, with around 30,000 listed buildings under the care of CADW (the Welsh word for "keep," "save," or "guard"), shares the same classification system as England, with Grade I, Grade II* and Grade II categories. Again, there is an enormous variety of building types. The eye-catching Pier Head Building at Cardiff Harbour's Inner Bay is Grade I listed, as is the Animal Wall on Castle Road in the city itself. Both have been recently restored, but, as the source of my figure of 30,000 suggests ("10% of Wales' Listed Buildings May Be Lost"), plenty of others are still in urgent need of attention, including many churches.
Scotland and Northern Ireland have different systems of classification, although along similar lines: Scotland has Categories A, B and C, and Northern Ireland has Grades A, B+, B1 and B2. As for Scotland, there are about 47,600 listed buildings over the border, with A-listed buildings of national importance accounting for 8%, B-listed ones of regional importance accounting for the majority (50%), and the rest being of local importance (Guide to the Protection of Scotland's Listed Buildings, 17). Among Victorian structures, the Forth Railway Bridge is an example of a Category A building. Others examples are Fettes College, the Scott Monument and the Glasgow School of Art. Northern Ireland, where listing started only with the Planning (Northern Ireland) Order of 1972, adds a further 8,500 or so buildings to the list of currently classified and protected structures in the United Kingdom. Other buildings in Northern Ireland that fail to fulfil the criteria but are recorded because they are still of special interest take the number over 9,000 (see the Buildings Database for Northern Ireland). An example of an Category A building is Thomas Jackson's beautiful neo-Gothic St Malachy's Church in Belfast, though the database has no listing text for it as yet.
The Future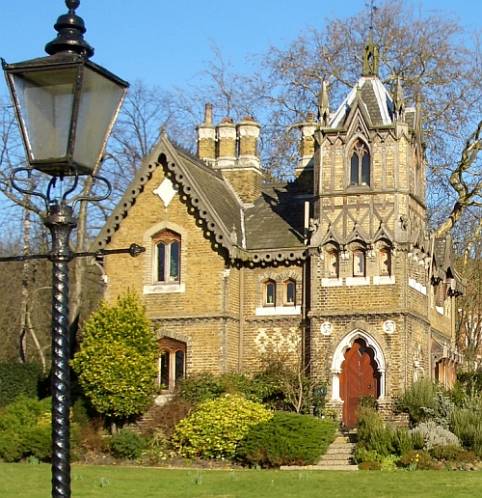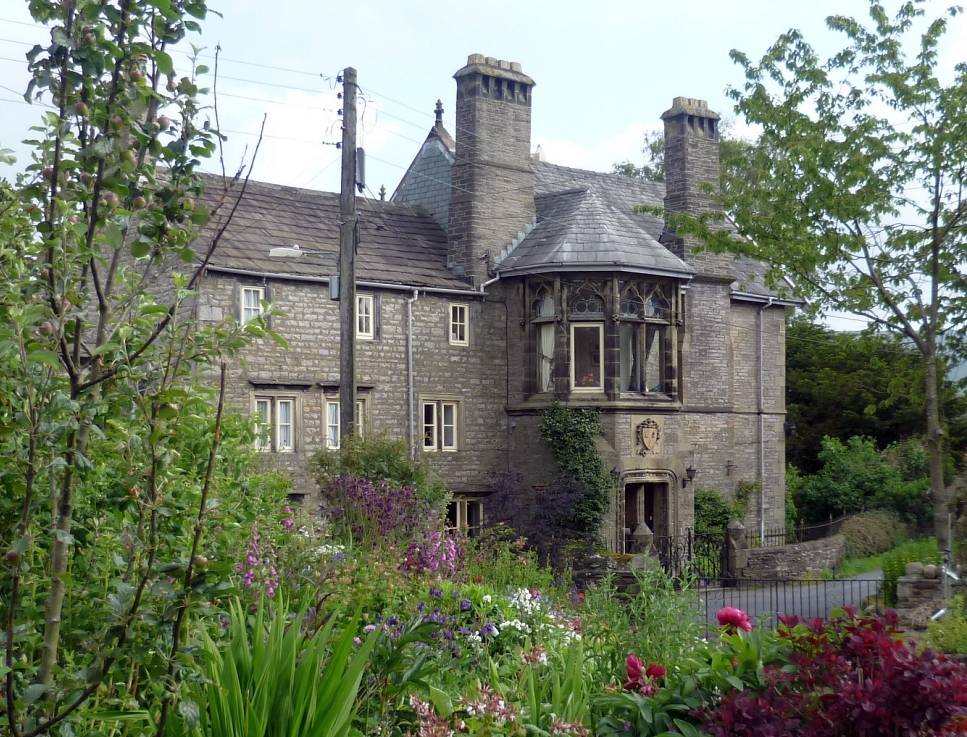 Two private houses that are listed: Left: A house with a tower in Holly Village, Highgate, by Henry Astley Darbishire, 1865. This is Grade II* listed. Right: A Georgian house in the Yorkshire Dales, with a substantial neo-Gothic addition from about 1870. This is Grade II listed.
Preserving the best of the built environment keeps us in touch with our history and traditions. Along with conservation areas, of which over 8,000 have been designated since 1967 (see "Conservation Areas"), it is a wonderful way of shoring up the national identity in and for a multi-cultural society. Fine architecture, architectural sculpture and public monuments are the most accessible part of the nation's art treasure, too. Listing draws attention to and helps to preserve these special works, and the listing texts themselves give details not easily appreciated or even visible from the road. These texts also help to bring out the achievements of the architects and other craftsmen concerned. That so many were Victorians is heart-warming and inspiring: we owe more than we realise to their vision, energy and commitment. Looking to the future, and remembering that the listing process continues, should also encourage us to promote neglected local landmarks that are now at risk. At Aickin & Capes's Kingston Cemetery (1855), for example, the arch joining the two chapels is both picturesque and unusual. But it is crumbling. Since the ensemble is not listed yet (which it surely ought to be), getting funds to repair it is a problem. English Heritage and its sister organisations cannot function without the interest and help of the wider community. So it is always worth noting whether an interesting building is listed, and, if it is not, recommending it for listing. That will make it easier to preserve the best work of the past for future generations to enjoy (for English buildings, see "Listing and Application Designation Form").
Sources and Resources
"10% of Wales's Listed Buildings May Be Lost, Says Expert" BBC News Wales. Web. 27 September 2012.
British Listed Buildings Online . This gives links for searching "by country, county and parish/locality." It does not include Northern Ireland. Web. 27 September 2012.
"Buildings and Conservation Areas." This allows you to download some pdfs, including, "What is Listing?" Cadw. Web. 27 September 2012.
Buildings Database, Northern Ireland Environment Agency (a portal leading to the search facility). Web. 27 September 2012.
"Conservation Areas." English Heritage. Web. 27 September 2012.
"Guide to the Protection of Scotland's Listed Buildings." Web. 27 September 2012.
"Historic Scotland." This has a search facility for Scotland's listed buildings. Web. 27 September 2012.
"How Do Buildings Become Listed?" English Heritage. Web. 27 September 2012.
"Listed Buildings." English Heritage. Web. 27 September 2012.
"Listing and Application Designation Form." English Heritage. Web. 27 September 2012.
The National Heritage List for England. This has a "quick search" box. English Heritage. Web. 27 September 2012.
Stamp, Gavin Lost Victorian Britain: How the Twentieth Century Destroyed the Nineteenth Century's Architectural Masterpieces. London: Aurum, 2010. Print.
---
Last modified 24 November 2023