John Gibson (1817-1892) was born at Castle Bromwich, Warwickshire, in the West Midlands. He attended the King Edward VI Grammar School in Birmingham, after which he was articled to Joseph Aloysius Hansom, until Hansom became bankrupt. Then in 1835 he entered the office of Charles Barry in London, assisting him in his greatest undertaking — working on the drawings for the new Palace of Westminster. From this date, Gibson had a business address in London. He stayed in Barry's office until 1844, when he won the commission to design the National Bank of Scotland in Glasgow, which was completed in 1847. By now he had already made a name for himself with the Imperial Assurance Building on Threadneedle Street in 1846: he was to become "the most prolific of bank architects," at a time when bank building was booming, through his work for the National Provincial Bank ("John Gibson," 53). The former National Provincial Bank in Bishopsgate, London, which he designed in 1862, is a Grade I listed building, now known as Gibson Hall.
But his fame was not "linked to one patron," as has been suggested (Dixon and Muthesius 129); nor was he by any means limited to banks. To give just a few examples of his other works, early on he designed the Central Baptist Chapel in Bloomsbury (1845-48); later there were a number of country houses and churches, including the beautiful landmark church, St. Margaret's or "The Marble Church," Bodelwyddan, in Clwyd (consecrated in 1860); and he was responsible for a very fine town hall in Todmorden, Yorkshire (1860-75), as well as the Unitarian church there (1869).
Gibson became an Associate of RIBA in 1849, and FRIBA (a Fellow of RIBA) in 1853. He also held office in it, becoming a vice-president. He retired in 1883, and was awarded the RIBA Gold Medal for his contribution to architecture in 1890. He died in his London home at Great Queen Street, W1, and was buried in a fine polychromatic Gothic mausoleum in Kensal Green cemetery in 1892.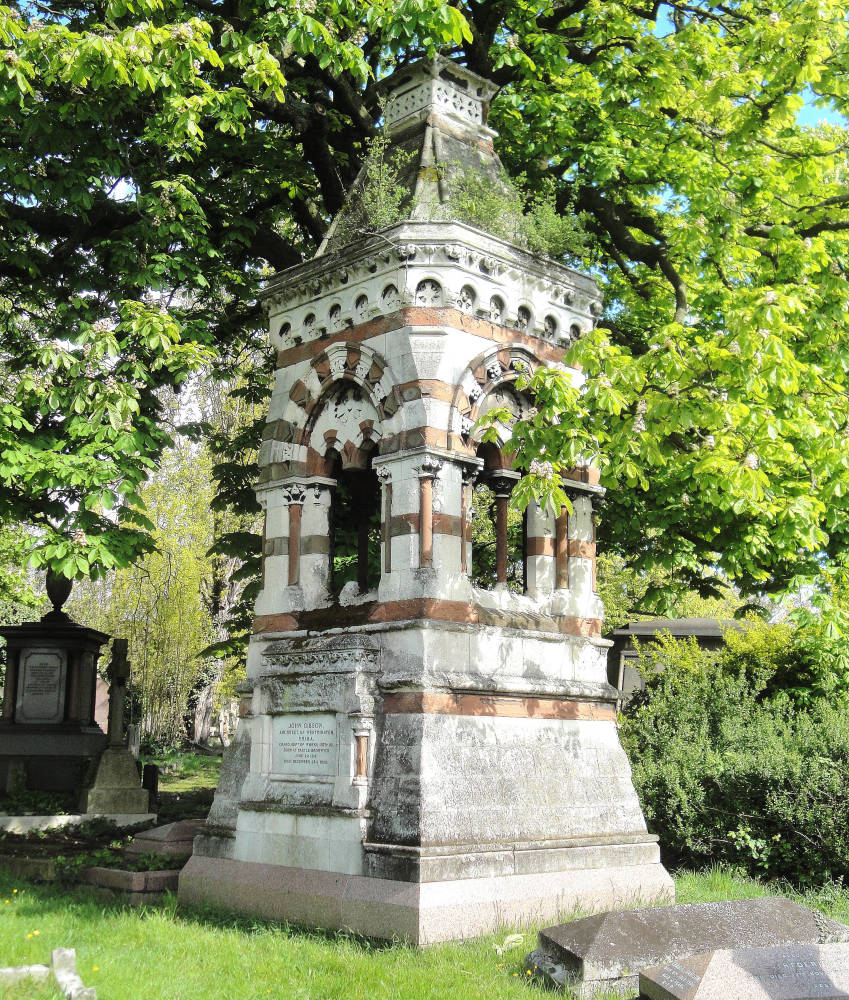 Works
Bibliography
Jenkins, Simon. Wales: Churches, Houses, Castles. London: Allen Lane (Penguin), 2008.
Dixon, Roger, and Stefan Muthesius. Victorian Architecture. 2nd ed. London: Thames and Hudson, 1985. [This has a short list of works at the end, pp. 258-59.]
"John Gibson." Dictionary of Scottish Architects (DSA). Web. 4 July 2016.
Waterhouse, Paul. rev. John Elliott. "Gibson, John (1817–1892), architect." Oxford Dictionary of National Biography. Online ed. Web. 4 July 2016.
---
Created 4 July 2016