he Lucas Brothers were building contractors: their firm was one of the handful of major firms that dominated the Victorian building scene. They were the sons of James Lucas (1792-1865), a plasterer working from St Pancras in London: Charles followed him into the building trade, but soon rose far above him, and when his brother joined him in about 1844, they founded the powerful partnership that bore their name. As John Kellett says, such major players, "handling large numbers of men and great quantities of equipment, soon came to take the greater share of contract work" (72):
Commencing in the eastern counties, with large works at Lowestoft, they undertook extensive operations in the development of that town; the construction of waterworks at Norwich and Yarmouth; and the building of country houses, Somerleyton [the home of the civil engineer and contractor, Samuel Morton Peto], Henham, and Rendlesham, amongst others. Moving from Lowestoft to London, Lucas Brothers secured premises by the riverside in Lambeth, and entered upon a long series of undertakings of public interest and importance; the most notable buildings belonging to that period are the stations and hotels at Cannon Street and Charing Cross, the Royal Italian Opera House, the Albert Hall, the South Kensington Exhibitions of 1867 and 1871, the Alexandra Palace, the Junior Carlton Club, and some private houses, including Cliveden. ["Sir Thomas Lucas, Bart," 366]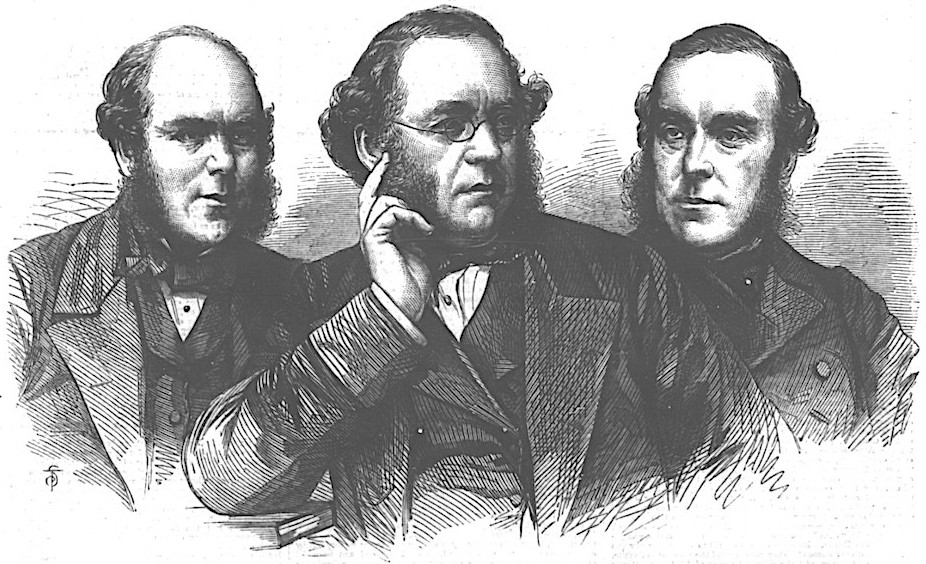 Left to right: Charles Lucas, John Kelk and Thomas Lucas: "The Builders of the International Exhibition Building." Source: "The International Exhibition," 479.
Another notable building was that of Charterhouse School. In some cases, for example at Aldershot and the Arsenal, they fulfilled important commissions for the government, and, like Sir John Kelk, were heavily involved in work connected with the railways. One of the brothers' best-known buildings was the Charing Cross Hotel for E. M. Barry, fronting the station there, and mentioned above. In some very large projects, the two firms worked together: Lucas Brothers and Kelk were the main building contractors for the important new Metropolitan Railway, passing through Euston and King's Cross to link Paddington and Farringdon — the world's first underground railway. It opened with much fanfare early in 1863, with the Illustrated London News heralding it in late December of the previous year.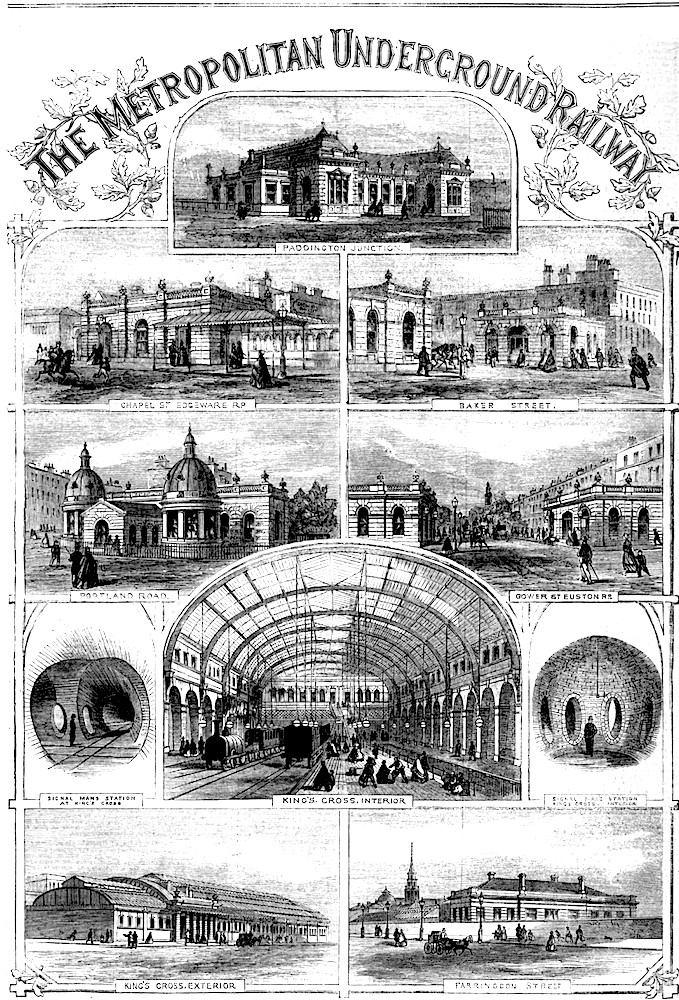 "The Metropolitan Railway." Source: The Illustrated London News 41. 27 December 1862, 692.
All three contractors were featured in the magazine that year, but not in connection with the new railway: they were being fêted earlier on, for their work on the International Exhibition building at South Kensington — "a £300,000 job. The South Kensington exhibitions of 1867 and 1871 were also their construction" (Port). At Alexander Palace and elsewhere, Lucas Brothers again worked alongside Sir John Kelk.
Kelk was not their only colleague, however: having collaborated with John Aird and Sons in the 1860s in completing "many of Peto's contracts" at that time, they reached a more formal agreement in about 1870, after which "the two families operated as three firms: Lucas Brothers, who carried out building works, Lucas and Aird, who carried out railway and civil engineering contracts, and John Aird and Sons, who continued to specialize in water and gas contracts" ("Lucas Brothers"). This lasted until Sir Charles's death, when the Lucas Brothers and Lucas and Aird were replaced by two Aird partnerships: John Aird and Co. continued with work on the railways and civil engineering, and Aird and Sons took on contracts for work with water and gas. It was the end of an era for the Lucas family.
Like Thomas Cubbit, Henry Lovatt and Kelk, both brothers set themselves and their families up with London homes at the best addresses, and substantial estates in the home counties. Charles had 320 acres on his land at Warnham Court near Horsham in Sussex, with 120 deer and even seven emus (Whitaker 153-54). He also kept thoroughbred horses and herds of pedigree cattle and sheep. As well as managing the estate, he played several important roles in the local community there, as JP, a high sheriff, and also a deputy lieutenant for the county. Meanwhile, in town, according to his ICE obituary, he was "a Lieut.-Colonel of the Engineer and Railway Volunteer Staff Corps and was associated with many of the leading public bodies in the City of London"(441). Thomas, who had sustained an injury in a railway accident, and was unable to be as active as his brother, was nevertheless known for his charitable works, and was awarded a baronetcy for his contribution to society. M. H. Port suggests that he was granted it specifically for "building Princess Alexandra's house for female students, South Kensington, at cost"; but his ICE obituarist prefers to credit "his long assocation with public and political enterprise" (367). This, despite the fact that he was often away in Cannes, where, his obituarist says, he took a keen interest in St George's Church, built as a memorial there to the Duke of Albany (368). Both brothers also pursued cultural interests. Included in the paintings to be sold at auction after Charles's death were such gems as James Clarke Hook's Caught by the Tide (no. 104), Abraham Solomon's Waiting for the Verdict and Not Guilty (The Acquittal) (to be sold as a pair, no. 121), and others by William Powell Frith, Landseer, and so on, including European artists both early and modern. Thomas's particular passion was for the opera.
The Lucas Brothers were evidently very highly respected and public-spirited. There is a fine instance of Charles exercising his diplomacy at a crucial impasse: in December 1877, when James Staats Forbes, chairman of the new District Railway, was at loggerheads with Sir Edwin Watkin, chairman of the Metropolitan, Charles Lucas persuaded the two men to meet in his own office, "on neutral ground" (Halliday 158) — and agreement was reached. His obituarist writes, "his genial presence and his ever ready sympathy with all who came for advice will long be remembered in the business world of London, by the members of his staff, and in many humble homes in Sussex" (441)."
Links to related material
Bibliography
Burke's Peerage>, 1885. Google Books. Free Ebook.
Catalogue of Choice Modern Pictures and Drawings.... London: Messrs Christie, Manson & Woods' Offices (1896).
Halliday, Stephen. Making the Metropolis: Creators of Victoria's London. Derby: Breedon Books, 2003.
Kellett, John R. The Impact of Railways on Victorian Cities. 1969. London: Routledge, 2014.
"Lucas Brothers." Grace's Guide to British Industrial History. Web. 12 December 2021.
Port, M. H. "Lucas, Charles Thomas (1820–1895), public works contractor." Oxford Dictionary of National Biography. Online ed. Web. 12 December 2021.
"Charles Thomas Lucas." Proceedings of the Institution of Civil Engineers, 1896. 438-41. ICE Virtual Library. Web. 12 December 2021.
" The International Exhibition." Supplement, Illustrated London News. Vol, 40. 10 May 1862: 479-81. Internet Archive. Contributed by the Kahle/Austin Foundation. Web. 12 December 2021.
" Illustrated London News. Vol. 41. 27 December 1862: 692. Internet Archive. Contributed by the Kahle/Austin Foundation. Web. 12 December 2021.
"Sir Thomas Lucas, Bart." Proceedings of the Institution of Civil Engineers, 1902. 366-68. ICE Virtual Library. Web. 12 December 2021.
Whitaker, Joseph. A Descriptive List of the Deer-Parks and Paddocks of England. London: Ballantyne, Hanson & Co., 1892. Internet Archive. Contributed by the University of Michigan. Web. 12 December 2021.
---
Created 8 December 2021