Photographs by the author. Many thanks to the Science Museum, Kensington, for those taken during the current 2015-16 Ada Lovelace Exhibition. This free exhibition makes an inspiring and sometimes touching introduction to her life, and examines her contribution to early computer science. On display are letters and a lock of her hair as well as Charles Babbage's amazingly prophetic projects. [You may use these images without prior permission for any scholarly or educational purpose as long as you (1) credit the photographer and (2) link your document to this URL or cite the Victorian Web in a print document. Click on all the images to enlarge them.]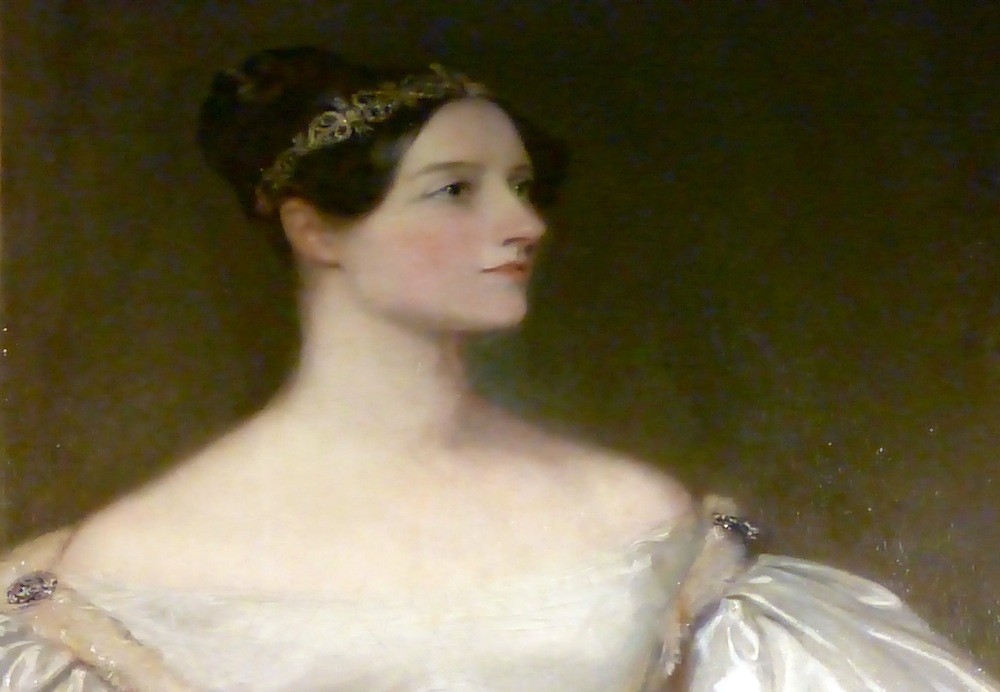 Detail of Ada Lovelace from the full-length portrait in the Science Museum, painted by Margaret Sarah Carpenter (1793-1872) in 1836.
Ada Augusta Byron was described by a future daughter-in-law (her son Ralph's second wife) as "a pretty and attractive woman of exceptional talent, but of somewhat eccentric character" (Lovelace 165), all of which is incontrovertible, but somehow fails to do enough justice either to her looks or her unusual abilities. Born at Piccadilly Terrace, London, on 10 December 1815, she was the only legitimate child of Lord Byron, having been born to his wife Anne, Lady Byron, shortly before their estrangement. But the estrangement had followed swiftly, and was a bitter one. The child was therefore brought up solely by her mother, who saw to it that she was educated in the sciences rather than arts. The idea was to guard against any chance of Ada's following in her father's footsteps, and the ploy seemed to succeed: she soon developed a keen interest in mechanical objects, and proved capable of mathematical study. One of her tutors, at a later stage, was the logician Augustus De Morgan (1806-1871), Professor of Mathematics at University College (or London University as it was then called). Even more important in directing her talents was her meeting with Charles Babbage, to whom she was perhaps introduced by her older friend, the science writer and mathematician Mary Somerville (1780-1872).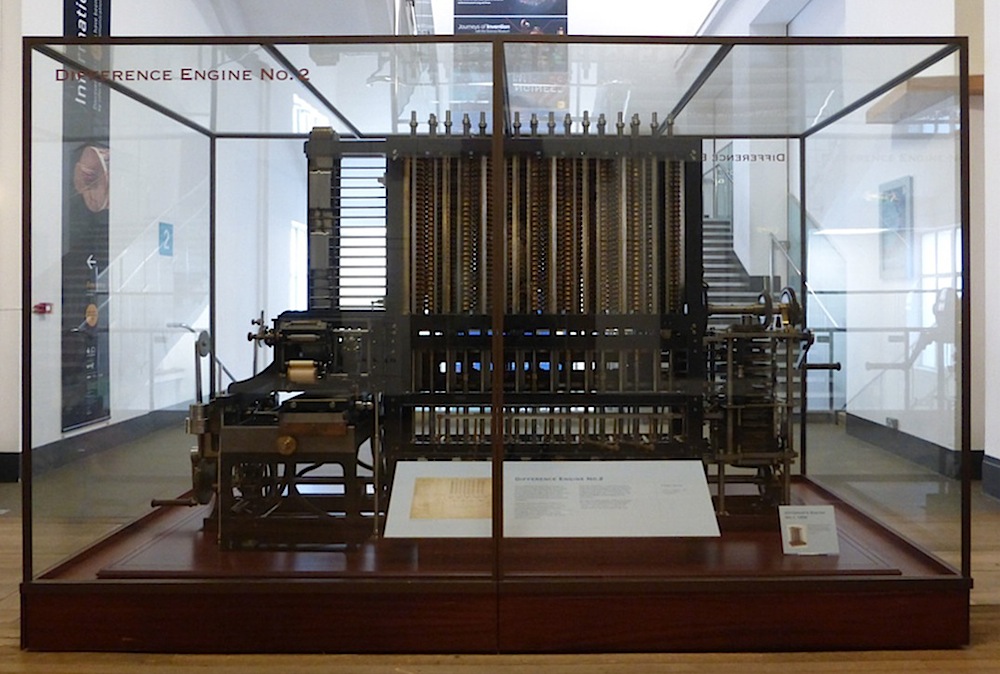 Left to right: (a) From "a woodcut of a small portion of Mr Babbage's Difference Engine No. 1 ... at present deposited in the Museum at South Kensington" (Babbage, frontispiece). (b) The "portion," as assembled in 1832, still at the Science Museum. (c) The Difference Engine 2 at the Science Museum: this was finally assembled to Babbage's designs in 1991.
Nevertheless, as Ada herself recognised, she had as much imaginative power as any poet. This faculty was fired when Babbage showed her the calculating machine that he was working on, which he called the "Difference Engine" because of the principle on which it worked — the "method of 'finite differences'" involving only addition and subtraction (Wooley 151). She started to attend lectures on it and immerse herself in its mathematical principles and design, meeting Babbage's friends and generally becoming part of his world. It was a rarified intellectual circle, including not only De Morgan and Somerville, but also Dickens and the scientist and inventor Sir Charles Wheatstone, who just around this time became a Professor of Experimental Philosophy at King's College, London (see Toole, "Byron, (Augusta) Ada"). The connection with Wheatstone would turn out to be particularly important.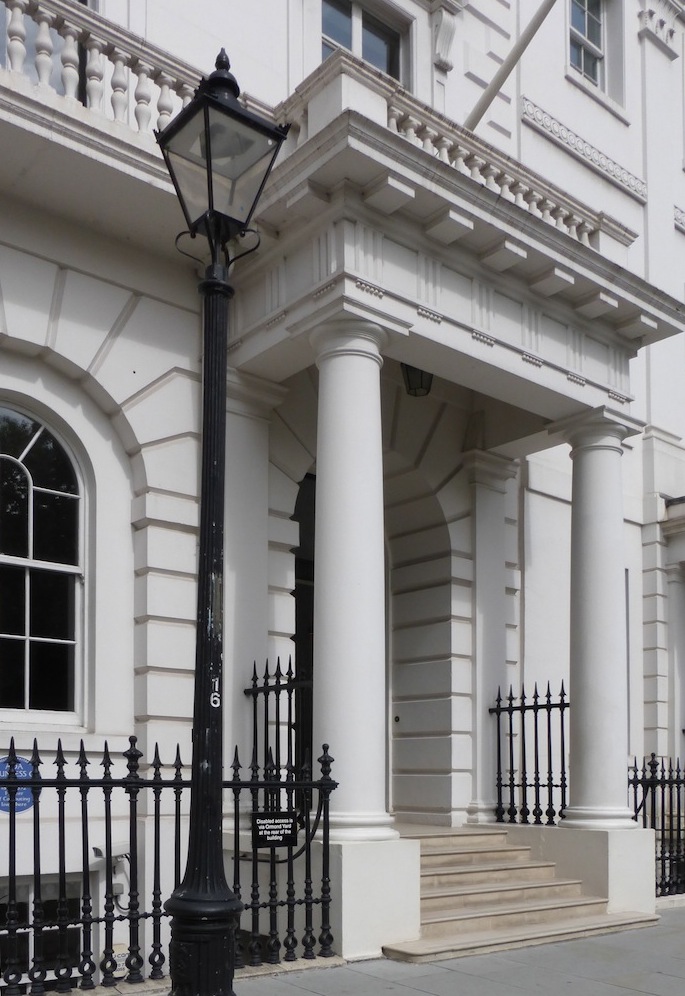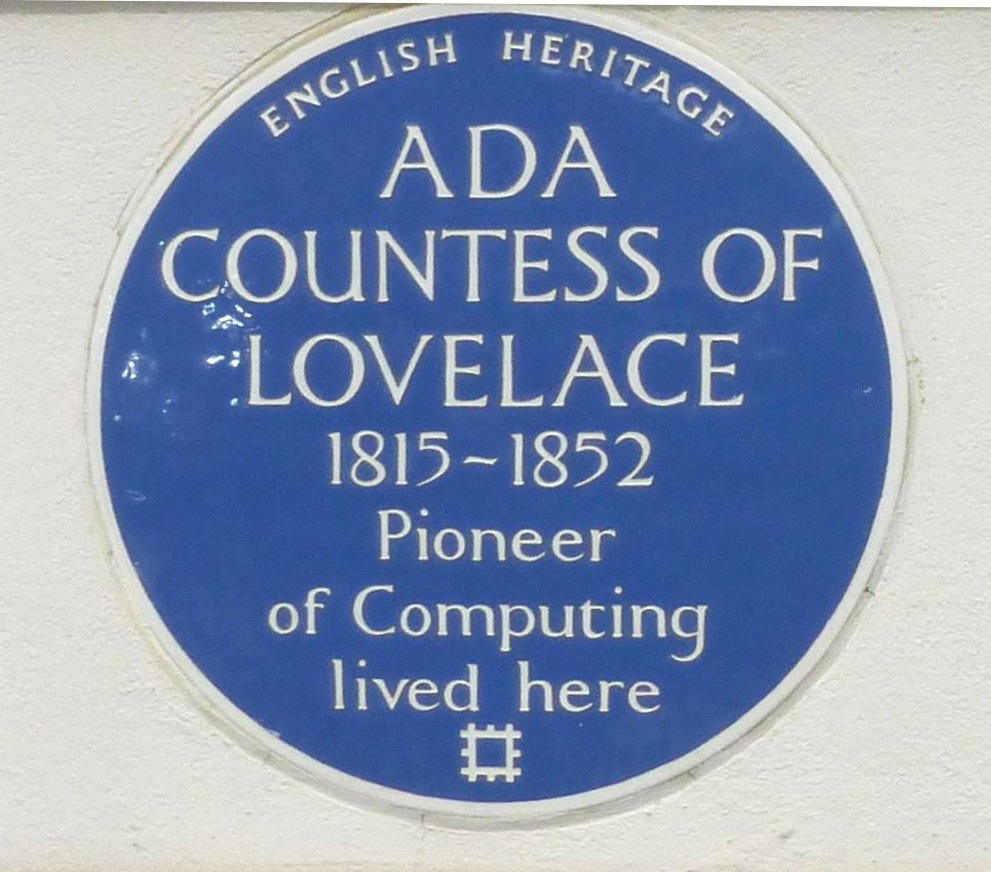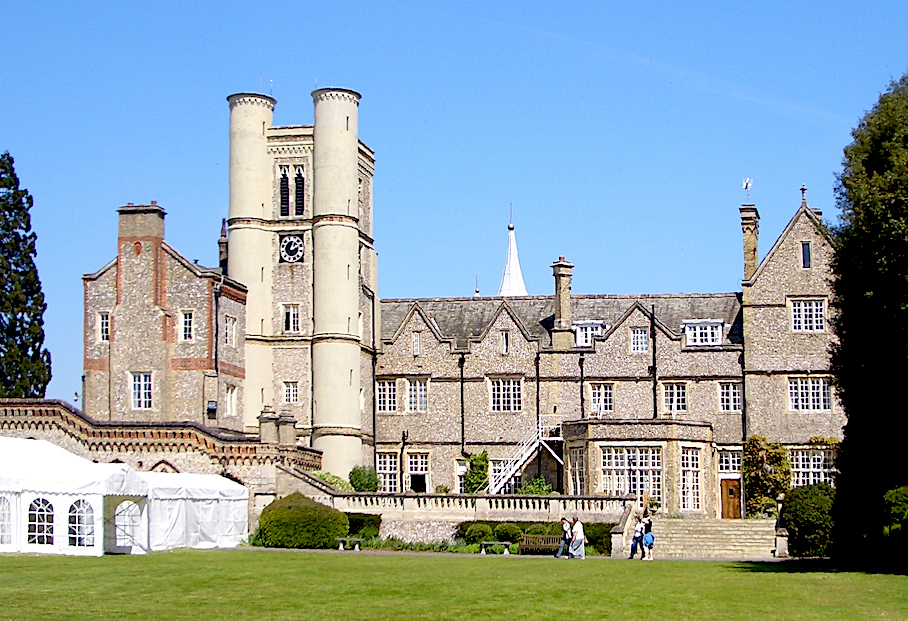 Left to right: (a) The Lovelaces's townhouse in St James' Square. (b) Blue plaque in Ada's memeory. (c) The Lovelaces's country home at Horsely Towers, Surrey.
In 1835, a couple of years after meeting Babbage, Ada made a suitable match: she married William King (1805–1893), a baron and the then Lord Lieutenant of Surrey, who became the Earl of Lovelace in 1838. Their London townhouse was 10 (now 12), St James' Square, and it was there that their first child, named after Ada's father, was born. But the Earl had a country seat in Ockham, Surrey, and in late 1844 or the early part of the following year, he acquired the nearby estate of Horsley Towers in East Horsley, as shown above. The couple and their growing family now "spent the greater part of their time in the country, he absorbed in his duties as a landowner, she in literary and scientific pursuits" (Lovelace 165).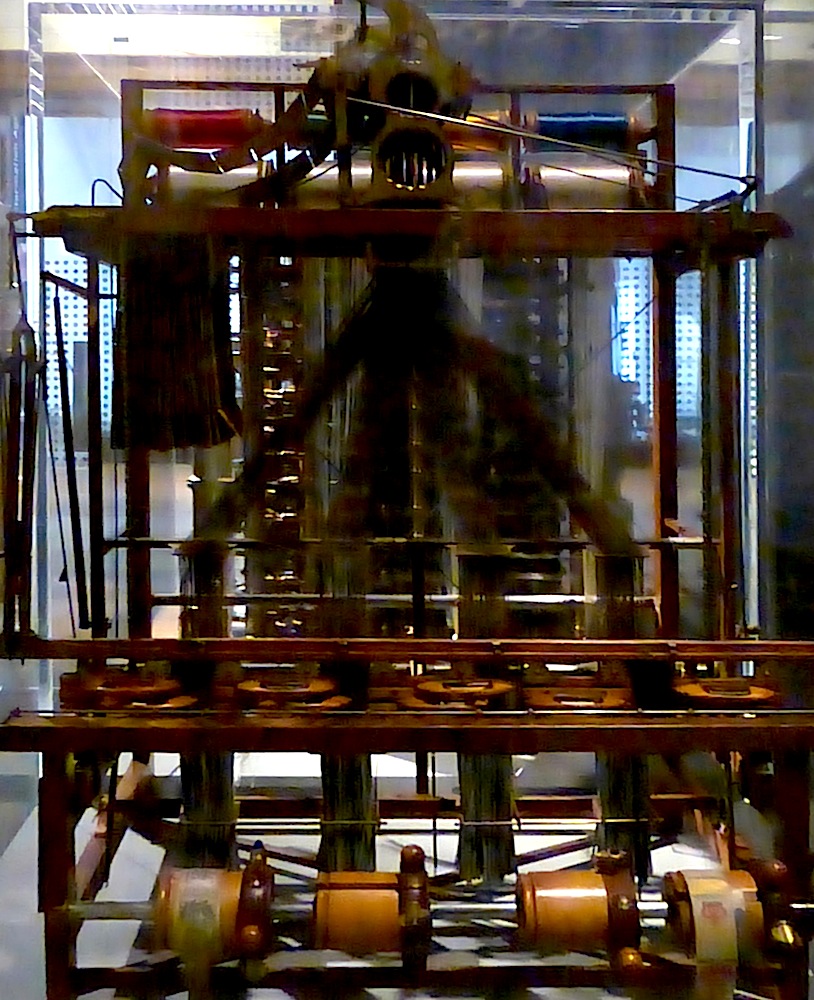 Left: A ribbon loom of 1870 which ran on Jacquard principles, one of Ada's inspirations. Right: A trial model of the Analytical Engine, 1871.
By now, in 1843 and at Wheatstone's suggestion, Ada had translated from the French a paper by General L. F. Menabrea, who was later to become prime minister of Italy, on Babbage's project of a new "Analytical Engine" (see Woolley 259). This machine was to be the follow-up to the Difference Engine, which had never been completed:
She added extensive notes to Menabrea's paper which contain not only what is regarded as one of the earliest computer programs but also prescient comments about the future of such an engine, which have stood the test of time. Her correspondence with Babbage about the time that she was preparing this work for publication elaborates further on her idea of what would now be termed a program, and, moreover, places it in the context of its possible use. [Toole, "Byron, (Augusta) Ada"]
For example, she foresaw that the engine could be set to work on numbers and even symbols and reach results without further human agency. She also famously described the engine as being able to weave "algebraical patterns just as the Jacquard-loom weaves flowers and leaves" (qtd. in Woolley 277), and explained how such results could be issued on punch cards. In these ways, Ada envisioned what we think of as modern computing over one and a half centuries ago.
Nevertheless, Ada Lovelace's life, like her father's, was marred by scandal. Mesmerism was in fashion now: Dickens's friend Dr John Elliotson became governor of the London Mesmeric Infirmary in 1849. Because of her own ill health, Ada had become interested in the possible effect of electromagnetic forces on the nervous system. Having failed to get Michael Faraday to take her on as a pupil, she turned instead to another pioneer of electrical studies, Andrew Crosse, and got involved with his son John, becoming his mistress and participating in his gambling excesses (see Hyman 235):
it was an unfortunate consequence of the studies that they made together that she conceived the idea of an "infallible system" of betting on horse-races. Lady Byron blamed Lord Lovelace for having at first encouraged his wife's taste for racing, and for having introduced her to undesirable acquaintances in the racing world. From his letters, however, it appears to me that he was never more than passively acquiescent in her adventures.
Of course there soon came a dreadful day when the calculations completely broke down, and the unhappy woman found that she had lost a sum so large that she dared not speak of it to her husband. Much trouble and sorrow came of all this, as to which I cannot say more. But it is right to state that Lady Lovelace's losses were paid by her mother, Lady Byron, and did not fall upon Lord Lovelace's fortune. [Lovelace 166]
This sounds creditable but quite a different picture emerges elsewhere, of Lady Byron not only continuing to blame Lovelace but also vengefully turning his two younger children against him after Ada's death (Hyman 237). This was not long in coming. William Gibson and Bruce Sterling show Ada as "a funny little grey-haired bluestocking" at the end of their romp through an alternative Victorian history in The Difference Engine (380), but in fact Ada Lovelace died tragically early, at the age of 36, after suffering painfully from cancer for nearly two years.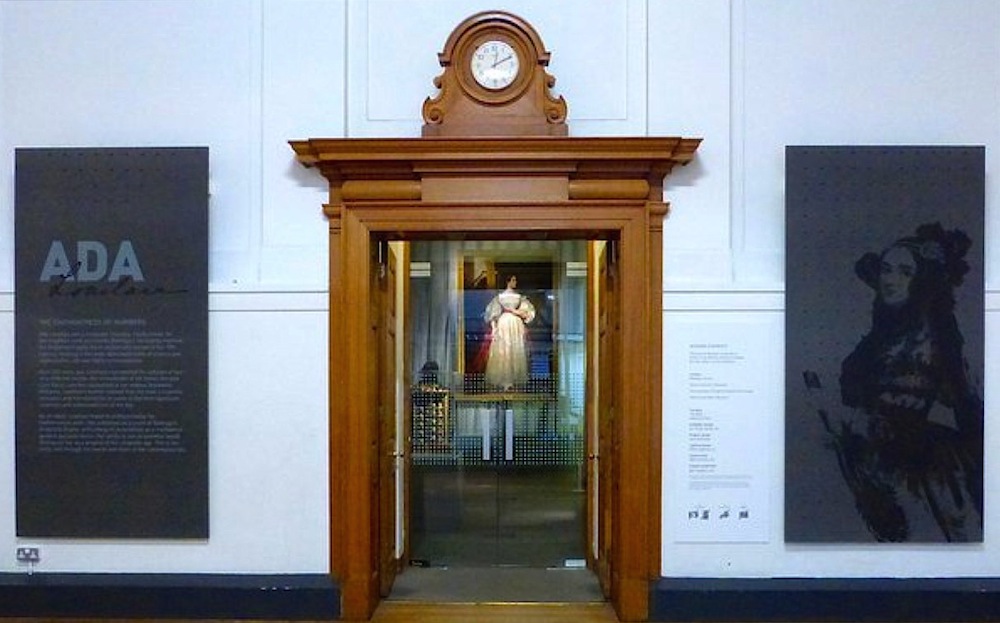 The Ada Lovelace exhibition at the Science Museum, 31 October 2015-31 March 2016
She is remembered now not for being Byron's daughter, nor for being a figure of some notoriety who amassed debts by gambling, but for "her incisive notes and comments on Babbage's plans for an analytical engine," says Betty Toole, adding that "[b]ecause she was an independent (albeit enthusiastic) observer, and possessed a marked talent for conveying new and sometimes difficult concepts in limpid prose, her writings on this topic are much valued by historians" ("Byron, [Augusta] Ada").
Is she to be praised for any more than conveying Babbage's ideas well? Did her contribution to computer science go any further than that? Or do claims of her contribution to early programming arise from a "popular myth" (Swade 168)? Dorothy Stein is adamant on this score. "The 'programs' as well as all the important ideas" in her notes, she says, "originated in Babbage himself" (466). Yet it is also abundantly clear from her correspondence that Ada Lovelace was not simply reproducing these ideas. She was tussling with them herself, making her own inferences, and expressing her own vision on the basis of these inferences. Perhaps she could have achieved even more: "it is a thousand pities," says Babbage's biographer Anthony Hyman, "that she did not write a book on the 'Analytical Engines'" on which she made notes (197). But even as it is, the recognition accorded to her — which includes naming the computer software language of the U.S. Department of Defence in her honour — seems fully justified.
Related Material
Sources
Babbage, Charles. Passages from the Life of a Philosopher. London: Longman, Green, 18654. Internet Archive. Contributed by the Computer Museum Archive. Web. 22 December 2015.
Gibson, William, and Bruce Sterling. The Difference Engine. London: Gollancz, 2011.
Hyman, Anthony. Charles Babbage, Pioneer of the Computer. Princeton, New Jersey: Princeton University Press, 1982.
Lovelace, Mary Stuart Wortley, Countess of. Ralph, Earl of Lovelace; a memoir. London: Christophers, 1920. Internet Archive. Contributed by Robarts Library, University of Toronto. Web. 22 December 2015.
Stein, Dorothy. "Lovelace, Ada (1815-1852." in Victorian Britain: An Encyclopedia. Ed. Sally Mitchell. New York & London: Garland, 1988.
Swade, Doron. The Difference Engine: Charles Babbage and the Quest to Build the First Computer. London: Viking, 2001.
Toole, Betty Alexandra. Ada, the Enchantress of Numbers. Available now as an Ebook (see under Related Material).
_____. "Byron, (Augusta) Ada [married name (Augusta) Ada King, countess of Lovelace] (1815–1852), mathematician and computer pioneer." Oxford Dictionary of National Biography. Online ed. Web. 22 December 2015.
Woolley, Benjamin. The Bride of Science: Romance, Reason and Byron's Daughter. London: Pan Macmillan, 2000.
---
Last modified 22 December 2015