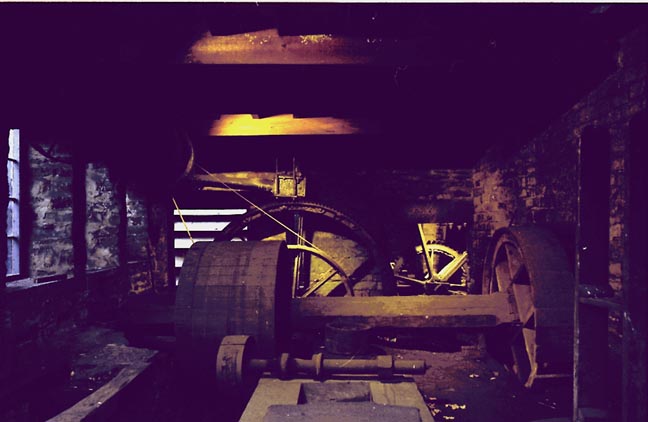 Wheels, Pulleys, and Shafts for Water-Powered Drop Forge. Mid-eighteenth century. Abbeydale Industrial Hamlet. Sheffield, South Yorkshire. Photograph 1980 George P. Landow. [This image may be freely used without prior permission for any scholarly or educational purpose. GPL.].]
The wheels, pulleys, and shafts that drive the hammers whose repeated striking of heated metal (or forging) produced high-quality steel. This combination of wheels, pulleys, gears, and shafts transforms "the pushing, pulling, pressing of the hand into continuous rotation" -- a transformation that Sigfried Gideon terms the "first phase of mechanization" (47). Note, however, that wood still provides large partions of this machinery made for forging iron.
Other Photographs
References
Gideon, Sigfried. Mechanization Takes Command: A Contribution to Anonymous History. New York: Norton, 1969.
---
Last modified 11 January 2005