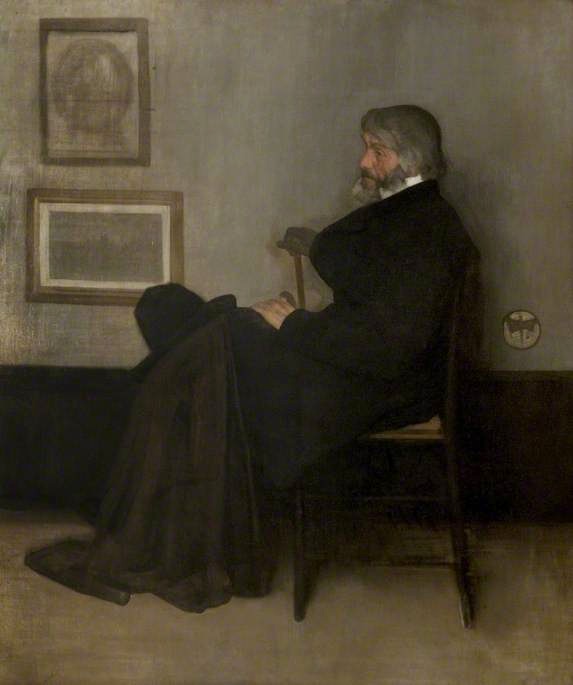 Arrangement in Grey and Black, No. 2: Portrait of Carlyle, by James Abbot McNeill Whistler (1834–1903). 1872-73. Oil on canvas. 171 x 143.5 cm. Collection: Kelvingrove Art Gallery and Museum in Glasgow, Scotland. Credit: Glasgow Museums. Kindly made available by the gallery (as shown on the Art UK website to be shared and re-used under the terms of the Creative Commons Attribution-NonCommercial-NoDerivatives licence. Comments added by George P. Landow and Jacqueline Banerjee.
Théodore Duret, whose portrait Whistler also painted, points out that
although the pose in the portrait of Carlyle was fundamentally the same as that of his mother, Whistler avoided a pure and simple repetition of his first effect by resting the right hand of his model on a stick, putting a felt hat on his knee and draping his legs with a cloak. Carlyle must not be given the credit of wishing to have his portrait done by Whistler because he recognised his merit and esteemed him to be a great painter. Carlyle, to whom painting is said to have been a closed book, lived near to Whistler in Cheyne Walk [photograph], and it was merely as a friend and neighbour that he consented to sit for hira. Whistler, having made the acquaintance of the Sage, asked if he might paint him, and Carlyle, who enjoyed the hours that he spent sitting and talking to Whistler as a relaxation from work, was probably quite unaware of the fact that the finest portrait of him that posterity was to possess was then being painted. [29-30]
The Pennells wrote of the painting's reception: "In the London Memorial Exhibition it hung opposite the Mother, and as they were seen together, the pose and colour and design belonged as inevitably to the nervous old man as to the old lady in her beautiful tranquillity" (172).
Study for the "Carlyle" (Pennell, following p.170).
Bibliography
Duret, Theodore [the original French edition has "Théodore"]. Whistler. Trans. Frank Rutter. London: Grant Richards; New York: J. B. Lippincott, 1907; . Getty Research Institute copy made available online by the Internet Archive. Web. 3 February 2018.
Pennell, Elizabeth Robins and Joseph. Life of James McNeill Whistler. Vol. 1. Philadelphia: Lippincott / London: Heinemann, 1908. Contributed by Whitney Museum of American Art, Frances Mulhall Achilles Library. Web. 3 February 2018.
---
Last modified 16 January 2012