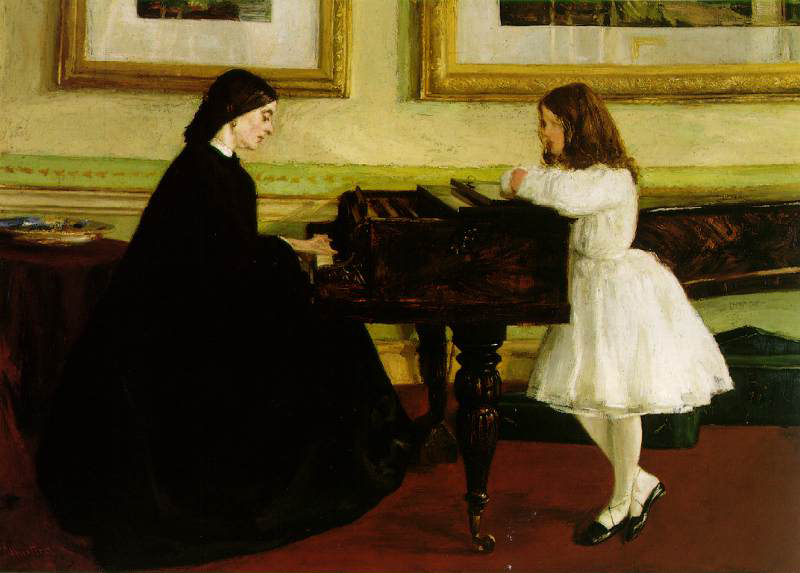 At the Piano, by James Abbot McNeill Whistler (1834–1903). 1858-59. Oil on Canvas. 67 x 91.6 cm (26 3/8 x 36 1/8 in.). Accession Number: 1962.7. The Taft Museum, Cincinnati, Ohio. Source: Wikimedia Commons. [Click on image to enlarge it.]
Although it was rejected at the Paris Salon in 1859, this portrait of the artist's half-sister Deborah Haden and her daughter, Annie, was exhibited in the studio of another artist, François Bonvin (1817-1887), along with some others that Bonvin felt had been unfairly rejected that year. It attracted attention, and has come to be seen as Whistler's first major work. It was successfully exhibited at the Royal Academy in 1860 (see Lambourne 465), and then, finally, at the Paris Salon of 1867.
Whistler's work was already distinctive:
The arrangement of the lines of the pictures on the wall and the mouldings of the dado in At the Piano, the harmonious balance of the spaces of black and white in the dresses of the mother and her little girl, show the sense of design, of pattern, which he brought to perfection in the Mother, Carlyle and Miss Alexander. There was nothing like it in the painting of the other young men, of Degas, Fantin, Legros, Ribot, Manet; nothing like it, for that matter, in the work of the older man, their leader, who painted Enterrement à Ornans and Bonjour, Monsieur Courbet. M. Buret says that Whistler's fellow students, who had immediately recognised his talent as etcher, now admitted as generously his accomplishment as painter, which agrees with Whistler's statement to us. [Pennell 74-75]
Following this account, the Pennells say that from the time of the exhibition at Bonvin's, Whistler "ceased to be simply the student studying in the schools; he was the artist working in his own studio" (75).
We learn that the picture was also successful in London: "Thackeray, Mrs. Richmond Ritchie tells us, 'went to see the picture of Annie Haden standing by the piano, and admired it beyond words, and stood looking at it with real delight and appreciation" (82-83). William Rossetti was also struck by it, we learn, as were visitors from the press. The Athenaeum reviewer,
having discovered the "admirable etchings" in the octagon room, managed to see in the Piano Picture, "despite a recklessly bold manner and sketchiness of the wildest and roughest kind, a genuine feeling for colour and a splendid power of composition and design, which evince a just appreciation of nature very rare among artists. If the observer will look for a little while at this singular production, he will perceive that it 'opens out' just as a stereoscopic view will — an excellent quality due to the artist's feeling for atmosphere and judicious gradation of height."
We quote these criticisms because the general idea is that Whistler waited long for notice. He was always noticed, both praised and blamed, never ignored, after 1859. [Pennell 83]
It is worth pointing out that Deborah Haden was the wife of Seymour Haden, the surgeon and etcher. Unfortunately, Whistler and Haden had a difficult relationship, culminating in a fracas which caused his expulsion from the Burlington Fine Arts Club and damaged his reputation (see Pennell 141-43 and Sutherland 105-07).
Image scan, commentary and formatting by Jacqueline Banerjee. You may use the image without prior permission for any scholarly or educational purpose as long as you (1) credit the source and (2) link your document to this URL in a web document or cite the Victorian Web in a print one.
Bibliography
Lambourne, Lionel. Victorian Painting. London and New York: Phaidon, 1999.
Pennell, Elizabeth Robins and Joseph. Life of James McNeill Whistler. Vol. 1. Philadelphia: Lippincott / London: Heinemann, 1908. Contributed by Whitney Museum of American Art, Frances Mulhall Achilles Library. Web. 1 February 2018.
Sutherland, Daniel E. Whistler: A Life for Art's Sake. New Haven: Yale University Press, 2014.
---
Created 2 February 2018