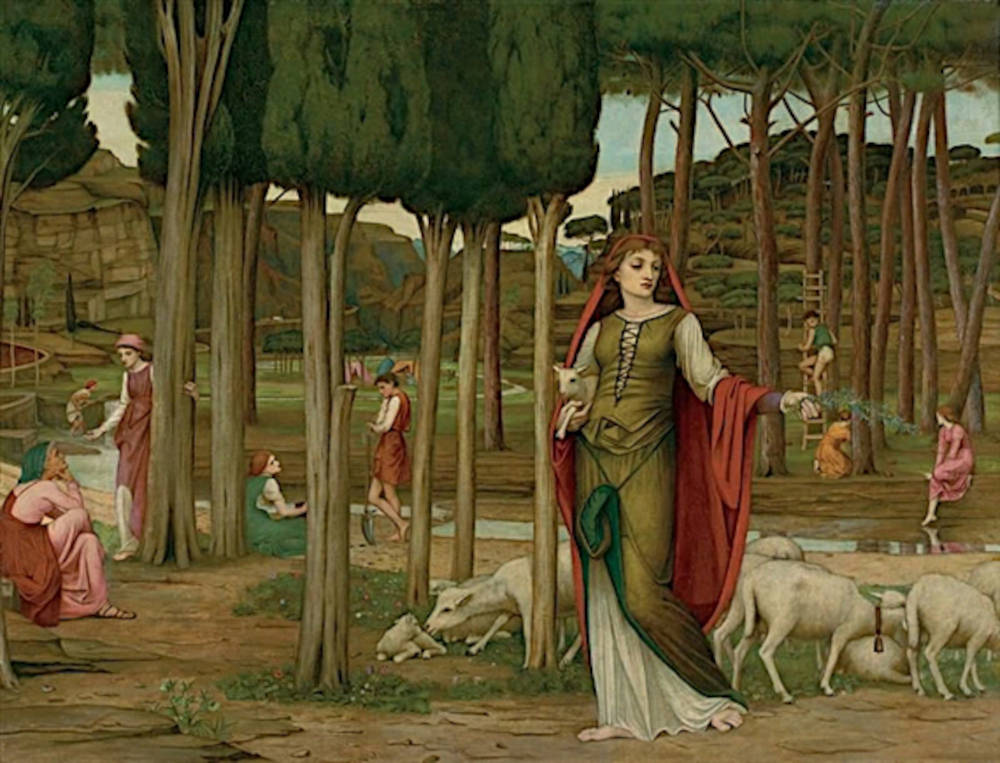 The Shulamite, 1878. Oil on canvas, 36 x 46 inches.

he Song of Solomon inspired works by many Pre-Raphaelite artists, not just Stanhope, but also D. G. Rossetti, Edward Burne-Jones, and J. M. Strudwick. These artists were drawn to the poem's interwoven themes of physical beauty, sexual desire, and lyrical imagery. Stanhope had exhibited another painting of this subject at the Royal Academy in 1868. In this version the Shulamite was portrayed seated under the boughs of a great tree with the keepers of the flocks in the mid-distance. Solomon later painted a cycle of eight pictures in gouache based on verses from The Song of Solomon in the early 1870s. He designed this cycle as a triptych, with eight individual gouaches attached to three main panels. The triptych measured 42¼ x 102⅜ inches and was enclosed in a Renaissance style frame. Two of these pictures were worked up into major versions in oil on canvas, both of which he entitled The Shulamite, but these can be easily distinguished by the accompanying verses from The Song of Solomon.
The first work which was exhibited at the Grosvenor Gallery in 1878 illustrates Chapter 1 verse 8, "If thou know not, O thou fairest among women, go thy way forth by the footsteps of the flock, and feed thy kids beside the shepherds' tents." The second painting exhibited at the Grosvenor Gallery exhibition of 1882 depicted Chapter III, verse 5, "I Charge Ye, O Daughters of Jerusalem, that ye wake not my beloved." The first was the more beautiful of the two and was once again influenced by Florentine Renaissance art, particularly Botticelli. This painting shows the beloved standing and holding a lamb in her right arm while in her left hand she holds a sprig of leaves. The background is characteristic of Italy and not the Holy Land, similar to what one would find in an Italian quattrocento painting. Despite this painting's obvious beauty the critic for The Magazine of Art was not impressed stating: "His 'Shulamite,' however, is altogether beyond grave criticism" (81).
Bibliography
"The Grosvenor Gallery." The Magazine of Art 1 (1878): 81-82.
---
Last modified 7 May 2022