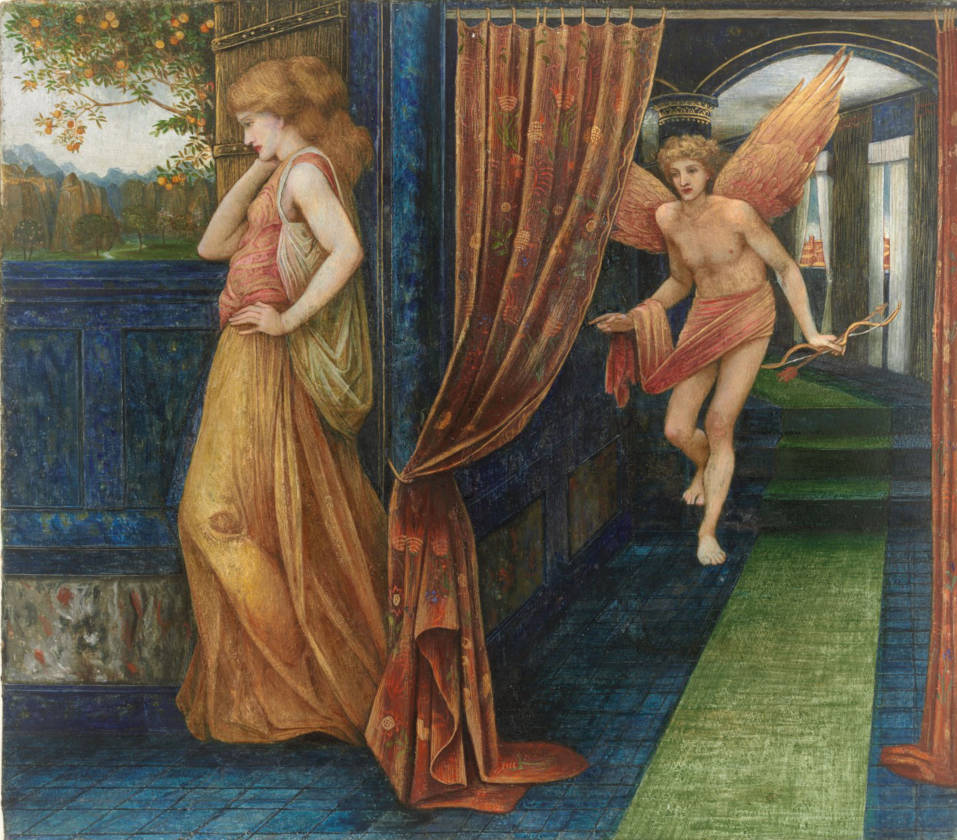 Cupid and Psyche, 1878. Watercolour, gouache and gold on paper, 14 x 157/8 inches (35.5 x 40.5 cm). Private collection. Click on image to enlarge it.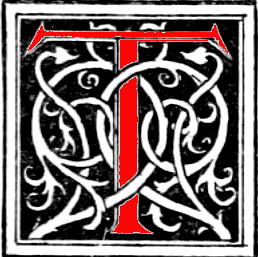 his work was exhibited at the second Grosvenor Gallery exhibition in 1878. Stanhope depicts the moment Cupid approaches Psyche to surprise her in order to shoot her with his arrow. Psyche is apparently unaware of the figure behind her. Compositionally it shares much with Love and the Maiden he exhibited the year previously. This picture also recalls Stanhope's Juliet and the Nurse that he showed at the Royal Academy in 1863 by again showing the subject gazing through an open window to a landscape beyond. The rich colouration and interior decoration are typical of the Aesthetic Movement. The embroidery on the portière is reminiscent of early designs by William Morris for Morris, Marshall, Faulkner & Co. while the blue tiles on the floor are similar to those being produced at this time by William De Morgan for Frederic Leighton's Arab Hall. The subject of Cupid and Psyche was extremely popular amongst Pre-Raphaelite artists. Edward Burne-Jones depicted several episodes from the story, including a frieze of murals for George Howard's dining room at No. 1 Palace Green in London.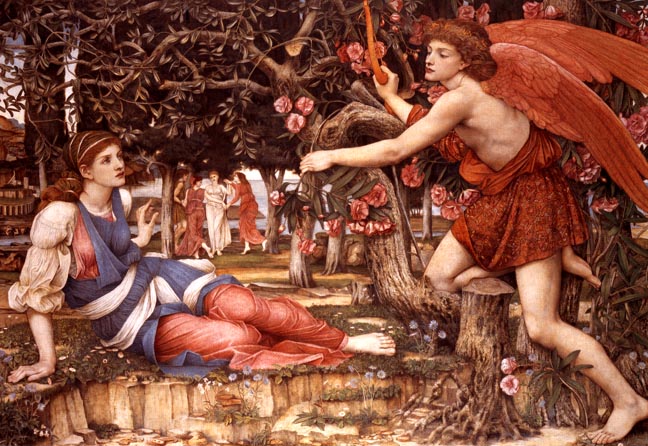 Left: Love and the Maiden. 1877. Tempera, gold paint, gold leaf on canvas. 138 x 202.5 cm. John and Julie Schaeffer Collection, Sydney Australia. Right: Juliet and her Nurse [Juliet and the Nurse]. 1863. Oil on canvas, 43 x 50 inches (109 x 127 cm). Private collection. Click on images to enlarge them. [Click on images to enlarge them.]
The "Story of Cupid and Psyche" derives from the tale told in the fourth, fifth, and sixth book of the Metamorphoses or The Golden Ass of Lucius Apuleius, a Roman writer of the 2nd century A.D. William Morris rewrote it as a poem for his book The Earthly Paradise, which is likely where Stanhope became familiar with the story. Psyche was a young princess considered so beautiful by her people that she was favoured over Venus. Venus was incensed about this mortal and was prepared to tolerate no rivals. She therefore sent her son Cupid to shoot Psyche with his arrows and cause her to love the most low, unattractive, and unworthy of mortals, and thus repent of possessing such an unlawful beauty. Cupid filled two amber vases from the two fountains in Venus' garden, one of which contained bitter water and the other sweet. He hastened to Psyche whom he found asleep by a marble fountain set within a hedge of woodbine and red roses. He placed a few drops of water from the bitter fountain over her lips and then touched her side with his arrow's point. At the touch she awoke, and so startled Cupid that he accidently wounded himself with his own arrow. He fell in love with her at once.
From this time on, however, Psyche derived no benefits from her beauty. Although all men sung her praises, no man fell in love with her or asked to marry her. Her anxious father, concerned that his family had unwittingly incurred the wrath of the gods, asked for advice from the oracle of Apollo at Miletus. The oracle replied that Psyche was destined to be the bride of no mortal lover but that her future husband was a monster who awaited her on the top of the mountain. Although this prophecy filled her parents with grief, Psyche asked that she be lead to that rock which her unhappy fate had destined her. She was abandoned on the mountain, but was carried by Zephyr, the west wind, to Cupid's castle where he visited her nightly. He did this in total darkness lest Psyche should discover that he was a god. Psyche disobeyed his orders not to attempt to look at him when one night she lit a lamp and beheld Cupid. Cupid awoke and left, admonishing her as he went. At about this time Venus, while bathing at the seaside, was told by a seagull of Cupid's duplicity. She swore to punish the lovers, particularly the mortal Psyche. As Psyche wandered distraught in her search for Cupid, she walked by mischance into Venus' temple. Venus had her seized and then set her a number of cruel and difficult tasks in her hope of winning Cupid back, with the threat of eternal destruction in the event of failure. Cupid eventually could no longer bear to witness her suffering or to be apart from her and he pleads their cause to the gods. With the aid and intervention of the gods Psyche accomplished all the tasks and was made immortal by Jupiter, forgiven by Venus, and was reunited with Cupid.
---
Last modified 7 May 2022