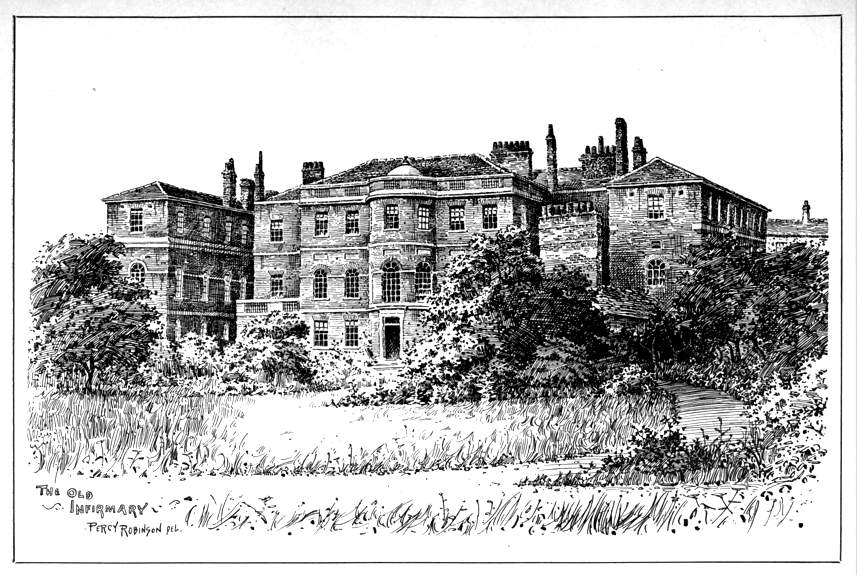 The Old Infirmary. by Percy Robinson. Source: Robinson's Relics of Old Leeds (1896). [Click on image to enlarge it.]
Accompanying text
The remains of the first Leeds Infirmary may still be seen in a court, off Kirkgate, known as the Old Infirmary Yard. The building looks, at the present day, about as unfit for such a purpose as it is possible to imagine, being cramped up in a narrow, dingy court; but it would, no doubt, present a very different aspect in the middle of last century, when the surrounding area was more open.
The institution was first established in 1767. Subscriptions were raised for the purpose, and the building in Kirkgate was rented, and converted into a temporary Infirmary, until a more suitable and permanent structure could be raised. In the following year, a piece of land was obtained adjoining the Burial Ground, near the Coloured-Cloth Hall, upon which a new Infirmary was erected and opened in March, 1771. The building was of brick, and was originally only two stories high; an additional wing was added in 1782, and another in 1786, when the main portion of the building was raised to the same elevation. When completed it contained 143 beds, and relief was given to upwards of 2,000 in-, and 3,000 out-patients annually. In 18 17, the supporters of the -institution purchased a quantity of land on the south front of the building, in order to protect it from the too close proximity of other buildings, and in the same year a further piece of land, containing about 4,000 square yards, valued at £1,500, was presented by Richard Fountain Wilson, Esq., of Ingmanthorpe, thus extending the boundary down to Wellington Road. This land was tastefully laid out as a garden, or airing ground. In later days it was frequently used for Public Fetes, Flower Shows, &c.
The present Infirmary, in Great George Street, was opened in 1868, by H.R.H. the Prince of Wales. It was erected from designs by Sir George Gilbert Scott, R.A., at a cost of £120,000. Since that time it has been very much enlarged to meet the increased requirements.
Since the New Infirmary was opened, the old building has served many purposes. For some years, prior to the erection of the Municipal Buildings, it was the Public Library. In 1893, a large portion of it was demolished to make room for the new premises of the Yorkshire Penny Bank. The remainder is now let off, in sections, for various business purposes. [52-53]
Formatting and color correction by George P. Landow. [You may use this image without prior permission for any scholarly or educational purpose as long as you (1) credit the Internet Archive and the University of California and (2) link your document to this URL or cite the Victorian Web in a print one. Click on the photograph for a larger picture.]
Sources
Robinson, Percy. Relics of Old Leeds. Leeds: Percy Robinson, 1896; London: B. T. Batsford. Internet Archive version of a copy in the University of California Library. Web. 23 January 2013
---
Last modified 23 January 2013