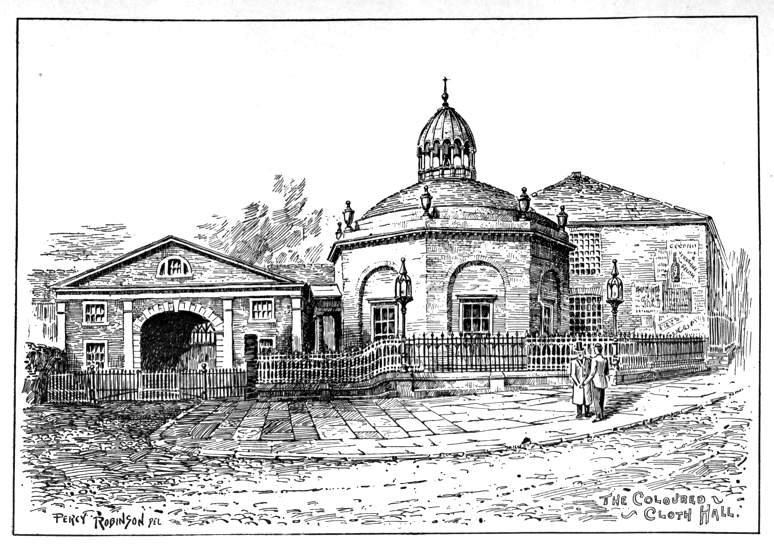 The Coloured Cloth Hall. by Percy Robinson. Source: Robinson's Relics of Old Leeds (1896). [Click on image to enlarge it.]
Accompanying text
Until the beginning of the eighteenth century, the cloth market was held in the open-air on the bridge at the foot of Briggate, but as the trade prospered and the number of manufacturers and merchants increased, it became an annoyance and an impediment to traffic and business generally. A cloth hall was erected in Kirkgate, on the site of an ancient hospital, in 1710, but this soon proved inadequate, and the two buildings known as the "White" and "Coloured Cloth Halls" were erected. In these halls the principal sales of cloth took place from the manufacturer to the merchant.
The coloured or mixed Cloth Hall, at the junction of Park Row and Wellington Street, was built by subscription in 1758. The building was in the form of a quadrangle, 127 yards long and 66 yards broad. This quadrangle was divided into six streets, each havingf rows of stands on either side. The total number of stands was 1,800. In the year 1810, another story was added on the north side, devoted chiefly to the sale of ladies' cloths.
The White Cloth Hall in the Calls was built in 1775 on a similar plan, and of about the same extent as the Mixed Cloth Hall, the total number of stands being 1,210. Over one end of this hall was the New Assembly Room, which was opened on June 9th, 1777, "with a minuet by Lady Effingham and Sir George Saville, Bart., when upwards of two hundred and twenty of the nobility and gentry were present; the appearance of the ladies and gentlemen was more brilliant than ever remembered."
The regulations in both cloth halls were very similar. The markets were held on Tuesdays and Saturdays, and were opened by the ringing of a bell. Immediately the bell rung, the manufacturers took their places at the stands and the sales would commence. At the end of an hour the bell was rung announcing the close of the market, and very soon the hall would be entirely cleared of merchants, there being a penalty of five shillings for every five minutes a merchant was found in the hall after the last bell had rung. Thus transactions amounting to the extent of from twenty to forty thousand pounds were completed in a little over an hour.
The White Cloth Hall was, on the construction of the North Eastern Railway, removed to King Street, where a new building was erected at a cost of £20,000. and was opened on July 18th, 1868. This building, which has not been used as a cloth hall for many years, was sold by the trustees, in 1895, for £40,000, and is shortly to be removed, the site having been purchased by a company for the erection of a large Commercial Hotel.
The Coloured Cloth Hall was sold to the Corporation in 1889 for the sum of £66,000, and was soon afterwards demolished to make way for the new Post Office and City Square.
The two Cloth Halls have seen some of the most important political events that have occurred in the town during the last century, and many exciting scenes have taken place within their walls in the old election days, when political feeling ran high and extreme partisans invariably allowed their bad blood to boil over. On one occasion, when a meeting was held in the Mixed Cloth Hall for the purpose of electing two members to represent the borough in Parliament, a most disgraceful scene took place. The candidates were Thomas Babington Macauley, Esq., John Marshall, jun., Esq., and Michael Thomas Sadler, Esq. A platform had been erected in the open area, and, when Mr. Marshall came forward to speak, a banner was hoisted by his opponents, with a picture representing a view of Messrs. Marshall's mill, Holbeck, in a snow-storm, with a number of half-dressed, half-starved children trudging miserably through the snow ; underneath were the words: — " A scene in Water Lane at five o'clock in the morning." As soon as Marshall's supporters saw this, they made a rush and obtained possession of the offending banner, which they quickly destroyed — then commenced a regular battle between the two parties, sticks, stones, and all kinds of weapons were freely used, many people were thrown down or trampled upon, and sustained serious injuries. Eventually, order was obtained by a number of constables stationing themselves in a line between the two parties. On another election occasion a similar disturbance took place, when a number of extreme partisans clambered on to the roof and commenced throwing slates upon their opponents below, who, of course, were powerless to retaliate. After this, it was deemed safest for these political meetings to be held in some more open place, and they were afterwards held on Woodhouse Moor. [50-51]
Formatting and color correction by George P. Landow. [You may use this image without prior permission for any scholarly or educational purpose as long as you (1) credit the Internet Archive and the University of California and (2) link your document to this URL or cite the Victorian Web in a print one. Click on the photograph for a larger picture.]
Sources
Robinson, Percy. Relics of Old Leeds. Leeds: Percy Robinson, 1896; London: B. T. Batsford. Internet Archive version of a copy in the University of California Library. Web. 23 January 2013
---
Last modified 23 January 2013