Biography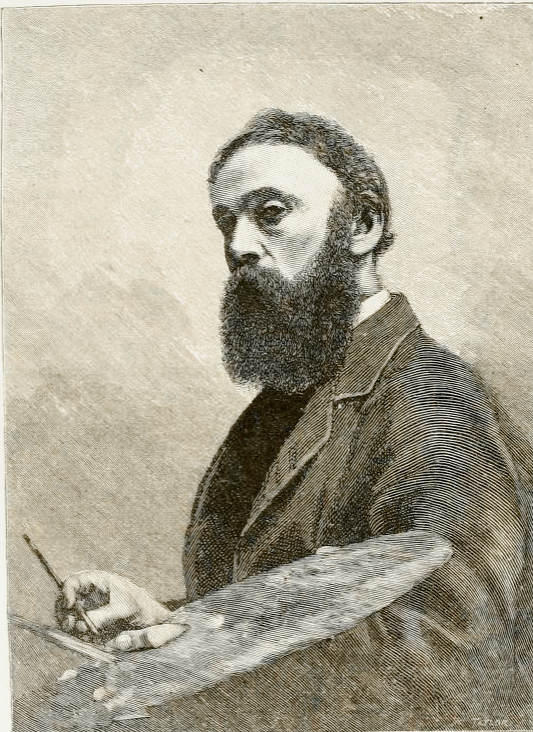 Moore was a close friend of Whistler and the most purely 'aesthetic' of the classical revival painters of the 1860s. As Sidney Colvin wrote of his work in 1870: 'The subject, whatever subject is chosen, is merely a mechanism for getting beautiful people into beautiful situations' (Portfolio, 1870).
Moore came from an artistic family based in York. His father and no less than four of his brothers were painters. He studied at the Royal Academy Schools from 1857, where his contemporaries included Simeon Solomon and William Blake Richmond. Like most artists of his generation he was deeply influenced by the Pre-Raphaelite Movement. Early works include the Ruskinian 'Study of an Ash Trunk' (1857, Ashmolean Museum, Oxford) and religious works such as 'Eliyah's Sacrifice' (1863, Bury Art Gallery) which show the influence of Madox Brown and Bell Scott.
In the mid-1860s his art was transformed by his friendships with Whistler and Leighton. He began to produce the decorative works by which he is best known today. These show female figures in diaphanous classical draperies, but they are not historical reconstructions, like the paintings of Lawrence Alma-Tadema. The settings sometimes even include anachronistic objects such as the instruments of a modern string quartette. Moore's subject matter is insignificant. The meaning of his works lies in their harmonious relationship of shapes and colours. A typical mature work is 'Dreamers' (exhibited Royal Academy 1882, Birmingham City Museum and Art Gallery) which shows three women on a settee in subtle tones of white and yellow. In 1884 Moore was elected Associate of the Royal Society of Painters in Watercolour and began to exhibit there regularly. although he had exhibited at the Royal Academy almost annually from 1857 he was never elected a member, probably because his uncompromising views antagonised the academicians. A study of his work by his pupil, Alfred Lys Baldry, appeared in 1894 and his most important paintings were included in Victorian High Renaissance, an exhibition organised by the Minneapolis Institute of Arts in 1978. -- Hilary Morgan
Works
References
Asleson, Robyn, Albert Moore. London: Phaidon Press, 2000.
Monkhouse, Cosmo. "Albert Moore." Magazine of Art. 8 (December 1884-November 1885): 191-96. Internet Archive version of a copy in the University of Toronto Library. Web. 27 November 2013.
Morgan, Hilary and Nahum, Peter. Burne-Jones, The Pre-Raphaelites and Their Century. London: Peter Nahum, 1989.
Portfolio (1870). Reprinted in English Painters of the Present Day. London: Seeley, 1871.
Walker, Robert. "Private Picture Collections in Glasgow and West of Scotland: Mr. William Connal's Collection of works by Albert Moore." Magazine of Art. 17 (December 1893-November 1894): 360-66. Internet Archive version of a copy in the University of Toronto Library. Web. 27 November 2013.
Wood, Christopher. Olympian Dreamers: Victorian Classical Painters, 1860-1914. London: Constable, 1983
Peter Nahum Ltd, London has most generously given its permission to use in the Victorian Web information, images, and text from its catalogues, and this generosity has led to the creation of hundreds of the site's most valuable documents on painting, drawing, and sculpture. The copyright on text and images from their catalogues remains, of course, with Peter Nahum Ltd.
---
27 November 2013