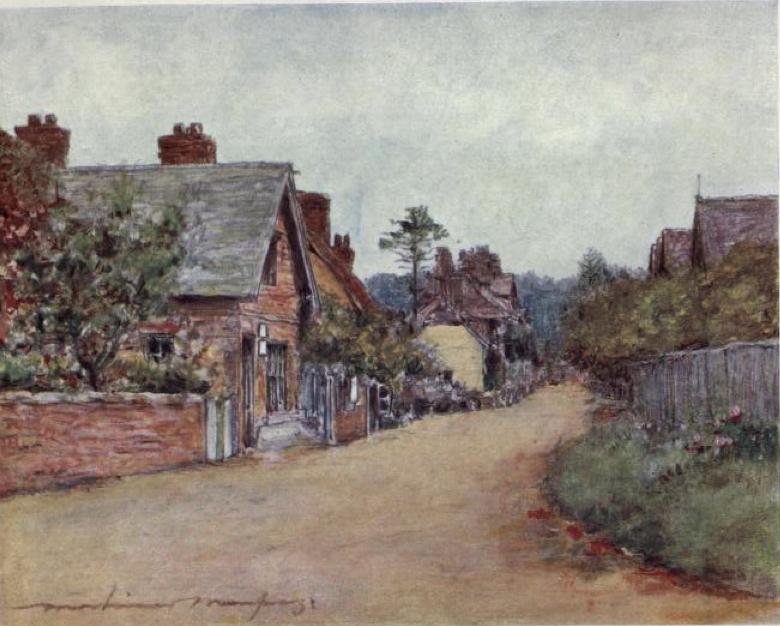 Sonning by Mortimer Menpes, R.I.. Watercolor. Source: The Thames, 76. Text and formatting by George P. Landow. [You may use this image without prior permission for any scholarly or educational purpose as long as you (1) credit the University of Toronto and the Internet Archive and (2) link your document to this URL in a web document or cite it in a print one.]
Yet Sonning has other attractions [than its rose garden]; it is very varied and very pretty. When one arrives at it first, perhaps coming upstream, one is rather perplexed to discover the exact topography. We round a great curve which encloses an osier bed ; here, in early spring, the osiers may be seen lying in great bundles, shaded from olive-green to brown madder. Then we see some green lawns and landing places beneath the shadow of a fine clump of elms, and catch sight of the lovable old red-brick bridge, with its high centre arch, spanning the stream. But there is another bridge, a wooden foot-bridge, which also spans the stream, at right angles to the other, and peering through beneath this, we can see the continuation of the red brick one in a new iron structure, which stretches on right up to the neat flower beds of the French Horn Hotel. The truth is, the river sud- denly widens out here into a great bulge, and in the bulge are several islands, on one of which are a mill and a house and several other things, not to forget a charming garden. It is the river channel between this island and the bank that the first bridge, the old one, spans. And what a view it is ! Above the bridge can be seen rising the little grey church tower. On one side is the White Hart Hotel, with its warm tone of yellow wash, its red tiles and its creepers, and above all its famous rose garden. In the foreground is a willow-covered ait placed in exactly the right position. It is a perfect picture. But yet this is not the best side of the bridge. The other side is better ; for here, to resist the flow of the current, the builders placed the buttresses which emphasise the height of that centre arch; buttresses now capped with tufty grass and emerald moss, and from the crevices of which spring clumps of yellow daisies, candytuft, wallflower, hart's-tongue fern, and other things. In the bricks all colours may be seen, after the man- ner of worn bricks, not even excluding blue. The mill is, as it should be, wooden, and with Sandford Mill, is mentioned in Domesday Book. From the dark shadow beneath its wheel, the largest on the river, gurgles away the water in cool green streams, passing beneath the overhanging boughs of planes and horse-chestnuts. From the mighty sweep of the wheel, as it may be seen in its house, the drops rise glittering in cascades to varying heights like the sprays of diamonds on a tiara. The mill-house, called Aberlash, stands not far off on the same island, with a delightful garden. [Menpes 73-74]
Sonning was one of the artist William Holman Hunt's "favourite haunts" (Amor 262). His daughter Gladys designed a pretty cottage for him there, where he and his second wife Edith spent their summers from 1901 onwards, reading, walking and entertaining guests. Hunt also painted here, until his eyesight failed, working on his large version of The Light of the World for St Paul's Cathedral here.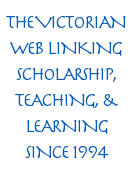 Related Material
References
Amor, Anne Clark. William Holman Hunt: The True Pre-Raphaelite. London: Constable, 1989.
Menpes, Mortimer, R.I., and G[eraldine]. E[dith]. Mitton. The Thames. London: A. & C. Black, 1906. Internet Archive version of a copy in the University of Toronto Library. Web. 18 April 2012.
---
22 October 2012