artineau was born in Guilford Street, St. Pancras, London, on January 19, 1826 the fifth son of eight children of Philip Martineau, a taxing-master in the Court of Chancery, and his wife Elizabeth Frances Batty. His maternal grandfather Robert Batty was a physician and amateur painter while his mother was an amateur watercolourist. From the age of fifteen Martineau attended Colfe's Grammar School for a few years and then was educated at University College School, London. Following family tradition, like some of his brothers, from 1842 he initially trained as a lawyer, spending four years articled as a solicitor's clerk. His mother, however, encouraged him to give up the law and follow his passion to become an artist. In 1846, like many aspiring artists of the period, his artistic training began at the academy of F. S. Cary. Martineau later entered the Royal Academy Schools in 1848 where he won a silver medal for drawing from the antique. He is listed as a student in the School of Painting on December 16, 1848.
In 1851 Martineau became a pupil of William Holman Hunt, working at Hunt's studio at 5 Prospect Place, Chelsea. How this came about was recalled by Hunt many years later:
I took the opportunity of being in town late in the year to call on R. B. Martineau, who, having heard of my success with Rossetti, had, through an old fellow-student, notified his wish to become my pupil in painting. He had already been through the schools of the Academy, gaining some honours, and wished at this point to train himself to paint subject pictures in oil…I tested him by saying that up to this present time, although I had lived more self denying than any lawyer's clerk would have done, I had not succeeded in paying my way, and that I was heavily in debt, with nothing but pictures as assets which nobody would buy; indeed, from all experiences I could scarcely regard painting in England as a profession at all, and advised, if he could reconcile himself to any other life, that he would abandon the idea of becoming an artist. But to him the lucrativeness of the pursuit was not at first a vital question, which removed the scruples I had against encouraging any one native born needing to live by his profession becoming a painter. In the end he became my pupil, and remained my close and much valued friend until his death, nearly twenty years later…He never became a facile executant, but from the first he produced admirable pictures" [Pre-Raphaelitism, I, 302]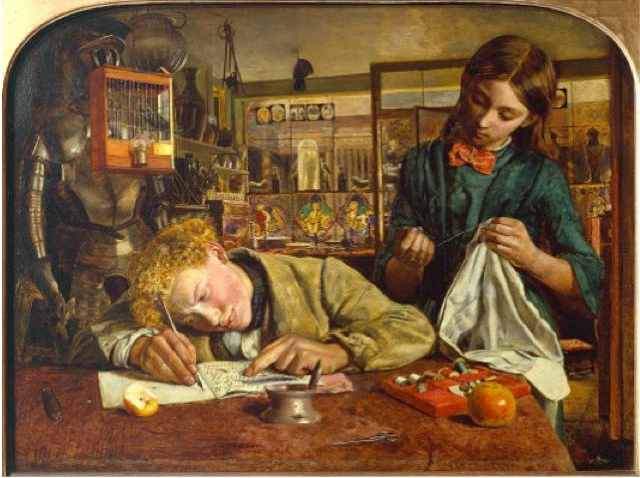 Kit's Writing Lesson by Robert Braithwaite Martineau. 1852. Oil on Canvas.
. Martineau painted Kit's Writing Lesson in Hunt's studio, a work that Hunt noted "progressed beyond expectation" (I, 309). It became Martineau's first Royal Academy exhibit shown in 1852 where it was favourably placed for a first work. He continued to exhibit at the Royal Academy until 1867 and also exhibited at the Liverpool Academy and the Birmingham Society of Artists.
When Hunt's first trip to the Middle East began in 1854 Martineau moved to 3 Red Lion Square. After Hunt's return to London in 1856 the two again shared lodgings and a studio, along with Michael Frederick Halliday, from March 1856 at 49 Claverton Terrace, Lupus Street, Pimlico. Hunt's comments "Martineau, who, from diffidence, had not got on well with his work without an adviser" suggests that Martineau was not particularly productive in Hunt's absence (II, 85-86). Because Martineau painted patiently and conscientiously in the detailed painstaking technique he had learned studying with Hunt his output was limited. In a letter to William Bell Scott of April 14, 1856 William Michael Rossetti described a visit to their house: "Joined with him [Hunt] there are Halliday and Martineau, whom you may have heard of, or possibly seen; the latter an artist, the former something between artist and amateur. Both go in for Praeraphaelitism, and both look up to Hunt with a genuine reverence and affection. I think they may get on comfortably together" (Peattie, Letters, 64). In early 1857 the trio moved to Torr Villa, Camden Hill. Martineau had established his own residence at 5 Courtland Place, Kensington, by at least 1860 because J. E. Millais, in a letter from May 1860, mentions meeting Hunt and Val Prinsep at Martineau's home. Martineau continued, however, to lodge intermittently with Hunt at Tor Villa.
The Last Day in the Old Home . 1862. Oil on Canvas. Support: 1073 x 1448 mm., frame: 1418 x 1808 x 140 mm. Courtesy of Tate Britain. N01500. Presented by E.H. Martineau 1896. Image released under Creative Commons CC-BY-NC-ND (3.0 Unported).
In 1865 Martineau married Maria Wheeler, daughter of Henry Wheeler of Bolingbroke House, Wandsworth, by whom he had three children, a son and two daughters. Maria's father had expressed concerns about Martineau's potential prospects as an artist prior to their marriage to which Hunt replied in a letter of September 13, 1864: "That I have a high idea of his talent is best proven by the fact that I have engaged in a joint exhibition with him…Since his appearance with 'The Last Day in the old Home' at the International Exhibition he has held a position in the esteem of the profession enjoyed by certainly not more than twenty of its members" (Bronkhurst, Hunt catalogue, II, 106). From May 16, 1864 to March 18, 1865 Hunt and Martineau had held a joint exhibition of their work at the New Gallery at 16 Hanover Street in London, with Hunt showing two pictures and Martineau his The Last Day in the Old Home.
In the mid-1860s Martineau began to suffer from significant health problems. Ford Madox Brown, in an undated letter of 1865 to his patron George Rae, writes: "Martineau has been at death's door with rheumatic fever" (Hueffer, Madox Brown, 215). Martineau was then living at Lancaster Lodge, part of Little Campden House in London. Martineau died there of congestive heart failure secondary to his rheumatic heart disease on February 13, 1869 and was buried in Kensal Green Cemetery. At the time he was working on his largest and what may have become his most important painting Christians and Christians, but it was unfortunately left unfinished at his death. An exhibition of his paintings and drawings was held in the following summer at the Cosmopolitan Club, Charles Street, Berkeley Square.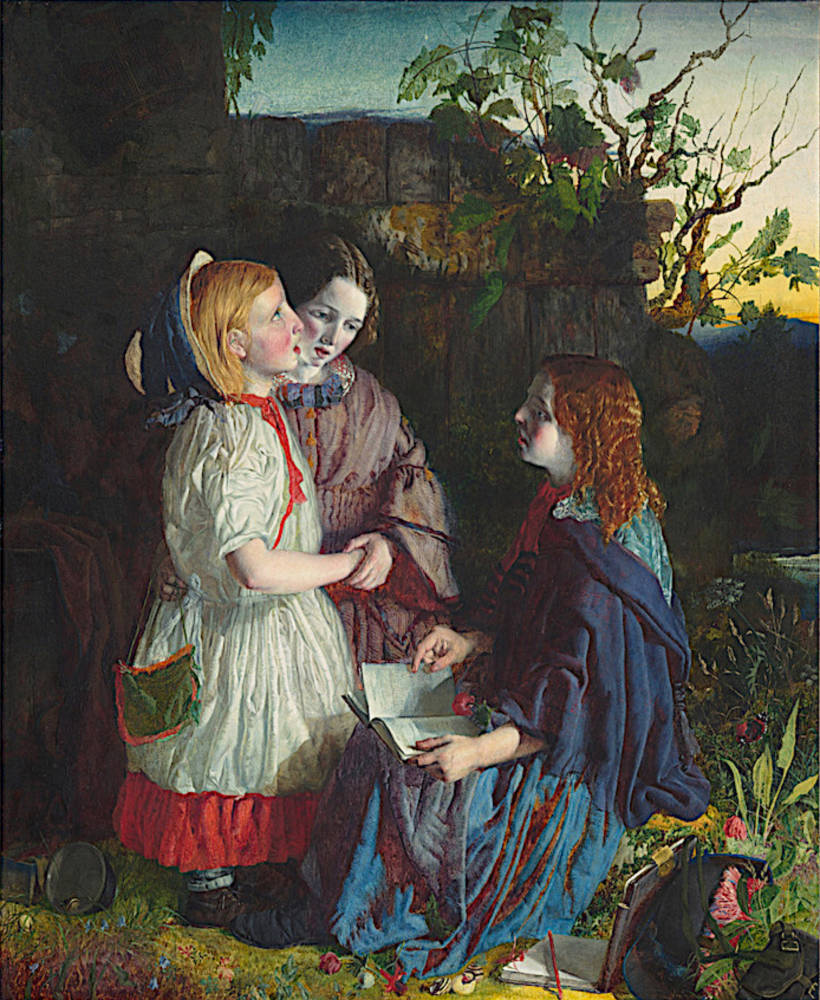 The Spelling Lesson. 1856. Oil on panel, 25 ⅝ x 20 ⅛ inches (65 x 51 cm). Collection of the Musée d'Orsay, Paris, inventory number RF 1982 56.
Although Martineau was most friendly with Hunt he appears to have got on well with all the members of the Pre-Raphaelite circle and frequently exhibited with them. He exhibited in the first Pre-Raphaelite group exhibition held in Fitzroy Place in 1857. He sent his painting of The Spelling Lesson to the Exhibition of Modern British Art that travelled to New York, Philadelphia, and Boston in 1857-1858. The painting sold at Philadelphia, one of the few Pre-Raphaelite works to sell during the tour. He was a founder member of the Hogarth Club in 1858 and was appointed Treasurer. In 1862 his work was exhibited together with other members of the Pre-Raphaelite circle in the Fine Art Section of the International Exhibition held at South Kensington in London. Ford Madox Brown, in an undated letter from to William Davis about the exhibition, writes: "Hunt, Millais, Martineau and ourselves look the only works that are powerful in truth and richness of tone at that end of the English Room…From Hogarth and Sir Joshua the pictures get weaker and weaker and poorer in style till they come to the revival in us" (Newman and Watkinson, Madox Brown, 140). Martineau's Last Day in the Old Home was exhibited to great acclaim and was awarded first prize amongst the latest figure-pictures.
Martineau was obviously part of the social circle of the Pre-Raphaelites as well. William Michael Rossetti in his Reminiscences remembered him as "a very sensible person, not given to much talk, and with a mind rather steady-going than lively, highly trusty and well-principled, and worthy of the utmost regard. He had much taste and some natural gift for music" (I, 158). Ford Madox Brown's diary for July 13, 1855 records: "Rossetti's for the night, never spent a pleasanter evening – Scott, Hannay, Pawl Leifchild brother of the sculptor, Monroe [Munro], Hughes, Martineau & William Rossetti. All in charming humour till 1 A.M." (143). George Price Boyce's diary repeatedly mentions Martineau's active involvement in the Hogarth Club. An entry for May 4, 1858 states: "Meeting of the Hogarth Club at Jones' and Morris' rooms 17 Red Lion Square. Present, Morris, Madox Brown (chairman), F. G. Stephens (hon. sec.), Street, Arthur Hughes, Wm. Rossetti, Morten, John Brett, Martineau, Stanhope, Wallis" (22). Boyce's entry for June 10, 1859 records: "To Hunt's…At 7:30 came to dinner and found in the room Wallis, Holliday [Halliday], Martineau, Barwell, and Miss Hunt. After dinner came Prinsep, Jones, Brett, Egg, F. G. Stephens, and Stanhope" (24). Martineau was a welcome guest at Sarah Prinsep's salon at Little Holland House where he would have met many of the leading artist and literary figures of his day. In 1858 Martineau posed for the head of the "swell" on horseback in Madox Brown's masterpiece Work. In a letter from Edward Lear to Thomas Woolner of February 16, 1860 he asks Woolner to: "Give my love to dear pa [Holman Hunt], & to Brother Bob Martineau, & to my Grandfather Maddox (sic) Brown" (Woolner, Life in Letters, 186). It was Martineau who had first introduced Hunt to Lear in 1852. In 1867 it was Martineau who told Edward and Georgiana Burne-Jones about the house The Grange, North End Lane in Fulham, being available for rent. At his premature death in 1869 Martineau was greatly mourned by all his friends within the Pre-Raphaelite circle.
---
Last modified 21 January 2022