Biography
For the first few years of his artistic career, Prinsep was very closely involved with the Pre-Raphaelite movement. He later gained academic honours for large decorative and historical subjects.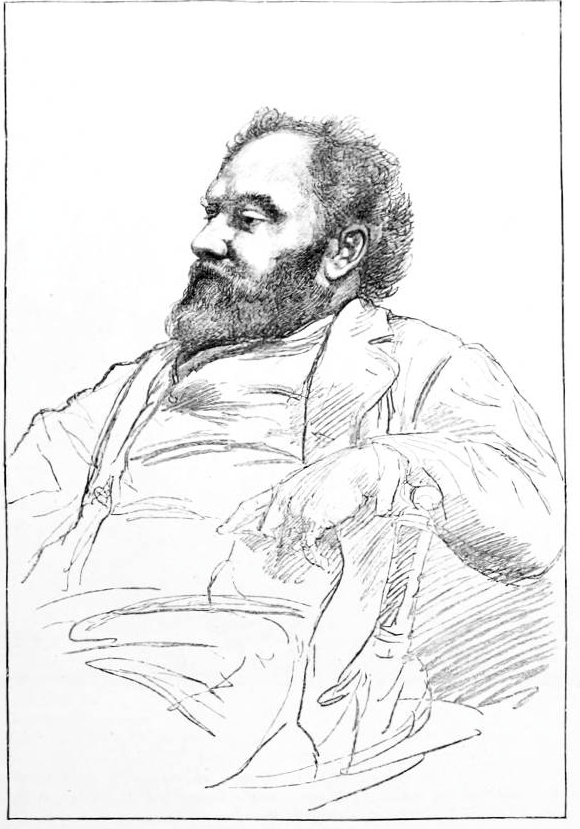 Val Prinsep by Legros.
His family were connected with the East India Company. He was destined for the Indian Civil service and educated at Haileybury. However G. F. Watts, his mother's house guest, encouraged his artistic tendencies and in 1857 'plunged him into the Pre-Raphaelite styx,' writing to a friend: 'I don't mean to say that I held the fine young baby of six foot two by the heel or wish to imply the power of moulding his opinions at my pleasure; but to continue my figure, I found him loitering on the banks and gave hint a good shove, and now his gods are Rossetti, Hunt and Millais — to whose elbows more power' [Watts, I, 172].
In 1857 Prinsep painted one of the murals in the Oxford Union with Rossetti and his friends, and he was very close to Rossetti for the next few years. In 1904 he wrote his reminiscences of this period for the Magazine of Art.
In the mid 1860's, Prinsep built his own house in Holland Park Road and became Frederic Leighton's next door neighbour. The friendship took him away from the Pre-Raphaelite movement, and he began to paint 'aesthetic' subjects in rustic or eighteenth century dress, such as 'Home From Gleaning' or 'A Minuet' (both exhibited Royal Academy 1875).
His Indian connections remained important. He was commissioned to paint the 'Imperial Assemblage at Delhi' (The Delhi Durbar') which proclaimed Queen Victoria —> Empress of India (exhibited Royal Academy 1880, Royal Collection), and from the late 1870s produced several interesting genre paintings with Indian subjects. He was elected Associate of the Royal Academy in 1879 and Academician in 1894. Tn 1884 he married Florence Leyland, daughter of Frederick Richards Leyland, the famous ship owner and Pre-Raphaelite Patron. There is no modern published study of Prinsep, but an unpublished MA report by Naghant Jarrah exists at the Courtauld Institute of Art, London. [Morgan and Nahum, 124-25]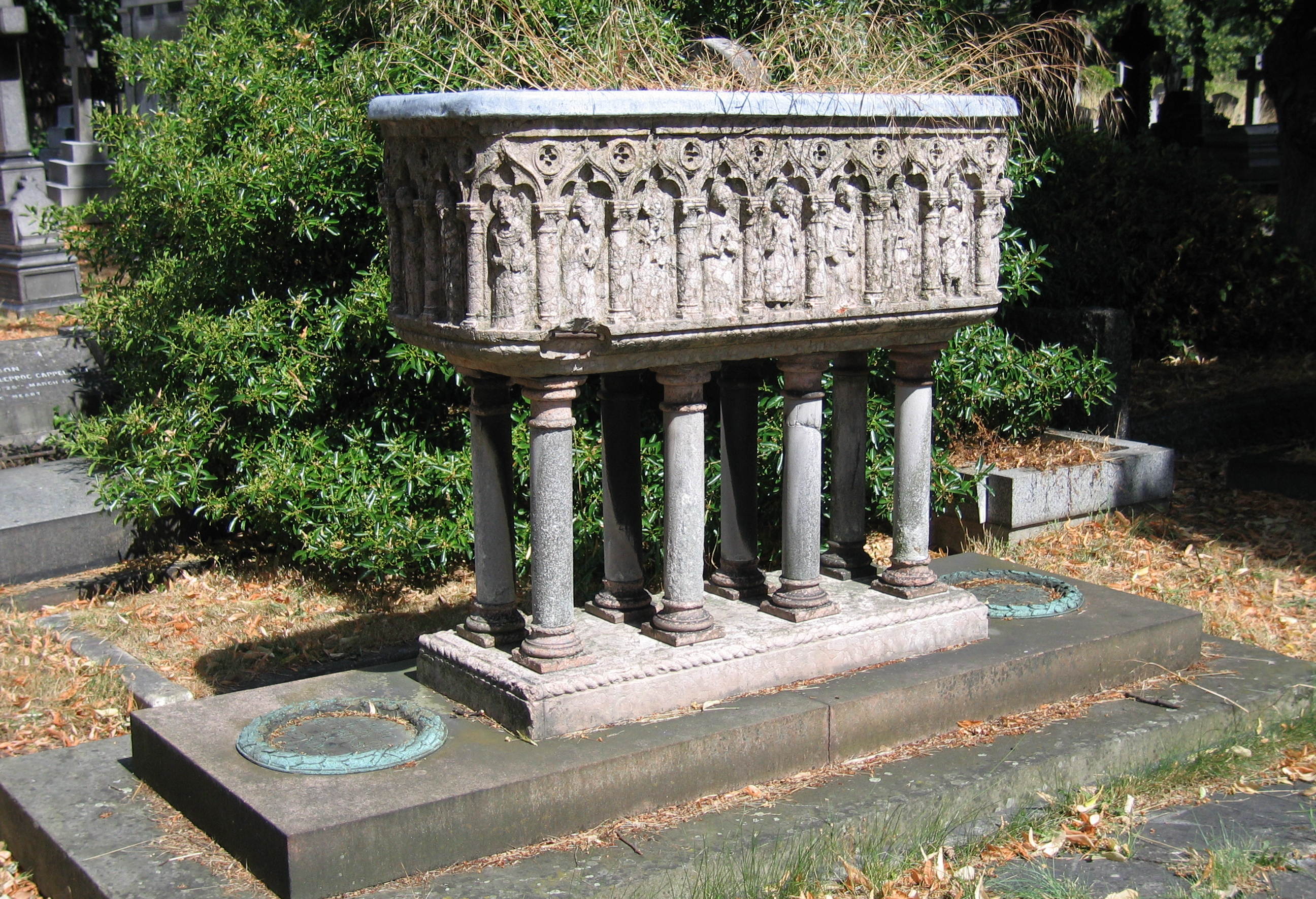 Prinsep's tomb-chest monument in Brompton Cemetery.
Works
Bibliography
Meynell, Wilfrid. "Val Princep A.R.A.: Painter and Dramatist." Magazine of Art. 6 (1883): 405-09. Internet Archive version of a copy in the University of Toronto Library. Web. 5 September 2013.
Morgan, Hilary, and Peter Nahum. Burne-Jones, the Pre-Raphaelites, and Their Century. London: Peter Nahum, 1989.
M. S. Watts, George Frederic Watts. Annals of an Artist's Life. Macmillan, London 1912.
---
Created 20 October 2004

Last modified 22 November 2021