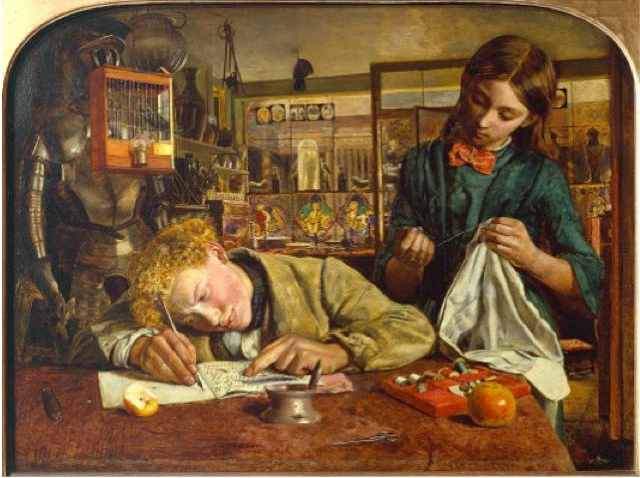 Kit's Writing Lesson by Robert Braithwaite Martineau. 1852. Oil on Canvas.
Commentary by Deirdre David
Robert Braithwaite Martineau's Kit's Writing Lesson (1852), which fully represents Kit's pose and gestures as he begins to write (tucked up sleeves, squared elbows, face close to the copybook, and squinting). Glossing this picture, Underwood argues that the addition of Nell doing her needlework (which she actually does not do in the text) adds "a greater depth of reference to the novel and reinforces messages about little Nell's idealized and doubly nurturing femininity" (88). An elaboration of this point might have shown more fully how Little Nell, as emblem of idealized femininity, had fully entered Victorian culture by the time of Martineau's painting, and also how the sentimental adoration of Nell was eventually replaced in Victorian culture by less cloying images if not by Oscar Wilde's witty demolition of Dickens's moralizing ("One must have a heart of stone to read the death of Little Nell without laughing").
Links to Related Material
---
Last modified 20 June 2014